With the 2nd Pick in the 2018 NHL Entry Draft, the Carolina Hurricanes Have Selected Andrei Svechnikov From Barrie Colts in the OHL.
About Andrei Svechnikov
Despite missing some time to start the season, Andrei Svechnikov quickly proved that he is indeed one of the very best players in the entire 2018 draft class when he scored 40 goals and 72 points in 44 games in his first (and potentially only) OHL season with the Barrie Colts. At 6 foot 2 and 186 pounds, Svechnikov has the ideal size for a scoring winger and his ability to play on both wings makes him even more valuable as a prospect.
THW Prospect Profile Excerpt:
Say what you will about the overall talent in this year's NHL Draft, but there are a number of players that stand out for their individual qualities that will garner a lot of interest as the big day approaches. Of those players, there's one Russian that has put on a masterful show this season with the OHL's Barrie Colts and that's Andrei Svechnikov.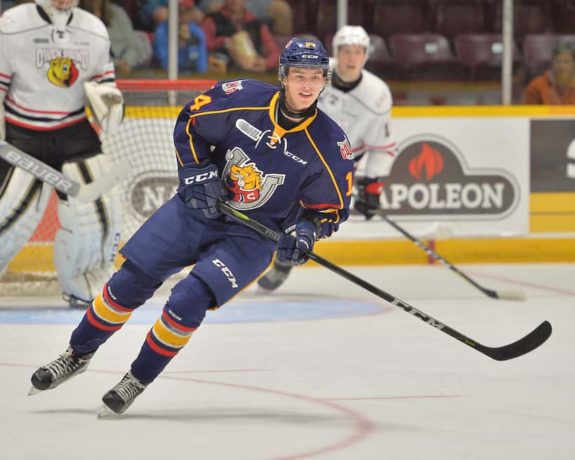 While most have him going in the top two picks, this guaranteed top-end prospect has a full bag of talent when it comes to playing the game of hockey. While he did deal with injuries in his first season in the OHL, the 18-year-old winger still managed to tally 40 goals and 72 points in just 44 games for the Colts – adding 11 more points in eight playoff games.
RELATED: THW's 2018 Draft Guide
But he's not strictly an offensive threat. While his defensive game could use some work, he plays with a physical edge that gives him that upper hand on most purely skilled players. He stands at 6-foot-3 and just under 190 pounds with some growing to do and he uses that frame in all aspects of the game.
While discipline can be an issue at times, having racked up 67 penalty minutes in his 44 games this season, he does play the game passionately which can be altered through maturation. The raw talent this kid possesses should excite the teams holding down the top three picks as he's bound to go somewhere atop the draft this year.
Full player profile can be found here
How This Affects the Hurricanes' Plans
Entering the 2018 offseason, it became very clear that the Carlina Hurricanes are a team in transition. While they could still feature many of the same faces by the time the puck drops in their opening game, there's also a very real chance that any and all of the mainstays on the roster outside of Sebastian Aho could be playing elsewhere next season.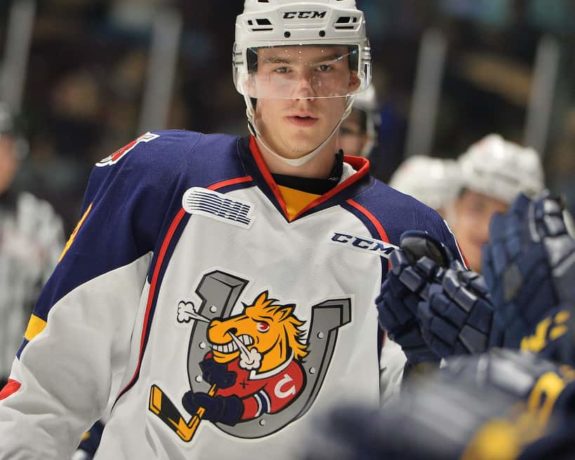 While the team did explicitly mention that they would be willing to move the second overall pick in an attempt to bolster their current team, the fact that they instead used it to draft Svechnikov should simply add him to the list of untouchable players on the Hurricanes roster. He gives them the much-needed scoring winger they were looking for and could immediately slot into the team's top-six if they deem him ready for the opportunity.
It's hard to imagine the Hurricanes sending their newest addition back to the OHL next season given how polished he already is as a prospect but it'll be up to the team to decide when they get a chance to properly evaluate him by the time training camp rolls around. The preseason could be huge for Svechnikov as he'll undoubtedly be given every opportunity to play in an impact role with the team right out the gate.