With the 1st Pick in the 2018 NHL Entry Draft, the Buffalo Sabres Have Selected Rasmus Dahlin From Frolunda HC in the SHL.
About Rasmus Dahlin
From the very start of the draft process until the second the Buffalo Sabres made their selection, it was clear that Rasmus Dahlin was going to be the No. 1 overall selection in the 2018 NHL Entry Draft. The most polished prospect with the highest upside and the highest floor, Dahlin has the potential to be a cornerstone defender for the Sabres for the next 20 years and was a no-brainer to open the draft.
THW Prospect Profile Excerpt:
Whether it's his size, speed, vision, shot or general knowledge of what to do and when to do it, Dahlin has proven to be a clear step above his fellow draft prospects this year.
Scoring only a goal and three points in 26 games in his first season with Frolunda in the SHL at 16 years old, Dahlin was able to raise his draft stock simply due to his defensive ability while playing against competition way more experienced than himself.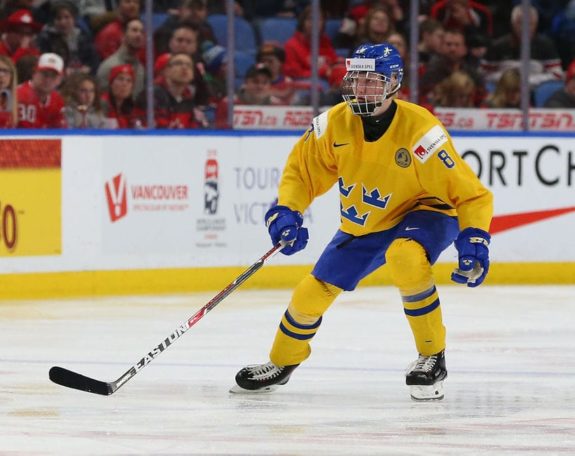 In his second year with the club, Dahlin showed more of the same defensively and was a stalwart all season with Frolunda. Despite playing under a microscope with the entire hockey world knowing the name Dahlin before the puck even dropped on his first game of the season, Dahlin managed to up his offensive game and score an impressive seven goals and 20 points in 41 games at only 17 years old.
Playing regular minutes on Frolunda's second pairing, Dahlin's ability to match up against top competition shouldn't be understated heading into this year's draft. His ability to identify a play, know when to join a rush and when to fall back make him an elite prospect. What really separates him from the rest of the group, however, is his ability to quickly recover from a bad decision or bad positioning coupled with his intense compete level.
Pressure and elevated competition haven't yet proven to be an issue for Dahlin who has only gotten better as he's grown and matured as a player. While it would be unrealistic to expect him to be an all-world defender in his first season in the league, there should be no reason to doubt that he could achieve that feat. as early as next season either.
Full player profile can be found here
How This Affects the Sabres' Plans
For the Sabres, Dahlin immediately has the potential to step into their lineup and take over the reigns as the team's No. 1 option on defense. While it may seem like a lot to ask out of an 18-year-old, Dahlin's ability to play against competition far more experienced than himself has been proven in his two seasons with Frolunda in the SHL.
With good size at 6 foot 2 and 181 pounds, Dahlin should already be more than capable enough of competing at a high level in the NHL despite its grueling schedule. This can also give Buffalo some creativity with its special teams units as well as Dahlin is well-equipped to play an impact role on the power play and on the penalty kill right out the gate.