With the 3rd Pick in the 2018 NHL Entry Draft, the Montreal Canadiens Have Selected Jesperi Kotkaniemi From Assat Pori in Liiga.
About Jesperi Kotkaniemi
Taken with the third-overall selection, Kotkaniemi found himself quickly climbing the draft rankings as 2018 NHL Entry Draft came to a close. With Filip Zadina almost going the distance as the consensus third-best player in the draft, Kotkaniemi's ability as a 200-foot center made him too hard to pass up at this spot. With a keen eye for the net and a natural two-way ability that pairs well with his strong effort level and elite vision, Kotkaniemi has No. 1 center potential.
THW Prospect Profile Excerpt:
The top of the NHL Draft is usually known for a good crop of centers that are available for lottery teams in order to help build their teams for the future. This draft however is different than the norm. Depending on how the first round goes, we might not see a center go in the top-10. That is almost unheard of.
The top of the draft is full of star potential defensemen and wingers. This presents a unique opportunity for teams that need a center later in the lottery or after. Perhaps at the top of this list is Finland's Jesperi Kotkaniemi.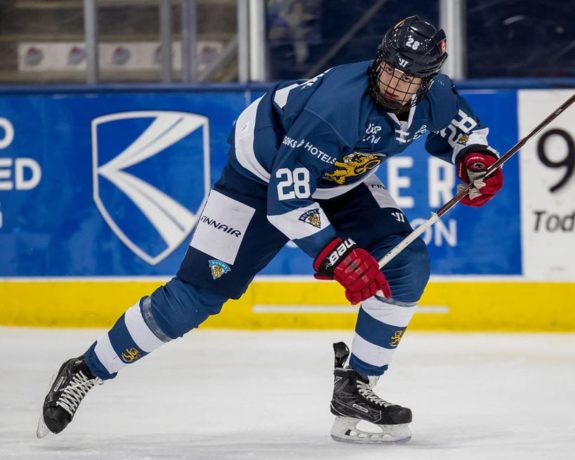 Kotkaniemi just completed his first full season in Finland's top men's professional league Liiga. At just 17 years old, he put on a display against grown men. His line of 10-19-29 in 57 games is extremely impressive for someone of his age. Surely teams must be taking advantage of his defensive flaws. Well that's not necessarily true either as demonstrated by his -1 rating for the season. He's a good defender as well.
Kotkaniemi also shined on the big stage at the World Juniors. He helped his team win gold at the U18's and was named a top player. He also played at the U20's and averaged a point per game. What is he doing that's giving him such impressive numbers?
Kotkaniemi is one of the most creative players available. He can lead the rush on his own or find the open player and utilize his pinpoint passing. He can play in all situations including both special teams units and will take big faceoffs late in games. He's had a ton of responsibility for someone who's not 18 yet and won't be until after the draft.
Full player profile can be found here
How This Affects the Canadiens' Plans
The Montreal Canadiens are a team likely headed for a full rebuild sooner than later. Despite this seeming like an inevitability, the team and general manager Marc Bergevin seem keen on doing whatever they can to push this team over the top or, at the very least, get them back into postseason contention.
In drafting Kotkanimi, the Canadiens made the first step in both directions, weirdly enough.
An excellent player coming out of Assat in Finland, Kotkanimi has proven that he is one of the best players at his age on the planet and though Zadina was a potential fit for the Canadiens at this spot, the pick they opted to go with was the logical one for the team given their two-decade-long need for a center.