Every one of the most successful NHL teams has its poster boy or star player. For the Pittsburgh Penguins it's Sidney Crosby, for the Washington Capitals it's Alexander Ovechkin, for the Chicago Blackhawks it's Jonathan Toews. The Minnesota Wild have had players such as Marian Gaborik and Mikko Koivu take that mantle. Each player has had his issues but each has been a very solid player in his own right. Neither has the impact of Crosby or Ovechkin, though. In a league filled with star power, a true go-to player is becoming more and more essential.
Jared Spurgeon
Originally selected with the 156th pick by the New York Islanders in 2008, Jared Spurgeon failed to sign a contract with the Islanders and was eventually invited to the Wild's training camp. He has since made a significant impact with the Wild. Spurgeon earned himself a new contract in December 2015 that will keep him in Minnesota until 2020. The deal is for four years and $20.75 million.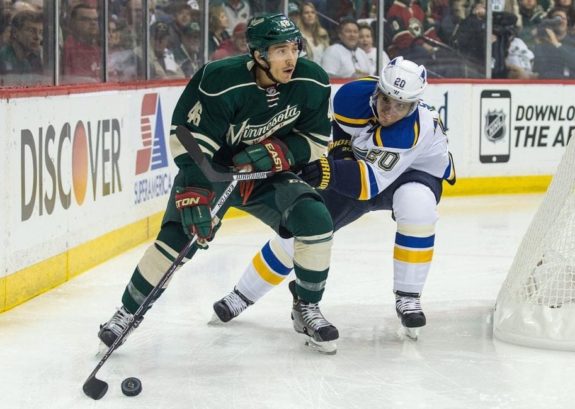 Spurgeon has played his entire eight-year career with the Wild, spanning 509 regular-season games and 44 postseason games. In the regular season, Spurgeon has amassed 56 goals and 149 assists for 205 points, and a plus/minus of plus-51. That isn't bad at all for a severely undersized defenseman who comes in at 5-foot-8, 168 pounds.
Spurgeon has developed into a very smart defender who consistently pairs with Ryan Suter to form the top line of the Wild's defensive corps. His ability to score goals has greatly increased the last few seasons, adding more value to his game.
Related: Minnesota Wild's Best Defenseman
Mikael Granlund
Originally drafted by the Wild with the ninth overall pick in the 2010 NHL Entry Draft, Mikael Granlund is another undersized player for the Wild coming in at 5-foot-10, 185 pounds. Granlund was underwhelming his first few seasons due to playing the center position, but after moving to the wing, he has improved his production.
There was plenty of mixed chatter when his contract was up because he had exploded the year before and set career-highs across the board. The Wild eventually signed Granlund to a three-year, $17.25 million contract. Granlund just recently turned 26-years-old and has played only one season into his new contract.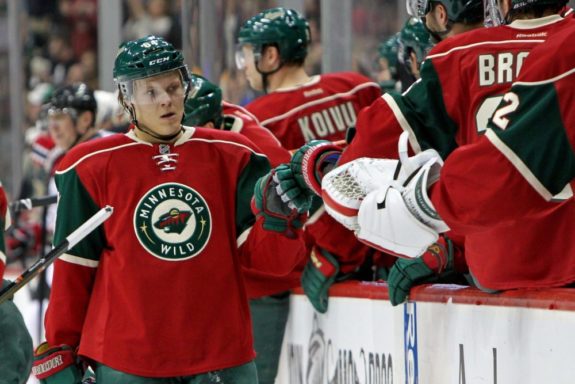 Granlund has spent his entire six-year career with the Wild. He has played in 398 regular season games and 39 postseason games. In the regular season, he has totaled 78 goals, 190 assists, 268 points, and a plus/minus of plus-34.
Almost immediately, Granlund became an assist machine leading to comparisons with fellow teammate Koivu, who is also from Finland. The biggest addition to his game is his scoring abilities as well as improved vision. He has two straight seasons with 20-plus goals and 65-plus points. It took a bit of time but Granlund has been living up to his draft hype and is still young enough to improve even further.
Related: Minnesota Wild's Best Young Forward
The Veterans
There are of course the usual suspects such as Koivu, Suter, Zach Parise, and Devan Dubnyk. Koivu was the first permanent captain and has remained the Wild's captain for the last nine total seasons. Koivu is now 35 years old, and his decline really started to show this past season. He shouldn't be the face of the team anymore even though he'll be here after former general manager Chuck Fletcher signed him to a two-year, $11-million deal that kicks in this upcoming season.
Parise is aging, injury prone, and has seven years left on his 13-year, $98-million contract. He is about to turn 34 years old and hasn't hit 20-plus goals in either of the past two seasons. Suter has been living up to expectations and could easily still be the face of the franchise even though he is 33 years old. Before getting injured, Suter was on pace to have the best season of his career. In one less season with the Wild than with the Nashville Predators, Suter has eclipsed nearly all of his totals he had with his former team.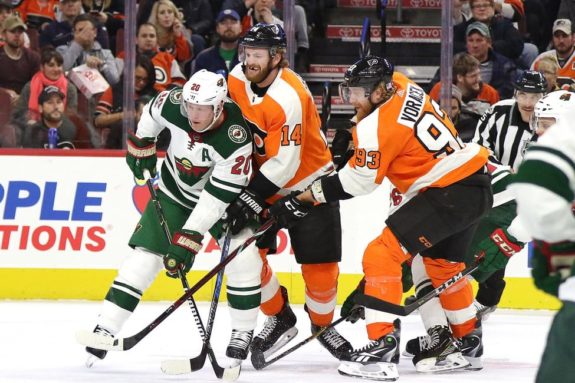 Dubnyk is 32 years old but still playing at a high level. He was signed to a six-year, $25-million contract that has three years left. He has four straight seasons with over 30 wins and five shutouts. Marc-Andre Fleury is a year older than Dubnyk and just helped lead the Vegas Golden Knights to their first Stanley Cup Final appearance in their inaugural season. There is no reason to be too concerned with Dubnyk at this point because he still has some game left in the tank.
Wild Just Don't Have One
The Wild simply don't have a star player, and that will prevent them from getting to the Stanley Cup Final in the foreseeable future. The Wild have lacked a game changing go-to scorer throughout their history and it has haunted them. They may not get one until they purposely tank like the Pittsburgh Penguins have so conveniently done in the past to acquire talent.