The Edmonton Oilers wasted no time in the first two rounds of the 2018 NHL Draft. In the first round, they snagged a stud right-shot, puck-moving defenseman in Evan Bouchard. In the second round, they chose center Ryan McLeod from the OHL's Mississauga Steelheads at 40th.
Related: Oilers Draft Evan Bouchard 10th Overall
McLeod, 18, is a steal (no pun intended) for general manager Peter Chiarelli and his scouting staff. The youngster was a projected late first-round selection that was ranked quite high on several mock drafts and scouting lists ahead of the 2018 NHL Draft.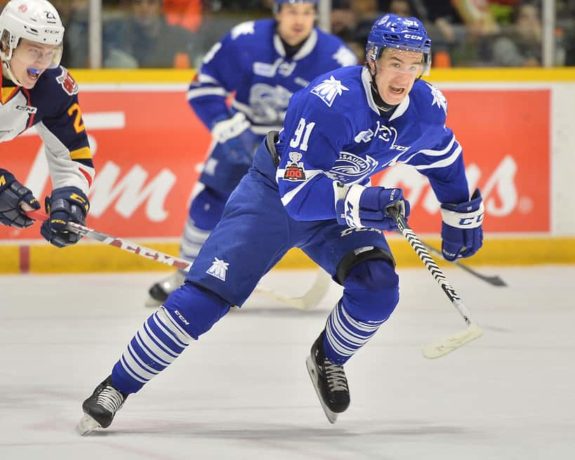 Most folks had him ranked between 20-31st on their respective lists. TSN's Bob McKenzie had McLeod 22nd on his list, and his colleague Craig Button had him 30th. He was also ranked 16th among North American skaters by NHL Central Scouting.
Related: Ryan McLeod – 2018 NHL Draft Prospect Profile
So the fact he fell to 40th is a massive surprise for Chiarelli, Bob Green, Keith Gretzky, and the scouting team. McLeod finished the year with 26 goals and 70 points in 68 games. He's a natural center with significant upside and the brother of New Jersey Devils prospect Michael who went 12th in 2016.
Ryan McLeod a Great Fit for the Oilers
Ryan fits the Chiarelli-mold for bigger players (6-foot-2, 202 pounds), but he can flat out skate like his brother. There are questions when it comes to how high his offensive upside is and how well his scoring in junior projects at the NHL level. Best case scenario he ends up becoming a No. 2 center for the Oilers down the road.
The more likely scenario is he develops into a No. 3 center. It's the same narrative folks had with Tyler Pitlick back in 2010. With a late-1999 birthday (September), he's one of the older players available within the draft class. Size, speed, and a high hockey IQ make this a safe pick for the Oilers.
He's likely two to four years away from making Edmonton's main club roster, but there's a ton of upside with this selection. McLeod can skate through you, or slip around you. For trivia purposes, his favorite player growing up was Ryan Smyth.
Related: Edmonton Oilers 2018 NHL Draft Guide
If he has the Oiler legend's work ethic, it'll bode well for his future in Edmonton. Ironically, that's a criticism most prognosticators have against him. That said, fans should be over the moon that a late first-round caliber talent like McLeod fell to them. His NHLe (NHL Points Equivalent) in his draft year translates to 27 points right now.
One comparable that might fit is Pitlick, but with more upside. McLeod can play both center and wing, similar to Pitlick, and both are strong skaters. The offense translating to the NHL level was the real concern. Pitlick put up 14 goals and 27 points this year with the Dallas Stars. For Edmonton's sake, they'll hope McLeod can at least be a 40-point NHL'er.
Scouting Reports on OHL's Ryan McLeod
Brandon Share-Cohen (The Hockey Writers):
He has a plus-shot, passing ability, skating, and hockey-IQ. Players with that type of skillset typically excel at the NHL level if they work hard enough to get to that point in their career.
Sam Cosentino (Sportsnet):
One of the most fascinating players in this draft class. At this point, the parts are greater than the sum. If and when it all comes together, you have a player who should impact the game at the next level.
Steve Kournianos (The Draft Analyst):
Big-bodied power forward with speed and playmaking abilities who was one of the top OHL scorers among first-year draft eligibles. McLeod's versatility is one of several things that stand out about him — he can play center or wing, shoot the puck with authority and is a mainstay on both the power play and penalty kill.
Chris Peters (ESPN):
Sent a few texts out to NHL scouts asking their biggest surprises of the night: 2 said Jay O'Brien to Flyers, one said Hayton at No. 5, another said Zadina falling to sixth. Another said Ryan McLeod dropping out of the first round. Not surprised to get so many different answers.
Sean Patrick Ryan (The Oil Knight):
His brother Michael is better. Ryan is a C/LW can play a 2 way game he was supposed to go 1st round so I guess if u get him here it's much better value. Maybe a bit faster version of Nuge but less grittier if that's possible. Lacks intensity, frustrating player to watch.
Bob Stauffer (Oilers Now):
In 2009, Oilers took at 10th Magnus Paajarvi, at 40th Anton Lander two great guys but neither became impact NHL'ers. In 2018, at 10th Evan Bouchard, at 40th Ryan McLeod. Bouchard has a chance to be a right shot power play quarterback. McLeod could be a 2nd/3rd line center in an Erik Haula mold.
Jonathan Willis (The Athletic):
Big, fast, smart player whose production doesn't match reports on his tools. Could make it as a scorer, but could make it as a  bottom-six guy if the scoring doesn't come.
Historical Value of 40th Overall Pick
Going back to the 2000 NHL Draft, the 40th overall selection hasn't yielded very many NHL players. Former Oiler Anton Lander has played the most games in the NHL at 215. He was primarily a fourth-line or fringe center in the league. Another notable is Remi Elie (2013) who played 90 games after being drafted by the Dallas Stars.
Christian Thomas (2010, New York Rangers), Michal Repik (2007, Florida Panthers), and Rob Globke (2002, Florida Panthers) are other picks that didn't pan out. A flat out bust was Alexander Khokhlachev (2011, Boston Bruins), he played just nine games in the NHL.
Cameron Morrison (2016, Colorado Avalanche) and Aleksi Heponiemi (2017, Florida Panthers) give hope that teams are getting better at finding talent at that pick. As far as players still available at that spot go, it's worth noting defenseman Bode Wilde was still available. Jack Drury (42nd, Carolina Hurricanes) has good upside as well.
Another guy left on the board was puck-mover Jonathan Tychonick (48th, Ottawa Senators). So take that as you may, but I have a lot of time for McLeod as an Oiler prospect. The results won't come right away but expect McLeod to have a better draft-plus-one year in the OHL.
Are you happy with this selection, or do you think the Oilers left something on the table and should've gone with another option? Let us know your thoughts in the comment section below.