While trade rumors continue to swirl around Buffalo Sabres Ryan O'Reilly, and Rasmus Dahlin fandemonium begins to ramp up at the team's development camp, general manager Jason Botterill made some news of his own Wednesday morning.
The Sabres' GM acquired Conor Sheary and Matt Hunwick from the Pittsburgh Penguins for a conditional 2019 fourth-round draft pick. The pick can become a third-rounder if Sheary scores 20 goals or 40 points or if the Sabres trade Hunwick before the 2019 draft.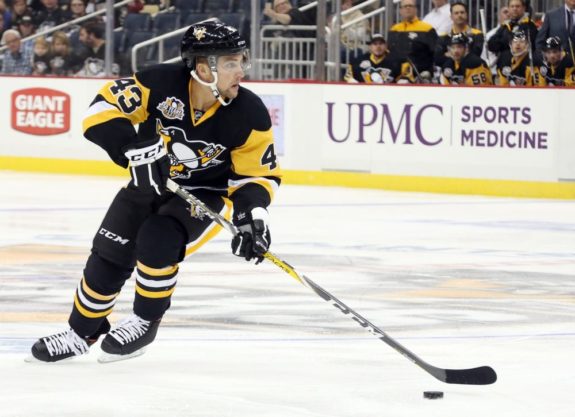 It's welcome news for a Sabres squad that features Zemgus Girgensons as its only real left winger.
Related: Sabres Roster Won't Be Easy to Overhaul
Why the Trade Helps the Sabres
The Sabres top left wingers from last season, Evander Kane and Benoit Pouliot, are long gone. Kane re-signed with the San Jose Sharks and Pouliot became an unrestricted free agent. It's a lonely place. Sheary joins Zemgus Girgensons on the left side, giving the Sabres another bona fide left winger. And his cap hit is a reasonable $3 million which is better than overpaying during silly season for aging unrestricted free agents.
"We were looking to improve our even-strength scoring," said Botterill. "What I like about [Sheary's] game is he has played in playoff situations and has two Stanley Cups. He can come in and play with one of our offensive centermen and finish off chances from them."
Hunwick becomes another body on defense. The Sabres are Hunwick's fifth NHL team.
Why the Trade Helps the Penguins
For the Pens, it's a much-needed, straight up salary dump. They shed a total of $5.25 million of salary this and next year. "It's just part of the way the system works and the cap now," said Penguins GM Jim Rutherford. "Sometimes you have to move players to make it work."
SK of @PensInsideScoop on today's trade: "The deal had less to do with Rutherford wanting to bolster the Pens' number of picks, and more about the NHL's salary cap."

Trade talk and more from Jim Rutherford: https://t.co/hMmd2mSkAI pic.twitter.com/TT66cc7fFO

— Pittsburgh Penguins (@penguins) June 27, 2018
While they lose a young player who provides offense, more importantly, they get out from under the two years of Hunwick's deal. "Conor was a part of two Stanley Cups and a good player for us and a good person," said Rutherford.
Details of the Trade
Though Botterill didn't go so far as to admit it, it's expected that Sheary will be on Jack Eichel's left wing. It'll be a welcome change from a carousel of Zemgus Girgensons, Pouliot, and whoever else Housley tried to force fit.
TRADE ➡️ We've acquired forward Conor Sheary and defenseman Matt Hunwick from @Penguins for a conditional 4th-round pick in 2019. pic.twitter.com/VBc6HkAMe4

— Buffalo Sabres (@BuffaloSabres) June 27, 2018
Sheary, a Winchester, Massachusetts native, is likely not a first-line winger on a Cup-contending team. Then again, the Sabres are nowhere near that right now. They're aiming to break a seven-year playoff drought. The 5-foot-8, 175-pound winger adds much-needed speed. And if he can keep up with and play alongside Sidney Crosby, he can certainly do the same on Eichel's line.
Sheary Is the Key to the Deal
Sheary, 26, has 41 goals over the last two seasons, with 37 of them at even strength. His best year came in 2016-17 when he scored 23 goals and 53 points in 61 regular-season games. Last season his production dipped slightly, but nearly all of his goals (16 of 18) came at even strength. No current Sabres player other than Jack Eichel has more even-strength goals than Sheary over the last two years. It's a category the Sabres were abysmal in last year. They tallied only 119 goals at five-on-five, 11 goals behind the Montreal Canadiens who finished in 30th. For context, the Tampa Bay Lightning had 196 five-on-five goals.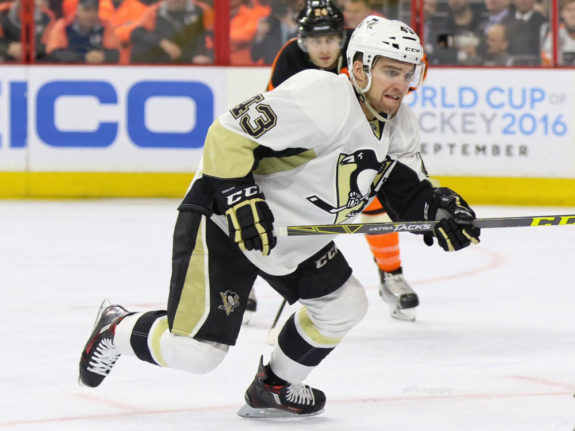 Botterill shares a past with Sheary. As an assistant GM with the Penguins, he recruited the undrafted Sheary in 2014 after he finished up at UMass-Amherst. Botterill then served as the general manager of the Wilkes-Barre/Scranton Penguins, the Pens AHL affiliate, where Sheary developed his game, putting up 81 points in 90 games. He then made the jump from signing a minor-league tryout contract to winning two Stanley Cup titles playing alongside Pittsburgh captain Sidney Crosby.
When people were saying [Conor] couldn't do it, he found a way. That sort of determination and compete and work ethic something we're looking to bring to our group. –Jason Botterill
There's one category where Sheary has better stats than any Sabre: playoff games. In just three NHL seasons he's already played in 57 postseason games. He's been a part of two Stanley Cups championship teams, pitching in six goals and 19 points. That taste of success is something Botterill thinks is important to have on the team, adding, "Conor and Matt will bring a winning pedigree to our team, and we expect them both to complement our group very well."
Hunwick Adds Depth
Hunwick, 33, adds further depth to the blue line. The left-shot blueliner has two years at $2.25 million per year remaining on his deal. He was sixth in ice time among Penguins defensemen, averaging 17:31 per game. Aside from suffering a concussion in practice early in the year, he was also hampered by injuries, forcing him to miss half the season. He chipped in 10 points in 42 games.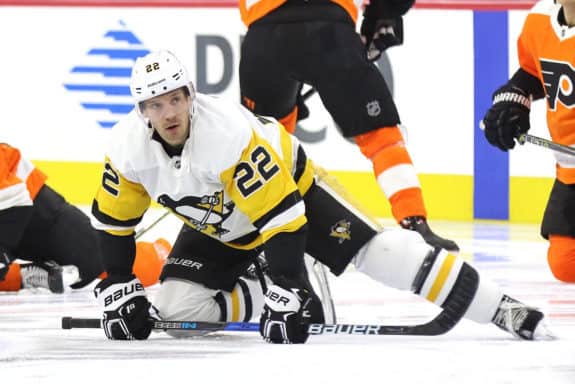 Originally a 2004 seventh-round selection by the Boston Bruins, Hunwick, like Botterill played his collegiate career at the University of Michigan. Botterill admitted to following him closely over the years. "Just from the ties from the University of Michigan and how he handles himself as a pro. His mobility on the blueline will help out our group."
Related: Sabres Should Spend Dough for Panarin
Botterill Continues to Mold Sabres
There's still plenty of work ahead for Botterill to jump-start his team, which has finished last in the NHL in three of the last five seasons. He wouldn't comment on whether he's done improving the lineup, but adamantly dismissed a report he had a deal in place to trade center Ryan O'Reilly to the Canadiens during the draft.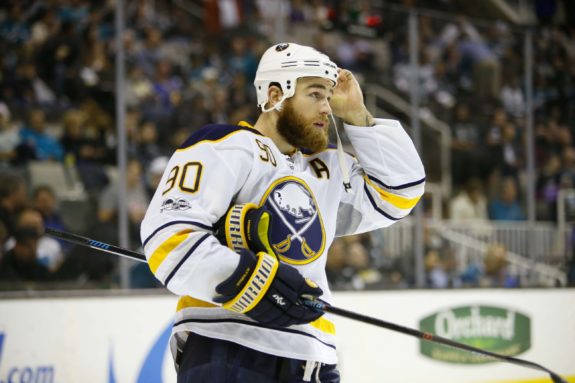 "I understand why people are calling on him, but the validity of a lot of the rumors are simply untrue," said Botterill. "I would just say from Day 1, we've been very happy with Ryan being part of our group."
Botterill used the left side of the brain, the logical and rational thinking side to make this deal with the Pens. To land a left winger like Matthew Tkachuk of the Calgary Flames or Jonathan Huberdeau of the Florida Panthers will require some fresh, creative thinking. Here's hoping he uses his right side–the more creative one–to further add wingers to this team.
Jeff has been covering the NHL for over a decade for various sites. He's been with The Hockey Writers as a lead Sabres writer three years, while also writing a satire column called "Off the Crossbar."