With the NHL draft in the books, all eyes have turned to the upcoming free agency period. The most coveted free agent is center John Tavares.
A former first overall pick of the New York Islanders, Tavares has narrowed his list down to five teams, plus the Islanders. Those are the Dallas Stars, San Jose Sharks, Boston Bruins, Toronto Maple Leafs and Tampa Bay Lightning.
For Lightning fans, the mere possibility of landing Tavares is huge. There's talk about him being the missing piece in the team's quest for a second Stanley Cup. Plus, the idea of him potentially centering the first line between Steven Stamkos and Nikita Kucherov has to have opposing teams shaking in their boots.
Throw in Brayden Point, Ondrej Palat, Victor Hedman, Andrei Vasilevskiy, along with the recently re-signed J.T. Miller, and it would not be a stretch to compare them to the NBA's Cleveland Cavaliers or Golden State Warriors. That's how stacked they would be.
In saying that, the Lightning have to be careful not to get caught up in all of the hype surrounding Tavares. He's an elite talent capable of impacting a franchise, but there are no guarantees beyond that.
Tavares Doesn't Address Lightning's Biggest Need
No matter how great Tavares is, the Lightning need defense more than another forward. They have a glut up front, so much so that last season Alex Killorn found himself placed on the third line. Meanwhile, a top penalty-killing shot blocker, Cedric Paquette, found himself sitting in the press box watching because there were more players than playing time to go around.
With prospects Matthew Peca and Alexander Volkov nearly ready to make the leap, adding Tavares could end up hurting the Lightning. By that, I mean having NHL-caliber players stuck in the AHL can bore them to the point that they ask for a trade. Why stick around when the NHL club has zero room for you?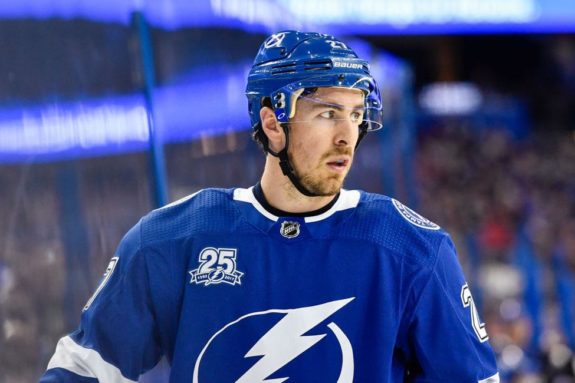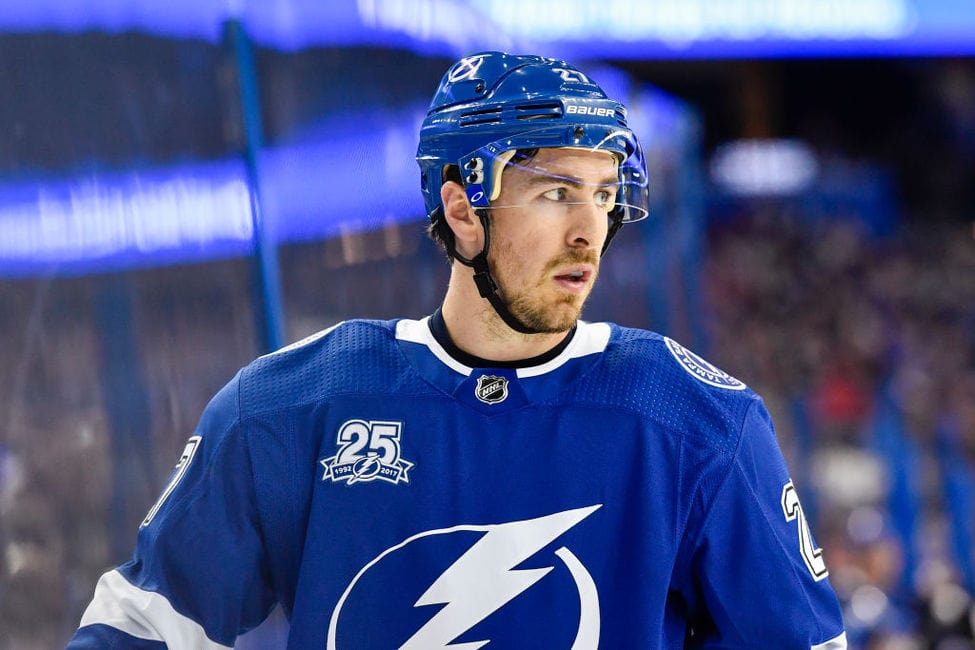 Defense needs to be the Lightning's priority. The addition of Ryan McDonagh at the 2018 trade deadline helped solidify things, but this team needs another upgrade on the blue line. Erik Karlsson's name has been tossed around, along with Jacob Trouba and (maybe) John Moore.
There's also the possibility of re-signing Slater Koekkoek. He's an interesting case, as head coach Jon Cooper hasn't played him much over the past few years. General manager Steve Yzerman did issue him a qualifying offer though, a sign the team hasn't lost faith in him yet.
Simply put, the Lightning should improve their back end before entertaining the thought of signing another forward to an already overcrowded area.
Tavares Forces Lightning to Make Tough Decisions
With the Lightning up against the salary cap, they have little wiggle room to make deals this offseason. Even considering the lack of state income taxes in Florida, Tavares will likely ask for a hefty contract. It could easily end up being more than what good buddy Steven Stamkos signed for back in 2016.
That kind of dough might not be in the Lightning's budget. Think about it. They just re-signed Miller to a hefty contract and Kucherov will need one before July 1 of next year. It has the chance to be big too, as he's coming off of a 100-point season in 2017-18.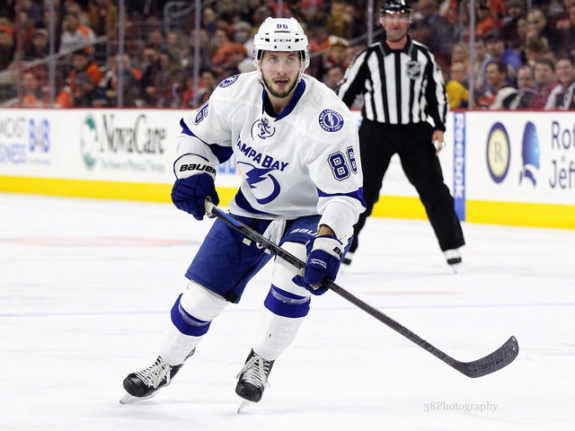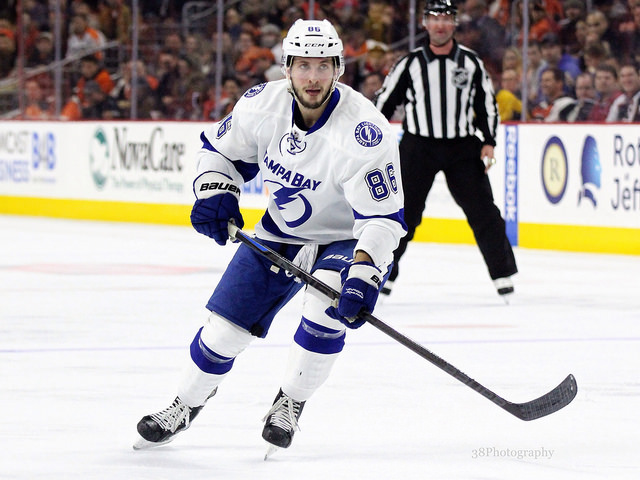 For the Lightning, offering Tavares could spell the end of Kucherov. They can't sign both unless one takes a massive pay cut, an unlikely move considering both guys are elite players who could make more on another team.
Kucherov wouldn't be the only one affected by Tavares signing with the Lightning. Tyler Johnson and Killorn could also end up being traded to make room for the Islanders captain. Each of those two are in the early stages of lengthy, fairly generous contracts. Johnson's comes with a no-trade clause that kicks in on July 1 as well.
Another thing to consider is which forward has the higher ceiling. Tavares is a perennial All-Star with exceptional vision on the ice. His 621 points in 669 games played speaks to that. The defensive side of his game is still a work in progress, however, as he's been a minus player in six of his nine seasons. Yes, that could be on his linemates and coaches more than him, but it's still a concern.
Meanwhile, Kucherov has the same elite playmaking abilities as Tavares. That's proven by his 334 points in 365 games played. He's also better defensively, evidenced by the fact he has a plus rating in each of his first five seasons. It's true that he struggles in the playoffs, but he's not the only one. The whole team seems to go silent when the stakes are high.
Signing Tavares Doesn't Guarantee Anything
No matter how much of a prize landing Tavares would be, there are no guarantees regarding his impact on the Lightning. This is because changing teams means altering everything. From a new coach to different teammates and a semi-foreign city, the life alterations can be difficult for any player to handle. Things would be no different for the most sought after name in the 2018 free agent class.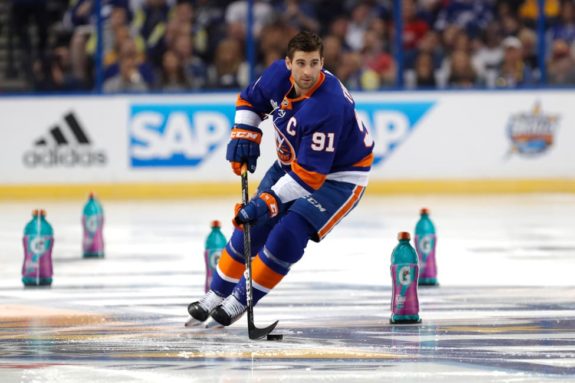 Would it be worth the gamble to potentially lose a similar talent in Kucherov? How about a playoff beast such as Johnson, or the young and talented Point? In short, does Yzerman mortgage the Lightning's bright future to sign one gifted player?  Those are questions that must be asked before making a decision of this magnitude.
Signing Tavares doesn't automatically mean the Lightning win the Stanley Cup. Their chances may go up, but hoisting Lord Stanley takes more than talent and experience. It takes a combination of things, beginning with heart and determination.
In the salary cap era, there's also no guarantee that Tavares will deliver another Cup to Tampa Bay before former players win with their current teams. The Lightning saw it firsthand this past season, as Brett Connolly helped the Washington Capitals capture hockey's holy grail.
Put simply, Tavares might help the Lightning become a deeper team offensively. He's got the skills to score key goals and make plays when needed the most. It all boils down to winning though, and there's nothing etched in stone saying he'll deliver the championship that's eluded this team in recent years.
(All statistics courtesy of NHL.com)