Beginning June 1, NWHL teams can re-sign players from their 2017-18 roster and their draft picks. Additionally, for those players who have completed their college eligibility and want to continue their hockey careers, NWHL Free Agency provides the best opportunity to continue playing at the highest level of professional women's hockey. Players who were not drafted by an NWHL team, or who have previously played in a different league, in Europe or otherwise, are unrestricted free agents and may sign with any team that offers them a contract.
The fourth season of the NWHL will begin in October as the Metropolitan Riveters defend their Isobel Cup championship, and with the addition of a fifth team – the Minnesota Whitecaps – this will be the most competitive season yet.
My colleague Dan Rice will keep THW readers up-to-date on Metropolitan and Connecticut's signings throughout the summer, while I post updates on Buffalo and Boston. Together we will be keeping readers informed of all of Minnesota's signings. 
Szabados Signing Solidifies Beauts' Goaltending
Goalie Katie Burt Is First Pride Signing
Riveters Re-Sign All Three Goalies
The Boston Pride have now re-inked both their most steadfast defender and one of their most productive forwards. Furthermore, the team is keeping some of its history, as well its "heart and soul", intact for the 2018-19 NWHL season. Word came out on Jun. 28, 2018 that the Pride had re-signed two of their original players in defender Alyssa Gagliardi and forward Emily Field. Thus far, these are the only two players signed that have been in the league since the inaugural season and have remained with the same team.
Both Gagliardi and Field are dependable leaders for Boston and contribute offensively. Not surprisingly they were among members of the Pride who were selected to play in the 2018 NWHL All-Star Game in Minnesota. For going on four seasons now, they have been a glue for their hockey club. One that culminated into an Isobel Cup championship in the league's inaugural season, followed by a return trip to the Final in 2016-17.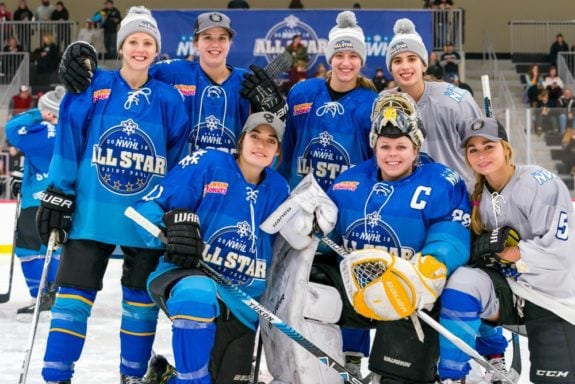 Boston head coach Paul Mara said the following about each player in an NWHL press release:
"Alyssa and Emily are extremely talented and dedicated players who are very important to the Pride. We're glad to have them back for their fourth seasons in the NWHL, and I'm looking forward to working with them."
THW takes a closer look at both retained players. Each one is a much needed ingredient if the Pride are to return to being Cup contenders in the upcoming season.
Gagliardi Is an Invaluable Blueliner
It cannot be stressed strongly enough how key it is to have Gagliardi back for a fourth straight season. One could argue that no defender in the NWHL means more to her hockey club than what she does. A sizable chunk of what Gagliardi brings to the table are the successes she has had at the professional level. Playing with the CWHL's Boston Blades during the 2014-15 season she won a Clarkson Cup. The following year she would see her name etched upon Lady Isobel as the Pride became the first team to win the NWHL championship.
"I'm incredibly excited to kick off Season 4 of the NWHL and represent the Boston Pride again," said Gagliardi in an NWHL press release. "It's an honor to be a part of this organization for another year. We're looking to have a bounce-back season and compete for the Isobel Cup come March. I love the opportunity to play at the highest level and compete against top players from around the world. It's going to be another incredible year for women's hockey and the NWHL, and I can't wait for October to get here!"
Gagliardi has 50 NWHL regular season games to her credit, and has scored two goals and 17 assists during that time. Her career plus/minus is rather substantial too, presently at a plus-17. Gagliardi's finest season offensively was this past one when she scored her first two NWHL goals and added six assists. She has played in all seven of the Pride's postseason games in the team's history.
Gagliardi can log a lot of ice time, and is truly a workhorse on the back end. When considering the fact that Boston's first announced signing was a rookie goaltender (Katie Burt), having such a reliable defender can calm any jitters a young netminder may be feeling. Gagliardi's positioning and decision making on the ice are as close to perfection as you will likely see. Her 25 blocked shots were the most on the Pride by eight, and were second most in the entire league.
Field Was "The Pack's" Second-Leading Scorer in 2017-18
Field is one of the most underrated players in women's hockey. Yes, she was named an NWHL All-Star but too often she is overlooked for not only her offensive production but also her tremendous two-way play. Field is the type of player who accepts the responsibility of playing in any situation, and she always delivers.
Stoked to be back! 🏒🥅 @TheBostonPride @NWHL Whose next?!?! https://t.co/KocdAqr8B7

— Emily Field (@Emilyfield15) June 28, 2018
Field was second overall for Boston this past season in all three major offensive categories. In 16 regular season games she tallied five goals and seven assists for 12 points. These were also the highest totals of Field's NWHL career thus far, and it is a strong possibility she can up those numbers a bit more in 2018-19.
The Pride may very well need her to. Their 33 goals in 16 regular season games were the second least this past season. With all of these major goaltending signings by Buffalo, Metropolitan and Minnesota, this season may be the most challenging one yet for creating offense. Boston will need Field to score at least as much as she has done thus far. In 49 career regular season games she has compiled 12 goals and 13 assists for 25 points.
Where Does the Pride Go From Here?
Boston now has a forward, a defender, and a goalie all under contract. So what is their next move? Well, the concept for how to proceed is not that tricky, it's just a matter of pulling it off. The solution is twofold. Firstly, bring back the other members of the defense corps to assist and accentuate Gagliardi. Secondly, get onto the Olympian bandwagon and grab a couple of the national team players.
Despite the Pride's opening round playoff exit, their defense corps was one of the finest in the NWHL. In addition to Gagliardi, blueliners like Lexi Bender, Paige Harrington, Kaliya Johnson, Meagan Mangene, and Marissa Gedman are all solid. All are capable of making an NWHL roster, and would be ideal to have surrounding the Pride's goal crease. While no announcement has been made yet that veteran goaltender Brittany Ott has been re-signed, it is maybe more imperative to get reliable defenders in front of Burt, some of whom are rather hulking.
#NWHL news: Boston re-signs Alyssa Gagliardi (@AGagliardi92) & Emily Field (@Emilyfield15). Both players have been with #ThePack🦁 since their inception and were on the 2015 Isobel Cup champions. Press release: pic.twitter.com/ipFioYYAJh

— Dan Rice (@DRdiabloTHW) June 28, 2018
Boston was once a haven for Olympians. Hilary Knight, Brianna Decker, Meghan Duggan, Monique Lamoureux, Kacey Bellamy, and so on. They all played for either the Boston Pride, Boston Blades, or both. The Pride need to entice some Olympians of their own, and make this team a powerhouse again. Once one Olympian is signed, others will follow.
Here is a look at how the Pride's roster is currently shaping out as of Jun. 28:
Goalie: Katie Burt.
Defense: Alyssa Gagliardi.
Forward: Emily Field.