It's been over four months since Troy Terry skated in PyeongChang as a member of the men's Olympic ice hockey team, more than 14 months since he became a national champion and about 17 months since he went five-hole at the 2017 WJC (multiple times) and won gold.
For being just 20 years old, Terry has more accomplishments on his resume than most players his age. Something he does lack though is games in the NHL. After losing to Ohio State in the regionals of the 2018 Frozen Four tournament with his defending champion Denver Pioneers, Terry signed an entry-level deal with the Anaheim Ducks. He only saw two regular-season games and watched a dismal sweeping of the Ducks from the press box in the playoffs. If anything's for sure, though, he should have a spot on the roster for the 2018-19 season.
Who is Troy Terry?
Troy Terry, for many, was known as a fifth-round pick and not much else, unfortunately. As one of the leaner, 'undersized' players on most of the rosters he's played on, he has gotten overshadowed and overlooked by the public, but never by those who worked in close quarters with him.
"I call him the Kobe Bryant of hockey," former Denver University head coach Jim Montgomery said of Terry, "because he's one of those athletes that has the ability to raise his game in big moments. And he's done it throughout his career."
Terry was drafted just before he began college at DU while he was still a member of the U.S. National Team Development Program on their U-18 roster. In 66 games he tallied 44 points (19-25), which was good enough for seventh on the team. Names ahead of him consisted of Auston Matthews and Matthew Tkachuk, so the third/fourth-liner went under the radar.
Even after joining the Pioneers, he wasn't truly a household name until January 2017, when he worked shootout magic against Russia in the World Junior Championships. It was there that his handiwork and vision was really put on display when he won the semifinal round with three shootout goals–all of which went five-hole.
Terry also went on to score again in the shootout that decided the gold medal game against Canada. He then returned to Denver and brought the Pioneers to their 16th Frozen Four appearance and eighth National Championship.
"Just the way everything has changed now—I mean this not in an arrogant way at all, but I don't think Anaheim views me as just a fifth-round pick anymore." said Terry in an interview with Bleacher Report.
While the Ducks' choices during the 2017-18 campaign might not show their appreciation for the forward, he deserves a real hard look in the upcoming development and training camps.
Top-Six in Anaheim
The Ducks are in a questionable position after they fell out of first place in the Pacific for the first time since 2011-12; that year the Northeast, Southeast and Northwest divisions still existed and the, then, Phoenix Coyotes were in first place in the Pacific.
Now, Corey Perry is losing his touch, Ryan Getzlaf is suffering because of that and Ryan Kesler is also not what he once was.
Is it a rebuild? Not yet. Is it a good situation to be in? Definitely not.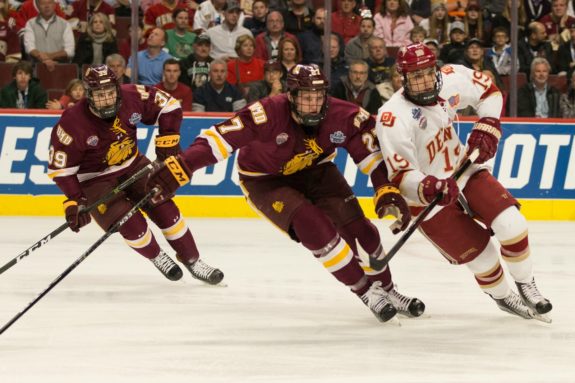 With the addition of the Vegas Golden Knights to the Pacific, now more than ever, the Ducks need to learn to suit up and change their brand of hockey, something their general manager understands and is looking to work towards after being swept by the Sharks in the first round.
"We just played a team that was way faster than us," GM Bob Murray told the media after the early playoff exit. "And they played the game faster than us."
No longer will their backbone be Ryan Kesler's threat to the Chicago Blackhawks in 2015. They have to look for speed and finesse–the bread and butter of the new youth movement.
The Ducks have been just good enough to miss out on a lot of big-name prospects, except for Troy Terry. Terry is, believe it or not, still part of the youth movement as he is a 1997 birthday. And if his time at the World Juniors gave any indication, he's got the skills to be towards the top of the '97 class.
Terry should be in the NHL, and if the Ducks make that move, he will find himself on the wing for this upcoming season given his tendencies to sometimes play wing, and also the depth of the center position in Anaheim. It also gives him the ability to open up and score a little bit more.
The Colorado native has never been one to score goals but instead likes to set them up. Last season in Denver, Terry played alongside senior Jarid Lukosevicius, who was a little more comfortable with sniping the puck than Terry was.
Terry often was the point man on the power play or was entering the zone to set-up his teammates; hardly ever was it about him. That's where playing on the wing comes in. Specifically, playing on Kesler's wing. If Terry can play on the wing of a defensive center and get to play the role of a Lukosevicius instead of a Terry, and he can see if he can turn that switch on like he did in the backend of his sophomore year where he went on a streak of 28 points in 17 games en route to the NCHC tournament. Beyond all else, on Kesler's wing Terry can take chances and make mistakes and learn on the NHL level. Terry will also be a major help to Kesler if he too plays the 2018-19 season.
The San Diego Option
Yes, sending Terry down to the AHL is an option, but not a good one.
He has already proven himself on multiple stages in which he's playing against men much older and bigger than him. He's succeeded at the college and Olympic levels; there's not much more that can be asked of him.
While he could comfortably find a place on Kesler's wing (and sometimes Adam Henrique's to switch the lines up and put him in a different situation) there's little sense in putting him in San Diego where he won't be playing against as tough as competition or with as good of players. For some, like Arizona's Dylan Strome, the AHL worked wonders for their development. But Terry is a college hockey product and, as previously said, knows how to play against men and should be given a chance to play on the highest level right away.
The Ducks could narrowly evade a rebuild situation if they play their cards right. If they get Terry on the fast track to the NHL, by the time Getzlaf, Perry and Kesler's times are over, he, Rakell, Silfverberg and more can take the reins on what should be a continually dominant force for years to come.