Following a sharp dip in offensive production in the 2016-17 season, there was understandably some concern about Corey Perry's ability to continue to produce offense at the level of a top-line forward. His drop from 34 goals the previous season down to 19 markers in 2016-17 was alarming, but Perry's career-worst shooting percentage of 8.8 suggested that he was running into bad luck more than anything else. A rise back up toward the mean and thus a rebound in offensive production seemed to be in the cards for 2017-18.
A year later, Perry and the Ducks are looking back on a season in which this assumed rebound did not occur, despite a certain writer's prediction. He scored just 17 goals to go along with 32 assists (he had 34 helpers the previous season). Yes, Perry did miss 11 games with a knee injury, but even so, his projected full-season goal would still be well below his previous standard.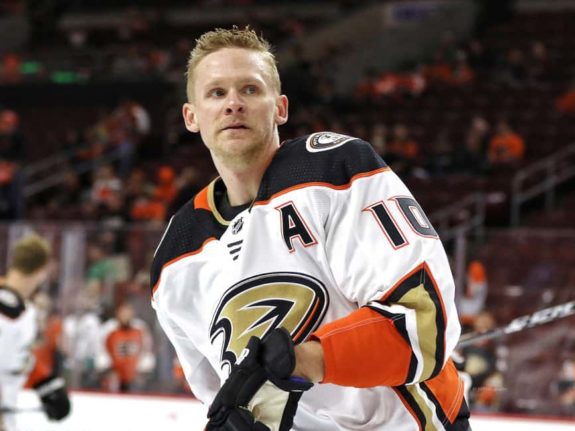 Now, after two straight down seasons by the 33-year-old Perry's standards, the Ducks might eventually have to come to terms with an issue that has no easy solution: whether (and how) to cut ties with Perry.
A Deeper Look Into Perry's Struggles
Perry's Illustrious Career of Yesteryear
Perry has already had a spectacular enough career to cement himself as a Ducks legend. He is in second place on the all-time franchise list in games played (957) and goals scored (366). He is in third place with respect to assists (400) and points (766).
His hard-nosed, edgy, and often controversial style also has him in the franchise's top spot with respect to career penalty minutes (1,083). Between this and his scoring prowess, he will never be forgotten by Anaheim fans. Oh, and for those of you who like to use championships won as a criterion for measuring individual greatness (for the record, I am unequivocally NOT one of these people), Perry was also a member of the Ducks' 2007 Stanley Cup championship team.
At this stage in his career, though, Perry is sliding towards becoming more of a role player than a critical driver of his club's success. His second straight season of noticeably lower scoring than his career norms suggests that 2016-17 was not an aberration, but the new normal.
Perry Declining
The thought following Perry's 19-goal campaign a year ago was that Perry's shooting percentage would bounce back. Of course, the prevailing thought behind that thinking is that unlike things that decline with age—like foot speed, quickness, and stamina—an individual player seldom loses his ability to shoot the puck with speed and precision. So Perry's low shooting percentage in 2016-17 appeared to be mostly a case of bad luck.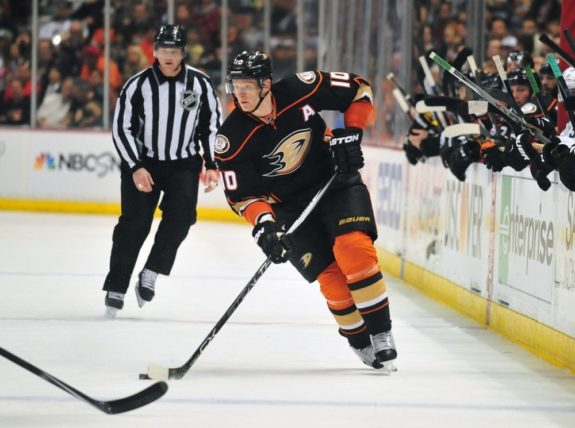 Indeed, Perry's shooting percentage did increase slightly from 8.8 percent that season to 10.1 percent this past season, but that number is still noticeably lower than his career mark of 13 percent. A relatively low shooting percentage for two straight seasons detracts from the outlier argument and instead warrants further investigation.
Looking at some key numbers during 5-on-5 play, an evident pattern is that Perry is not generating shots and scoring chances as much as he used to in his heyday. Despite still getting heavy minutes playing with top-notch producers Ryan Getzlaf and Rickard Rakell and never dipping below an average 17:42 per game across any of the previous five seasons, Perry found himself with fewer shots on goal himself per 60 minutes compared to each of the previous four seasons, with each year, in fact, having a lower rate than the last.

(For context, Perry scored over 30 goals in each of the three seasons prior to the most recent two, including a 43-goal campaign in 2013-14.)
Perry also had his fewest individual scoring chances and fewest high-danger scoring chances in 2017-18 compared to every other season within the past five. It's one thing if you are getting the chances and just not having much puck luck. But Perry is now getting fewer shots and chances, which is a problem that goes well beyond bad luck and defies what he said at the end of the 2016-17 season.
The implication here is that other components of his game besides his shot and finishing touch—e.g., his skating and ability to beat the defense in getting to prime scoring areas—are deteriorating and having a major effect on his shooting percentage and thus his ability to score with frequency.  
While these numbers do not confirm which specific aspects of Perry's game are deteriorating and to what extent they are, they do support the notion that there is more to Perry's scoring decline than many of us (including this writer) might have thought a year ago. They also help validate some "eye test" things we might see on the ice, such as Perry not having the same "jump" he once did.
Ducks Stuck in Tough Spot
The Ducks want to become younger and faster. That much is evident. Big contracts to veterans, however, are serving as partial impediments to those efforts. When those veterans begin to slow down in terms of production, the issue becomes that much more magnified.
Perry has another three years left on a contract that pays him an average annual value (AAV) of $8.625 million. That's not exactly a contract that's easy to move or buy out.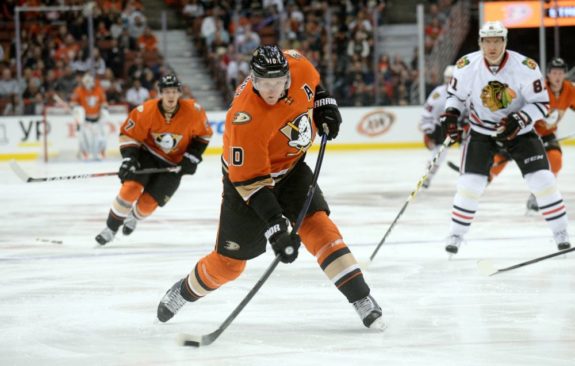 To backpedal a bit, things are not so dire (yet) that the Ducks need to move on from Perry—a franchise legend—at this time. He is still a 50-point player. But for how much longer will that be the case? As it is, the ratio of production to salary is already suboptimal.
After two years of subpar production, it's safe to say that Perry's best days are behind him and that this decline will in all likelihood continue into next season, with another dramatic drop possibly coming soon. At what point does it become untenable for the Ducks to have 11 percent of their cap space filled by a depreciating Perry?
If that point arrives, and moreover, if it arrives quickly, the Ducks might have to face an uncomfortable decision. The 2018-19 season will be another major indicator in terms of Anaheim's eventual path regarding Perry.
Note: All stats obtained via Natural Stat Trick and Hockey Reference.