Beginning June 1, NWHL teams can re-sign players from their 2017-18 roster and their draft picks. Additionally, for those players who have completed their college eligibility and want to continue their hockey careers, NWHL Free Agency provides the best opportunity to continue playing at the highest level of professional women's hockey. The fourth season of the NWHL will begin in October as the Metropolitan Riveters defend their Isobel Cup championship, and with the addition of a fifth team – the Minnesota Whitecaps – this will be the most competitive season yet.
My colleague Dan Rice will keep THW readers up-to-date on Metropolitan and Connecticut's signings throughout the summer, while I post updates on Buffalo and Boston. Together we will be keeping readers informed of all of Minnesota's signings. 
Morse & Nash Return to Rivs to Defend Title
Pride Sign Veterans Gagliardi & Field for 4th Season
Szabados Signing Solidifies Beauts' Goaltending
The Boston Pride have announced their fourth signing of the summer. Defender Toni Ann Miano becomes the team's second rookie to sign with the club since NWHL Free Agency opened on Jun. 1, 2018. The addition of the former Boston College Eagle seems well-timed, as the team recently re-upped veteran defender Alyssa Gagliardi. Pairing Miano with an original Pride defender not only makes sense from a development standpoint, but the two blueliners potentially compliment each other quite nicely.
Miano is all about offense. Wrapping up her collegiate career at BC, she was the leading scorer for defenders in the program's history. With her entering the NWHL for the 2018-19 season, she will have every opportunity to position herself as an elite offensive-defender. Who knows? Miano has the potential to be the leading scorer among all defenders once the season gets underway.
Boston head coach Paul Mara shared the following about Miano's signing in an NWHL press release:
"Toni is an outstanding puck-moving defender who is a perfect fit for the up-tempo style the Pride are going to play. She will be a difference-maker for our team."
THW takes a closer look at the Miano signing and what it will mean for Boston. If the Pride are to reclaim the Isobel Cup, their newest player is a big step in the right direction.
Finding Success at Boston College
Raised in The Bronx, New York, Miano played for the BC Eagles from the 2014-15 season up through this most recent NCAA season. In 135 career games she scored 36 goals, 66 assists and 102 points. During both her junior and senior campaigns Miano was at least a point a game player. In her junior year of 2016-17, she played in 17 of the Eagles first 18 games before sitting out the second half of the season. Within those games she tallied six goals and 11 assists, and finished as a plus-13 for plus/minus.
BREAKING: @TheBostonPride have signed former @BC_WHockey D Toni Ann Miano.

🔗: https://t.co/Bq2A3QfmBc pic.twitter.com/3UCk5J8xjk

— NWHL (@NWHL) July 2, 2018
Miano absolutely exploded offensively during her senior year. Playing in 38 games she fired home 18 goals and tacked on 25 assists for 43 points. Six of those 18 tallies came on the power play, while five ended up being game-winners. Miano's scoring led all NCAA Division I defenders during the 2017-18 season, and her 68 blocked shots led all Eagles players.
Following her collegiate successes, Miano is primed to bring her game to the NWHL:
"I'm joining this great league and organization because of my love of the game, drive to win a championship in Boston, and pursuit of consideration for the U.S. national team as I continue my development," she shared via an NWHL press release. "I'm really proud to be among the other BC players that have worn the Pride jersey, and I look forward to playing with and learning from all of the incredible players who will be with us in Boston this season."
How Miano Fits in With the Pride
As mentioned earlier, Miano could not find a better mentor to show her the NWHL ropes than Gagliardi. The wise rearguard for Boston is now entering her fourth straight season with the team. Gagliardi is an original and can help the younger blueliner through any sort of adjustment period. Not that there would be much of one – after all, Miano is a a top-ten finalist in 2018 for the Patty Kazmaier Memorial Award, given annually to the top player in NCAA Division I women's hockey – but it is helpful to have savvy veteran support no matter how skilled you might be.
Miano, who was originally drafted by the Metropolitan Riveters in the 2017 NWHL Draft, is the second Boston College player to sign with the Pride this season. Another rookie, goaltender Katie Burt, had the distinction of being "The Pack's" first announced signing heading into the 2018-19 season. With Miano's skill set, and considering how phenomenal of a netminder Burt is (record holder for most wins in NCAA history), Boston has arguably made the biggest splash in bringing aboard NWHL rookies.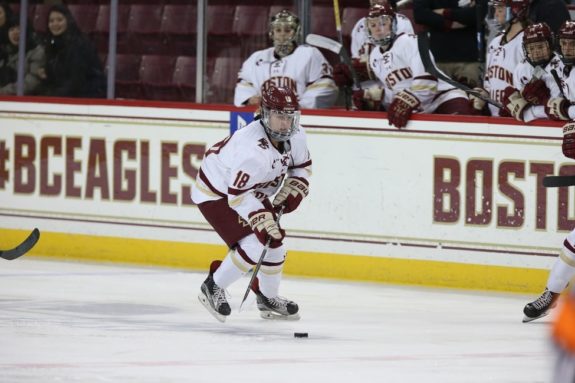 Meanwhile, Boston's back end is just starting to come into form. Miano and Gagliardi would make any roster in the league, and then some. Now the Pride need to get the rest of the band back together. Defenders Lexi Bender, Paige Harrington, Kaliya Johnson, Meagan Mangene, and Marissa Gedman should all be strongly considered for re-signing. Miano is well-aware of the strong pedigree of talent and the historical success of the Pride. It is something she cannot wait to become part of.
"I'm extremely fortunate and grateful to have the opportunity to play professional hockey for the Pride this fall," Miano said in the same press release. "I'm excited about inspiring the next generation of women's hockey players. Thank you to the NWHL and the Boston Pride for this opportunity and to my coaches, family and friends for their unwavering support throughout my career."
Here is a look at how the Pride's roster is currently shaping out as of Jul. 2:
Goalie: Katie Burt.
Defense: Alyssa Gagliardi, Toni Ann Miano.
Forward: Emily Field.