The Florida Panthers made six picks in the 2018 Draft, highlighted by Grigori Denisenko 15th overall. He has the potential to be a future star and could have a more productive career than those taken in the top-10. While he is the Panthers' flashy pick from the Draft, their other five picks will be the ones that add depth to their farm system and could develop into surprising NHL players.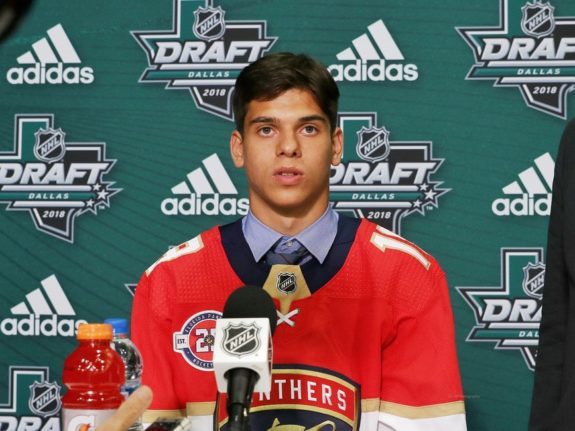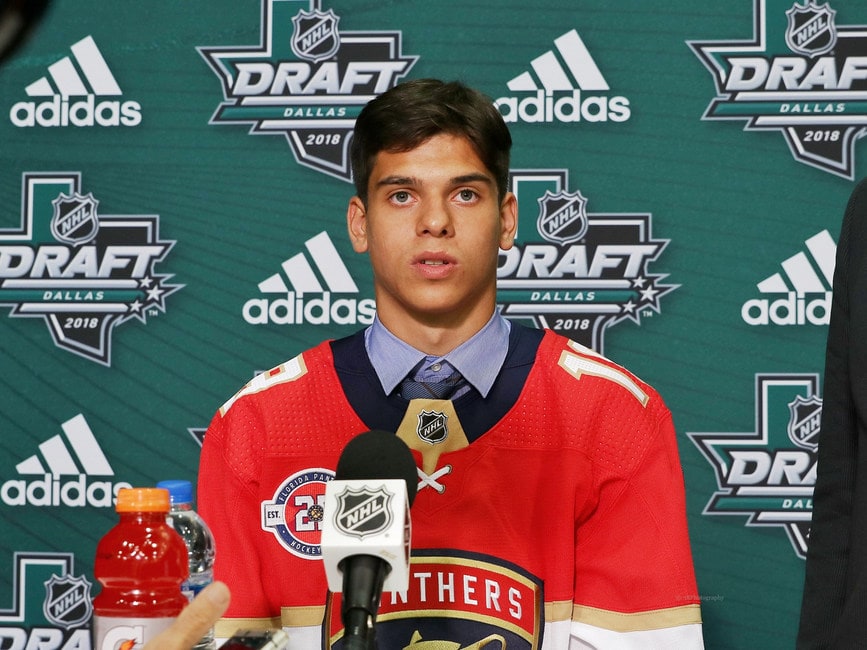 Related: 2018 NHL Draft Results
Round 2, Pick 34 – RW Serron Noel
Power forward Serron Noel was projected by many to be taken in the first round but slid to the early second round. Craig Button ranked Noel 16th and Bob McKenzie had him 22nd, as did Sportsnet. At 6-foot-5 and 209 pounds, Noel already has NHL size and has improved his skating dramatically over the past year, an area of criticism for him as is the case for many players of his stature.
He still has areas that need improvement, most notably to be more consistent and needs to work on his defense. But, he doesn't turn 18 until August and has time to develop those areas.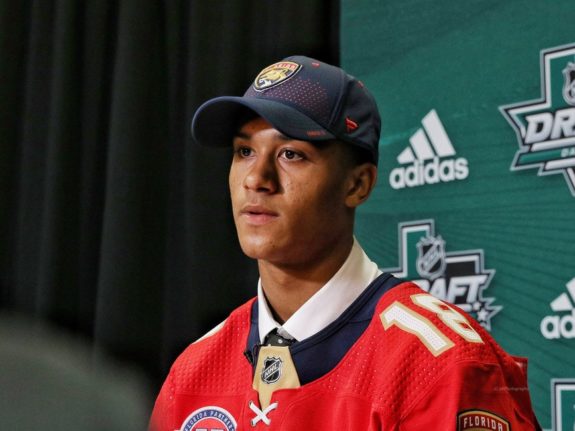 With the OHL's Oshawa Generals, he posted 28 goals and 53 points in 62 games in 2017-18, better than the 21 points in 63 games he had in 2016-17. He also contributed six points in five games at the 2018 World Junior Championships and participated at the 2017 Ivan Hlinka Tournament, all playing for Canada.
Others Taken with Pick 34: Doug Weight (1990) – New York Rangers, Travis Dermott (2015) – Toronto Maple Leafs, Michal Neuvirth (2006) – Washington Capitals, Jake Allen (2008) – St. Louis Blues
Round 3, Pick 89 – RW Logan Hutsko
American Logan Hutsko was an overage player at the Draft, having turned 19 on Feb. 11. He was eligible for but wasn't taken in the 2017 Draft when Future Considerations ranked him 187th. He entered the 2018 Draft as an unranked prospect and the Panthers took him earlier than expected.
He went undrafted last year and was unranked this year after suffering a broken neck in 2015 that left his career in jeopardy and impacted his ability to stay on the ice. During the 2016-17 season, he played in 11 games. He played for Boston College in 2017-18 and was an impact player with 12 goals and 31 points in 37 games and was named Hockey East's Rookie of the Year and to the conference's All-Rookie Team.
At 5-foot-10 and 172 pounds, Hutsko has to add some mass to his frame to be able to withstand the physicality of NHL play, but if he does, he could be a steal for Florida. He will return to Boston College this fall for further development.
Others Taken with Pick 89: Alexander Mogilny (1988) – Buffalo Sabres, Jim Nill (1978) – St. Louis Blues, Oliver Bjorkstrand (2013) – Columbus Blue Jackets
Round 6, Pick 170 – LW Justin Shütz
Justin Shütz is a German-born winger whom there is not much information about. He is the same size as Hutsko but a year younger and also needs to develop physically. He played the entire 2017-18 season for the RB Hockey Akadamie of the Czech U18 league and scored 24 goals and 62 points in 40 games. He added a goal and three assists in five playoff games.
He represented Germany at the 2018 World Junior Championships U18 Division 1A Tournament and scored two goals in four games. He was also named top player of the team for Germany at that tournament. Shütz will play for EC Salzburg II of the AlpsHL in 2018-19.
Others Taken with Pick 170: No one of note
Round 7, Pick 201 – D Cole Krygier
Defenseman Cole Krygier was ranked 149th among North American skaters by NHL Central Scouting in its final rankings and the Panthers took him five picks after the New York Islanders drafted twin brother Christian.
At 6-foot-3 and 192 pounds, Cole Krygier has good size for an 18-year-old. He played for the Lincoln Stars of the USHL in 2017-18 and had three goals and 17 points in 58 games along with a goal and an assist in seven playoff games. He also represented the United States at the 2017 Ivan Hlinka Tournament and went pointless in four games.
https://youtu.be/jP-3uEnImjo
As a late round pick, he is a project and is committed to play for Michigan State in 2018-19 along with Christian.
Others Taken with Pick 201: Viacheslav Fetisov (1978) – Montreal Canadiens, Justin Braun (2007) – San Jose Sharks
Round 7, Pick 207 – D Santtu Kinnunen
Santtu Kinnunen is a Finnish defensive defenseman. He played in Finland's Jr. A SM-Liiga for the Pelicans U20 team before he was loaned to Peliitat of Mestis. In 54 total regular season games, he had four goals and 28 points. He also represented Finland at the World Junior Championships U20 tournament and went pointless in three games.
Kinnunen has height at 6-foot-2 but is undersized at 154 pounds and needs to bulk-up. As a late seventh round pick, the odds of reaching the NHL are stacked against him, but the Panthers saw him as a late developer physically and liked him enough to take a flyer on him.
Others Taken with Pick 207: Hal Gill (1993) – Boston Bruins, Anders Lindback (2008) – Nashville Predators
*All stats taken from Elite Prospects