The Anaheim Ducks have been relatively quiet in terms of the magnitude of their free-agent signings since the July 1 free-agent frenzy period began, but they have added a number of new faces to the organization. These transactions are altogether minor in nature, as general manager Bob Murray's goal seems to be to not overspend and over-commit, and instead address the club's depth via low-risk signings.
Across July 1 and July 2, the Ducks agreed to terms with defenseman Luke Schenn, forward Brian Gibbons, forward Carter Rowney, forward Anton Rodin, forward Ben Street, and goaltender Jared Coreau.
Ducks Sign Luke Schenn
The Ducks need some depth for their bottom defense pair, and while they could have rolled the dice with their promising youngsters and given their needed youth/speed movement a necessary injection, Murray instead decided to add Schenn, who was the fifth overall pick (by the Toronto Maple Leafs) in the 2008 NHL Draft but has never really lived up to that billing. The deal is only for one year and $800,000, per TSN's Frank Seravalli.
Luke Schenn is joining the #Ducks on a one-year, $800k deal. #TSN

— Frank Seravalli (@frank_seravalli) July 1, 2018
The defensive-minded Schenn, whose younger brother Brayden plays for the St. Louis Blues, spent the last two seasons with the Arizona Coyotes, notching just two goals and 13 assists in 142 combined games over that span. Before that, he split the 2015-16 season between the Los Angeles Kings and the Philadelphia Flyers, the latter to whom he was dealt from the Maple Leafs for now-second-time-Flyer James van Riemsdyk in the 2012 offseason. The blueliner had stepped into NHL action right away for the Leafs in 2008.
The 6-foot-2, 229-pound Schenn is a physical, stay-at-home defender whose style has almost been relegated obsolete in the increasingly speedy NHL. For all of Murray's talk about the team needing to change to fit that style more, this signing represents the antithesis of that in many ways, so in that sense, it's a very curious move.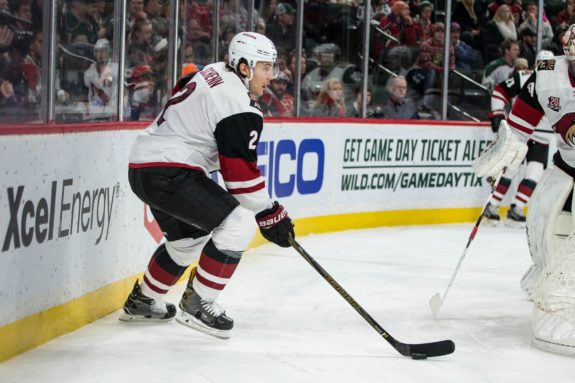 Nevertheless, Schenn provides the Ducks with a bit of insurance if the kids are not ready, and at the one-year, low-cost rate, teams could do much worse with respect to a bottom-pairing/depth defenseman.
Brian Gibbons Joins Ducks
Murray also addressed his forward depth, signing center/left wing Brian Gibbons to a one-year contract worth $1 million, per The Athletic's Eric Stephens and TVA Sports' Renaud Lavoie. Per Lavoie, the agreement is Gibbons' first one-way deal in the NHL.
A 30-year-old journeyman forward who has also shuffled quite a bit between the NHL and AHL, Gibbons had somewhat of a breakout campaign with a surprising New Jersey Devils team last season, scoring 12 goals and 14 assists in 59 games. His speed made him particularly effective on the penalty kill, where he tallied three shorthanded goals and six total shorthanded points. At 5-foot-9 and 175 pounds, he does not offer much in the way of size but instead relies on his speed to be a disruptive player.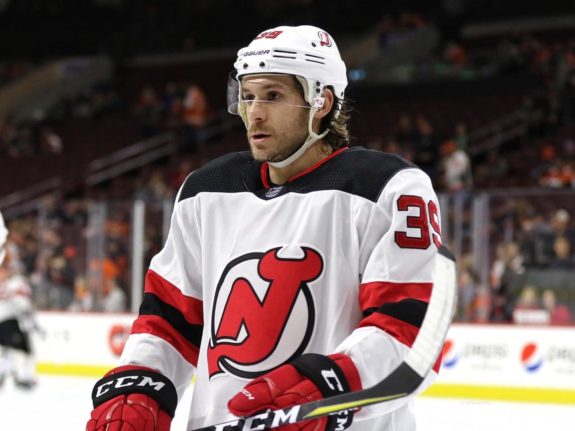 Gibbons was able to parlay his success in New Jersey into a one-way contract with the Ducks, who hope he can be a dangerous scorer and effective defensive player in their bottom-six. While certainly not a major move by Murray, this signing is a bit more in line with the aforementioned changes he discussed.
Ducks Ink Carter Rowney
While Schenn and Gibbons were short-term, low-cost, and thus low-risk signings, Murray shelled out a slightly bigger contract for depth winger Carter Rowney.
Rowney is 3 years, $3.4M. https://t.co/4dBs93MiC8

— Eric Stephens (@icemancometh) July 2, 2018
The AAV isn't terrible, but the bottom line is that the Ducks are committing over $1 million for each of the next three years to a 29-year-old fourth-line player who has a total five goals and seven assists in 71 career NHL games with the Pittsburgh Penguins. But of course, he saw some key action for the Penguins, suiting up for 20 playoff games during their 2017 Stanley Cup run. Once again, it appears the notions of championship experience and grit have been overvalued.
It's a great deal for Rowney, who has surely worked tirelessly to make it to the NHL and stick after years of AHL experience and some time in the ECHL. But for Murray and the Ducks, this type of role could easily be filled by a younger, faster, and cheaper player—perhaps even from their own minor-league system.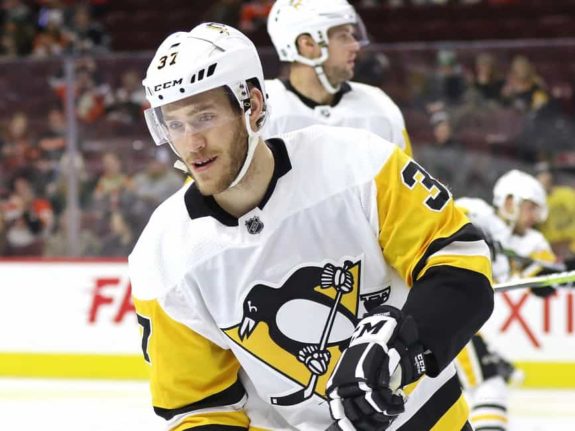 Gibbons seems to provide more value and has better credentials to his name, but it was Rowney who got the longer-term and more lucrative deal. It's difficult to justify this contract, but in the silly season of free agency, Ducks fans can take solace in the fact that Murray didn't handcuff his team as badly as some other GMs did (Jim Benning, anyone?).
Ducks Sign Rodin, Street, & Coreau
Anaheim added three other players for organizational depth in Anton Rodin, Ben Street, and Jared Coreau. All three signed for one year, with contract values of $750,000, $750,000 (per CapFriendly), and $650,000, respectively.
Rodin, 27, only has three NHL games under his belt, all with the Vancouver Canucks in 2016-17. He picked up one assist. Rodin did, however, win the MVP award in the Swedish Hockey League (SHL) in 2015-16 when he totaled 16 goals and 21 assists in 33 games. So, he has the potential to provide some AHL-level scoring depth, although that has yet to really come to fruition; he has just 44 points in 121 career AHL games.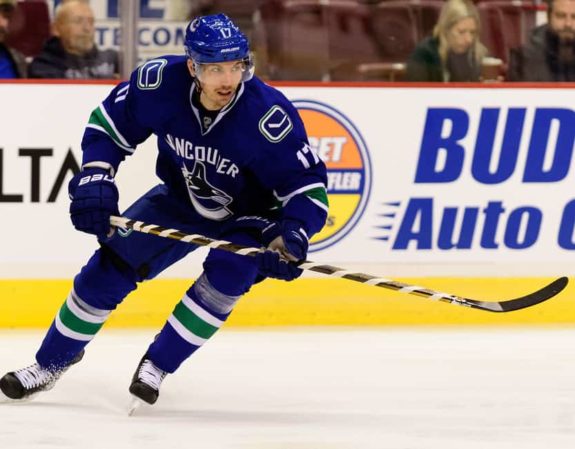 The Ducks also agreed to terms with 31-year-old forward Ben Street, presumably for AHL depth. The University of Wisconsin product has three assists in 35 career NHL games with the Calgary Flames, Colorado Avalanche, and Detroit Red Wings, but has been an effective offensive player in the AHL, notching 120 points in 135 games with the Grand Rapids Griffins over the past two seasons.
Finally, the Ducks picked up another player from the Red Wings' organization in Coreau. Coreau has 21 games of NHL experience to his credit. His numbers are not pretty in his somewhat limited sample, but he has shown promise at the AHL level, and at age 26, he gives Anaheim a younger depth goaltender within the organization with 31-year-old Reto Berra hitting unrestricted free agency and likely not returning.