The Connecticut Whale have 13 new players on their roster this season, tied for the most in the league with the Buffalo Beauts. Which means that there are numerous players making names for themselves as the third NWHL season moves into December, and recently we caught up with one of them — defender Rachael Ade from the Whale after their crazy, bananapants, come-from-behind 4-3 shootout win over the Boston Pride. Just like all of the players in the NWHL, Ade's path is an interesting and unique one, and she was kind enough to give us some details.
"This is a good omen for us for the rest of the season because we have a lot of new faces here compared to the rest of the teams," she said as she took a break from signing autographs for Connecticut fans following their big win. "It's good that we are meshing together this early in our season."
South to North
The 22-year-old is originally from Florida and her hockey path led her to the northeastern part of the country as a teenager. "My dad is from up north and I used to watch his men's league games, one day I decided I wanted to try it," Ade said of her father Rob. "Fun fact is that myself, my father, and both of my sisters all have the same initials: RCA! I (eventually) started playing rec league games and played boy's hockey a lot growing up until about age 14 or so. From there I went out-of-state to Pittsburgh, but we were always big Blackhawks fans (growing up) because my dad is originally from Illinois."
Later this NWHL season (Sunday, January 14), the Whale will take on the Beauts in Pittsburgh – a game that will be truly special for Ade. "I always enjoy returning to play in an area I once spent a lot of time training, and competing in my youth," she said. "It makes things feel like they have come full circle when I see all of the younger fans in the stands, as well as it makes me grateful for the journey I took to be where I am now."
#TBT to my parents not knowing exactly what they were starting with our family, and to playing with @tweeterlessG for round 3 #WGIHW pic.twitter.com/lnrOCTNpQ1

— Rachael Ade (@RachSevenAde) October 5, 2017
"It was an adjustment transitioning to Pittsburgh from Florida and that's where I really started playing girl's hockey. From there I went to an untraditional boarding school in Boston called the Boston Shamrocks, for about seven months. That was where I got used to the colder weather, being away from home — and I did homeschooling which was a time-management challenge."
Natural Born Leader
Ade learned a lot during that time, both about the game and herself which has helped her as she has started subsequent chapters throughout her career and life. "Transitioning from boarding school to college wasn't all that hard, and I was a captain with the Shamrocks," Ade told us. "I took some of those learning lessons with me to Vermont." But it wasn't all easy-peasy as she transitioned her playing career to a major program at the University of Vermont.
"It was very eye-opening for me though, going to college – especially a D1 school – because you're no longer the number one player anymore," Ade admitted. "That was an adjustment, and obviously I did become one of the go-to players, becoming a captain and all of that. It was a really great experience and it was an awesome feeling to play at that level."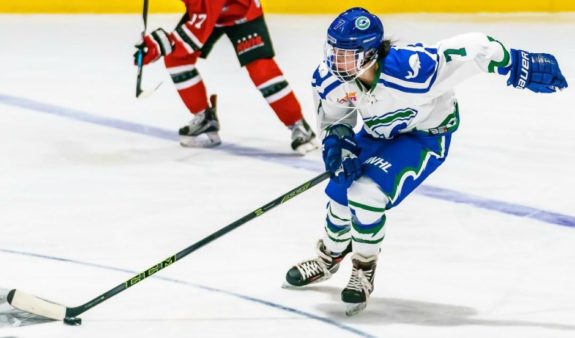 When her collegiate career started she assumed that she'd play four years and that would be the end of her competitive playing career. But once the NWHL became established, Ade began to set new goals for herself with an eye towards trying to prove that she could make the cut at the next level. "During my junior and senior years as the NWHL became established and I start thinking: yeah I really want to continue to play so let's see if I can progress myself to a level where I can make this league."
Ade Gets Paid
Check that off the list as she signed a contract with the Whale this June after competing at a Free Agent Camp following the end of her career at Vermont. "I think the speed, the style of play has been an adjustment. Like we talked about before, every time you move up a level you are weeding out more and more people and it becomes harder and harder to advance to the next level," the Davenport, Florida native said.
"Even just the mental game of professional hockey is different. Sometimes it doesn't require you to chase (the play) all over the ice, you have to make sure you are skating when you need to be skating. While the speed is different you have to make sure that you aren't over-using your energy."
In their comeback win, Connecticut was able to not get too down mentally and really took the game to the Pride over the game's final segments. "I think it really showed our team's character and how strong we are in terms of being mentally tough. We got down a little bit after the power play goal, but we battled back and really showed that we know we can do it, which is a great thing to have on your team."
She was in #WhaleJail🐳 but @RachSevenAde is free now #NWHL pic.twitter.com/dCIHcRmCBp

— Dan Rice (@DRdiabloTHW) November 19, 2017
Team Player
She doesn't have any points yet, but Ade is contributing in other ways early on in the season, putting shots on net, working on special teams and blocking shots. But she did admit she likes to contribute to offense and defense almost equally. Almost. "I definitely enjoy being offensive a little bit more, but you always get a rush from blocking a shot or making a big defensive play, making that poke check that really turns into something," the 22-year-old said. "I really love making those offensive pinches, being able to create lanes to get teammates in the slot, and taking shots from the point too. It's hard to say which one I like better but I guess I lean a little bit towards the offensive side."
"My transition to defense was around age 12, I was originally a forward and at 12 I was the captain of my traveling girl's team. Basically, I had to keep pucks out of the net as well as put them in, so I was the only one who could go end-to-end and that's how playing defense came to be for me," she said with a smile.
Seven Heaven
Two of her favorite players growing up really know how to put the puck in the net, so it's no surprise she loves to contribute offensively when she can. "Originally I was wearing no. 97 for Jeremy Roenick and then when I went to high school in Boston they had more traditional numbers so I decided to wear seven for (Blackhawks defenseman) Brent Seabrook," said Ade who wore no. 7 at Vermont and now for Connecticut.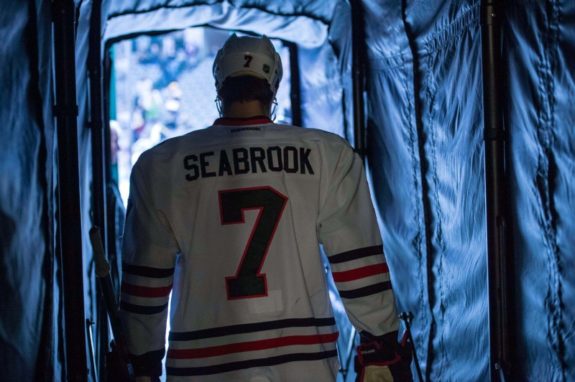 "After my senior year I trained all summer in Vermont to come down here and play," said Ade who now lives in East Norwalk, Connecticut while playing for the Whale. In the shootout win, they played the final 45 minutes with only five defenders after Jordan Brickner left with an injury and all of Ade and her teammates' training paid off as they were able to rally past Boston for the second time in three weeks.
Dan Rice is in his 9th year of reporting for THW & has covered NJ Devils home games for 15+ years at various websites. He began his journey working for legendary broadcaster/writer Stan Fischler from 2002-04 & completed an internship at the ECHL; he also has been writing features for the NWHL (nwhl.zone) website since 2016.