The Vegas Golden Knights are in the midst of one of the most remarkable first seasons of any sports franchise in history. With a record of 15-6-1, the Golden Knights are leading the Western Conference's Pacific Division and only seem to be getting better. Vegas had what could only be described as a perfect holiday week.
The Knights finished the week by winning all four of their games, extending their winning streak to tie their season high of five and becoming the fastest NHL expansion team to reach 15 wins in league history. Who stepped up to help keep Vegas on track though? Here are our Three Stars of the Week.
3. Malcolm Subban
Subban just returned from injured reserve and has wasted little time making his impact felt. Before he left with a lower-body injury in the third period of an overtime victory over St. Louis on Oct. 21, Subban was having a banner start, going 2-0 with a .936 save percentage and 2.06 goals against average.
Despite this, the Golden Knights elected to stay with 24-year-old fourth-stringer Maxime Lagace at the goaltender position. Legace had won three straight games and allowed just two goals in each of those games. Then the San Jose Sharks came to town. Lagace looked poised to keep up his high level of play before the Sharks blasted three straight goals into the net to tie the game at four apiece Friday.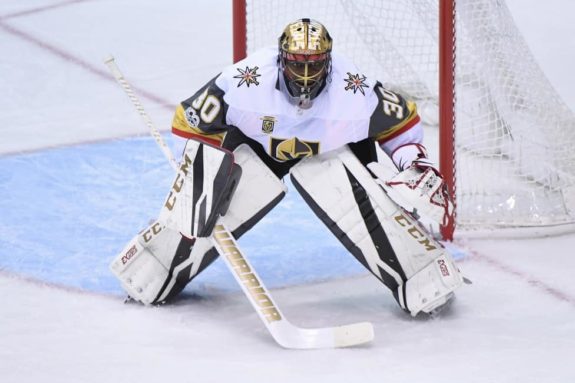 Subban entered the game to start the third period and kept San Jose scoreless for the remainder of regulation and overtime, helping the Golden Knights to an OT victory.
He was rewarded for his efforts Saturday with his first start since his injury in a road game against the Arizona Coyotes. Subban's play was stellar as he made 24 saves for a .923 save percentage.
2. William Karlsson
Karlsson has been a key component for the Golden Knights all season long and that has only been amplified during the past week. Karlsson is on a tear right now and is up to 22 points in 22 games on the season. Not only has the 24-year-old strung together five straight multi-point efforts, but he's also racked up nine goals in his last seven contests. The string of performances has boosted Karlsson promptly into the role of the team's leading scorer.
749 players have played a game in the NHL this season. Only FOUR of them have more goals than Wild Bill Karlsson.

🤠🤠🤠🤠🤠🤠🤠 pic.twitter.com/SxzdVstdEH

— Vegas Golden Knights (@GoldenKnights) November 26, 2017
In a recent interview with the Las Vegas Sun, Karlsson said, "I've been scoring so many goals lately, so for sure I'm playing the best hockey of my life right now. I play with two great linemates who help a lot so I think it's a combination of everything."
Through the past four games, Karlsson has tallied 17 shots on goal, eight points, six goals and two assists. Those are All-Star worthy numbers for the 24-year-old sniper who only has played 205 NHL career games.
1. Jonathan Marchessault
Marchessault recorded his third straight three-point game Saturday against Arizona, notching his eighth goal of the season and dishing out two assists. The game was not an abnormal performance for the winger as of late, either.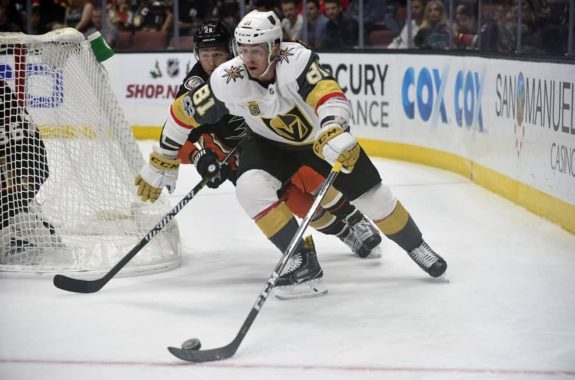 Marchessault, much like Karlsson, has 17 shots on goal in the previous four matchups. He also amassed nine points – three goals, and six assists.
Perhaps his biggest moment of the week came Friday against San Jose when shortly after the start of overtime, the winger blasted a goal past Sharks' netminder Aaron Dell after receiving the puck from Shea Theodore. The goal sealed the Golden Knights' victory and kept their record for the week unblemished.
The Vegas Golden Knights will look to set a new franchise record for consecutive wins at six-in-a-row when the Dallas Stars travel to Las Vegas on Tuesday.