Vegas Golden Knights general manager George McPhee was hockey's busiest man this past summer. That can happen when you have an entire roster to put together.
With more favorable rules for June's expansion draft, the new franchise was on track to have a better inception record-wise than its predecessors. Protection lists for the other 30 NHL teams were limited to seven forwards, four defensemen, and one goaltender. A team could also guard eight skaters and a netminder if they chose to.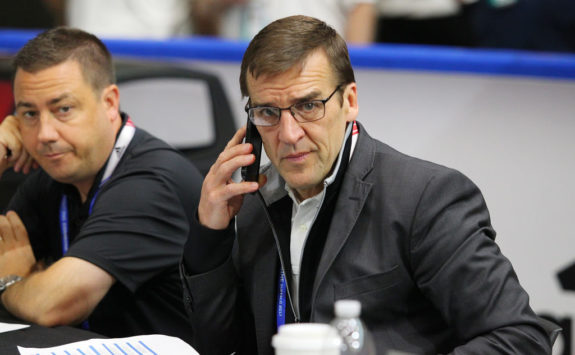 This allowed McPhee to snag a bushel of assets and stock the organization's prospect cupboard while crafting the 23-man roster. Making more than 10 trades in all, two have panned out incredibly well early on for the team in their inaugural season.
The deals involved three under-appreciated players who are now getting a shot to shine with the NHL's 31st team.
The Deals
Center William Karlsson, who had 18 goals and 5o points in 183 games before 2017-18, was an asset that the Columbus Blue Jackets paid Vegas to take. While the Knights did take on David Clarkson's salary, the 2017 first-round pick and 2019 second-round pick were tremendous acquisitions. The former was traded to the Winnipeg Jets for the opportunity to draft Nick Suzuki at 13th overall.
With the Florida Panthers electing to protect their core of defensemen, all but four forwards were left unguarded. Seeing an opportunity to unload Reilly Smith's bloated contract, the team packaged Jonathan Marchessault along with a 2018 fourth-round pick in exchange for Vegas's selection of the former Boston Bruin.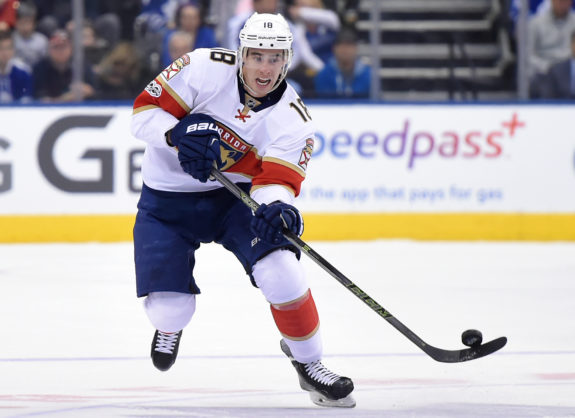 Smith had scored 25 goals in 2015-16 but struggled to replicate the output in 2016-17, scoring 10 less goals and 13 less points. All Marchessault did was score 30 goals last season on a contract that paid him $750,000. Each would be reunited with head coach Gerard Gallant, who lead the Panthers to the Atlantic Division title two seasons ago.
It took the first bench boss in franchise history just seven games to put Karlsson between his two familiar wingers. Already on a three-game winning streak heading into Chicago to play the Blackhawks on October 27, Gallant decided to experiment a little more.
On a night that saw the team set an NHL record for the best start by an expansion squad in league history (7-1), Karlsson and Marchessault scored. Smith also added four shots.
Instant Chemistry Formed
It's rare for an expansion team to have noticeable chemistry form on any of their lines with so many unfamiliar talents lining up next to each other. Vegas was fortunate in this regard with the two former teammates from Florida joining the fold. Lined up around a middleman that never received an opportunity to play big minutes up front, the trio has become the most dominant for the Knights.
Karlsson has played a full 4:32 more than he did last season, taking advantage of his new home in the top-six. He's already blown by his career high in goals notching 12 in just 21 games. "Wild Bill" has also scored a league-leading 10 markers in the 13 games the line has been together. Overall, the 24-year-old has totaled 15 points between his wingers.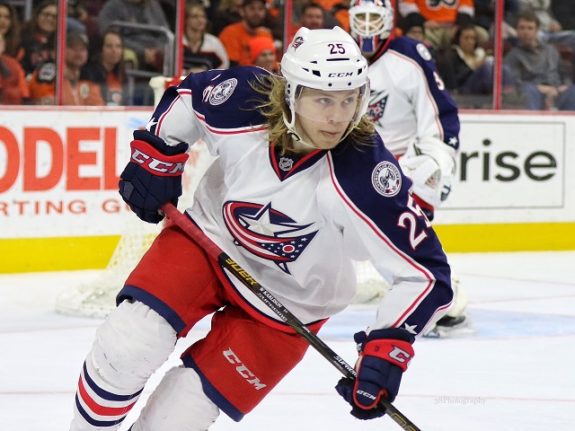 Smith has enjoyed a promising start to a rebound campaign, as he's scored six goals and 18 points. He's already 29 points away from tying the total he ended with last season. The 26-year-old is also halfway to his power play goal total from 2016-17 with three on the young campaign. Four of his goals have come in the last 13 with his hot linemates.
Marchessault, due to be paid handsomely next summer, is following up his breakout campaign with another impressive performance. He's scored seven goals and 18 points in just 18 games to this point, and has been the prime shot generator of the group firing 64 on goal. A whopping 49 of those pucks on net have been fired in the time the trio has been together, tied for ninth in the league in that span.
Puck Possession Is Elite
While their offensive totals together are impressive enough, the three Knights have performed even better at five-on-five.
Combined, they've posted a Corsi-for percentage of 58.63%, fifth-best in the NHL among combinations that have logged at least 100 minutes. While they've combined for just nine on-ice-goals-for and ten against at even strength, it's likely that this trend will reverse soon. Their expected-goals-for ratio is plus-3.96, ranked second.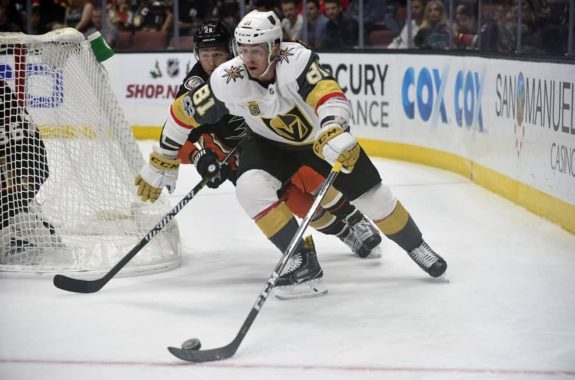 Despite the team as whole ranking 16th in puck possession totaling a 49.84% Corsi-for percentage, the triumvirate has been able to control the puck at an elite clip. It's even more remarkable with the fact that they've combined for a 47.91% offensive zone start percentage at even strength. That's likely to increase as the season goes on as Gallant continues to feel out matchups with his new squad.
In terms of the trio's shot attempt generation, Marchessault has made a significant difference. His 55.04% Corsi-for percentage currently leads the team. Karlsson and Smith have combined for a reasonable 52.22% mark, but have generated shots at a combined rate of just 2.2 per game compared to their other linemate's rate of 3.6.
I'm not trying to take credit away from the duo, but instead highlight Marchessault's crucial contribution and how key it will be to keep him around next summer.
Keeping Them Together
It is a young campaign, but it's never too early to brainstorm how the Knights can keep their hottest line together for the future.
Currently, Karlsson and Marchessault are making a combined $1.75 million with the former heading into restricted free agency and the latter possibly testing the waters of unrestricted free agency. Smith is locked up for four more seasons after 2017-18 at $5 million each. The team already has over $8 million in cap space.
It's projected that 14 Golden Knights will be free agents next summer, with six restricted and eight unrestricted. That list includes fan favorite James Neal (UFA), the injured Mikhail Grabovski (UFA), and veteran David Perron (UFA) up front. Puck-moving defensemen Colin Miller (RFA), and Shea Theodore (RFA) are two key blue liners up for deals as well.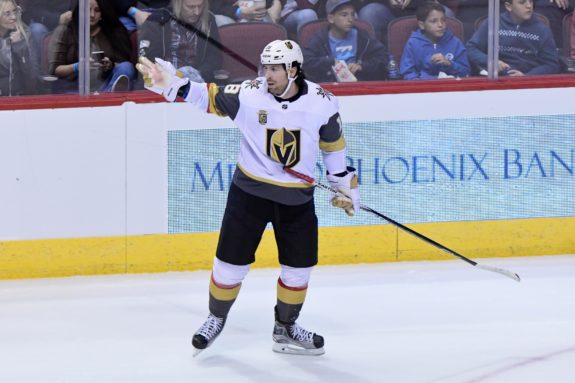 To invest in the future, the Knights could trade Neal to a contender if they themselves fade as the season goes along. Perron could also be a candidate, as depth scorers usually net significant returns when it comes to deadline season. This would easily open up some space to re-sign Marchessault and Karlsson, while piling on more assets for the team in the forms of prospects and draft picks.
On the other side of the coin, McPhee could be inclined to keep them all and go for the first playoff berth earned by an expansion team in over 50 years. There are many balls in the air for the Knights to juggle, and their fans likely want instant results in this honeymoon period. Why take apart a train that doesn't need to be fixed?
Enjoying the Ride
Of course, the team is not thinking about the summer right now. At the moment, the Knights are unbelievably leading the Pacific Division past the infamous Thanksgiving playoff deadline. A significant part of their success is due to the play of their go-to trio.
Overlooked in the respective trades that brought them together in Vegas, Marchessault, Karlsson, and Smith may not be household names. There are not many of those on this squad full of veteran cast-offs.
However, they're certainly building towards that status in their new home.
Advanced stats courtesy of corsica.hockey.
Griffin is a Junior at Northwood University in Midland, Michigan pursuing a Sports and Entertainment degree. His passion of writing began when Detroit Red Wings captain Henrik Zetterberg was out for the season in 2014 and he wanted to give his thoughts. Griffin comes from LastWordOnSports.com where he had the role of "associate editor" and wrote nearly 300 articles over three years for their hockey department.