Finally, a win. Sabre fans, it's ok to exhale.
The Buffalo Sabres defeated the Edmonton Oilers, 3-1, on Friday night. It was the team's first win at KeyBank Center since defeating the Washington Capitals by the same score on Nov. 7. A sellout crowd in Buffalo got a post-Thanksgiving treat.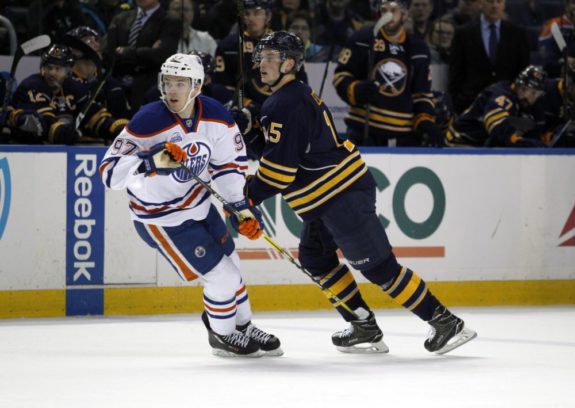 While the game was a matchup between the second and third-worst teams in the NHL, a win is a win in this league. The Sabres dug deep to earn the "W" that snapped their seven-game losing streak. Edmonton, now 8-13-2, has now lost four of its last five games and has won consecutive games only once this season.
Desperation Game for Sabres
Even though the calendar hasn't turned to December, it was a desperation game for the Sabres. They needed to make a statement to themselves, their coaches and their fans. After losing to the Minnesota Wild earlier in the week, the players shut the locker room doors and aired their grievances. "You've heard a lot about accountability in our locker room the last couple days. I think our coaching staff has held our players accountable and now it's time for the players to hold each other accountable. It's there. but it has to be there on a more consistent basis," said General Manager Jason Botterill.
The effort was there tonight as the team played a complete 60-minute game.
"It's just nice to get a win and play a complete game," said Kyle Okposo who's been struggling to find the scoresheet. "There's a lot of things said in the last couple days in this locker room, and we've got to grow up and mature and start playing a more mature game."
He continued, "You see it night in, night out when these teams come in and they just don't stray from their game plan. They keep playing the same way and make it tough to play against. We did a good job of that, and we've got to make sure we're bringing that effort every night."
Jacob Josefson's first goal as a Sabre capped a tremendous effort. He outmuscled the Oilers' Yohann Auvito along the boards, changed directions, and fired a shot on goal. Kyle Okposo followed up on the rebound and fed a pass to Josefson, who wasted no time in burying a shot top corner from his position in the slot.
You wanna talk about earning a goal?! Holy moly Josefson. #Sabres pic.twitter.com/oi2t41KccL

— Bradley Gelber (@BradleyGelber) November 25, 2017
Jack Eichel put the Sabres up 2-0 early in the third period, his second goal in the last two games. It was a bad goal given up by Laurent Brossoit and a 'good vibes' shot by the Sabres $80 million man.
Okposo sealed the win with an empty-net goal with less than a minute to play in regulation. Auvitu got the lone Oilers' goal, spoiling Robin Lehner's shutout with only 19.3 seconds on the clock. Lehner stopped 29 shots.
"It was a great response. This team's been through a lot in the short past here, it's been a lot of challenges, a lot of conversations. It's time to put things into action. I thought the guys responded well." – Sabres coach Phil Housley
Ristolainen Returns
After missing nine games with an upper-body injury, Rasmus Ristolainen bulldozed his way back into the lineup. He played a whopping 27:32, had two assists, was plus-2, and had five shots on goal to go with six blocks.
"I felt great. I never really got to rest like this before. I didn't like it, but I kind of felt really good and my legs were fresh. That was a good start, I've got to keep going tomorrow night," said Ristolainen.
He paired up with Marco Scandella and actually looked light a top pair on the blue line. Ristolainen played a strong, physical game against Connor McDavid, last year's league's Hart Memorial, Art Ross and Ted Lindsay winner.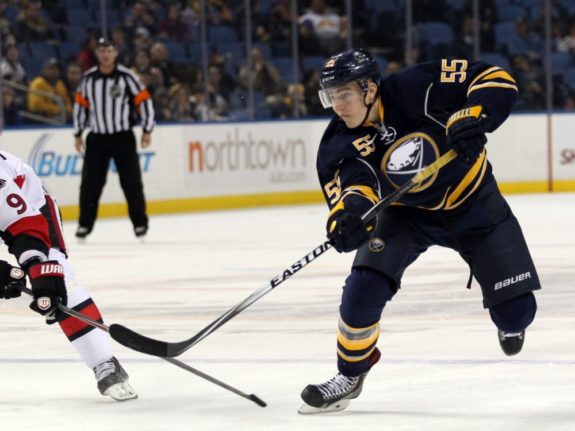 The other blue line pairings were Jake McCabe with Victor Antipin, and Nathan Beaulieu with Justin Falk.
Time to Make a Move
The win gives the Sabres 16 points on the year. They face the Montreal Canadiens at the Bell Centre Saturday night. The struggling Habs have only 19 points this season, but expect Carey Price to return from his lower-body injury and be between the pipes in Montreal. It'll be important for the Sabres to start strong and try to take advantage of any possible rust on the netminder, who has ugly stats this year. The five-time All-Star is 3-7-1 with a 3.77 goals-against average and a .877 save percentage.
"It feels good, we play tomorrow, I'd like to go there and get two more points," said Eichel.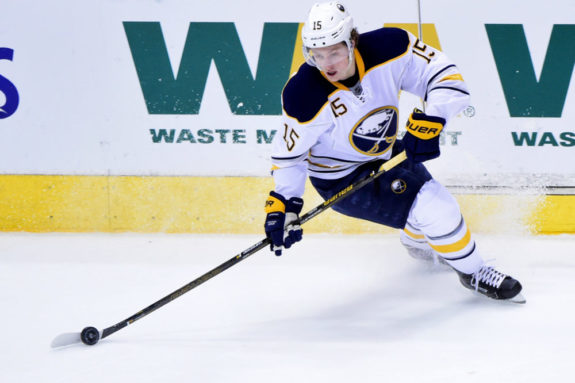 The Sabres have strung together wins only once this year. A win in regulation Saturday night could help them start a long, uphill climb from the basement of the conference.