Beginning June 1, NWHL teams can start signing players for the 2018-19 season. For players who have completed their college eligibility and want to continue their hockey careers, the free agency period provides them an opportunity to continue playing at the highest level of professional women's hockey. The fourth season of the NWHL will begin in October as the Metropolitan Riveters defend their Isobel Cup championship, and with the addition of a fifth team – the Minnesota Whitecaps – as well as the inclusion of players who participated in the 2018 Winter Olympics, this very well could be the most competitive season yet. 
My colleague Nathaniel Oliver will keep THW readers up-to-date on Boston and Buffalo's signings throughout the summer, while I post updates on Connecticut and the Riveters. Together we will collaborate to keep readers informed of all of Minnesota's signings.
Pride Adds Rookie Miano to Defense
Morse & Nash Return to Defend Isobel Cup
Congrats to Audra Richards on signing a contract with @Riveters!

Details: https://t.co/rTsjpDVRnu#BlackBearNation | #HockeyEast pic.twitter.com/VC3u0MDzqe

— Maine Athletics (@BlackBearNation) July 9, 2018
On July 9 the Riveters added a new face to their roster – Audra Richards, who led the University of Maine in goals and points during her sophomore and senior seasons. Richards, who turns 24 on July 19, is the first player to sign with the Rivs this summer who wasn't a member of the team during their championship season.
"The NWHL is truly doing something special for the sport that has defined me as a person my entire life," the Maplewood, Minnesota native said in the league's press release announcing her signing. "The Riveters gave me the opportunity of a lifetime and I could not be happier to represent such an amazing program. Signing a contract to be a pro women's hockey player was one of the most exciting moments I've ever experienced, and I'm even more excited to throw on the jersey and play."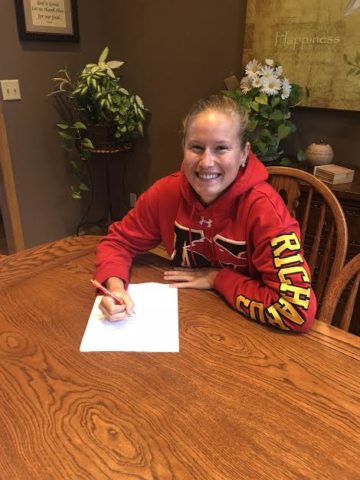 Richards played for the Black Bears from 2012-2016 and recorded 70 points (45g-25a) over 132 games (a program record for games played); her 45 goals are tied for fifth all-time in team history. She was selected to the Hockey East All-Academic Team four times as a kinesiology and physical education major. Since graduating she has taught Physical Education in Minnesota in addition to coaching varsity girls' hockey, track and field, and soccer.
"Seeing the NWHL come to my home state of Minnesota made me realize I wasn't ready for my hockey career to come to an end, so I'm incredibly excited and honored to join the Riveters," Richards said. She won't have to wait long to play in front of family and friends as the Rivs will begin their title defense in her home state of Minnesota against the Whitecaps on October 6 and 7.