Beginning June 1, NWHL teams can start signing players for the 2018-19 season. For players who have completed their college eligibility and want to continue their hockey careers, the free agency period provides them an opportunity to continue playing at the highest level of professional women's hockey. The fourth season of the NWHL will begin in October as the Metropolitan Riveters defend their Isobel Cup championship, and with the addition of a fifth team – the Minnesota Whitecaps – as well as the inclusion of players who participated in the 2018 Winter Olympics, this very well could be the most competitive season yet. 
My colleague Nathaniel Oliver will keep THW readers up-to-date on Boston and Buffalo's signings throughout the summer, while I post updates on Connecticut and the Riveters. Together we will collaborate to keep readers informed of all of Minnesota's signings.
Riveters Add Rookie Audra Richards
Pride Add Rookie Miano on Defense
ICYMI: The @CTWhale_NWHL Whale made headlines today by signing 5 players.

"I'm delighted to be part of the Whale as we contend for the Isobel Cup"

🔗: https://t.co/CsF65sFeZv pic.twitter.com/lrWrrZVJ4i

— NWHL (@NWHL) July 11, 2018
On June 10 the Connecticut Whale made another splash in free agency, re-signing forward/defender Hanna Beattie and signing four rookies – which included two players with Olympic experience. Former Harvard University forward Randi Griffin played for the Unified Korean Team at the 2018 games, and former University of Minnesota Duluth center Michelle Löwenhielm who played for Team Sweden in 2014. They also signed goaltender Sam Walther from Hamilton College and forward Sarah Hughson from Elmira College.
Beattie joined the Whale in December and was primarily used at center, appearing in 12 regular season games and Connecticut's lone playoff game against the Riveters. She registered ten shots on goal, didn't take a penalty, and will be looking for her first NWHL point when the new season rolls around.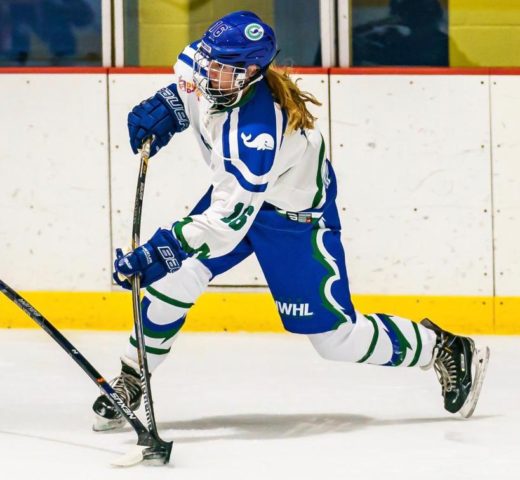 Griffin scored the Unified Korean Team's first ever Olympic goal back in February and played for Harvard from 2006-2010. "I'm delighted to be part of the Whale as we contend for the Isobel Cup, and grateful to the NWHL because it's an incredible platform to be able to train and compete while continuing to play for Team Korea in international competitions," the 29-year-old North Carolina native said in the league's press release. "The Whale was my first choice because I live in Connecticut and they clearly have the best uniforms!"
Hughson (a Connecticut native) will look to help the lowest scoring team in the NWHL last season after putting up 49 points (28g-21a) in 30 games last season at Elmira; the 23-year-old finished her collegiate career with 87 points (45g-42a) in 98 games.
Teammates again 🙌🏼🙌🏼 🐳💙💚@sam_walther40 https://t.co/kKjrfnd17R

— Sarah Hughson (@shughson_8) July 10, 2018
Walther had sparkling numbers over her four-year career at Hamilton, capped off in her senior year where she set three school records: 1.08 GAA, .960 save percentage, and ten shutouts. The soon to be 23-year-old is the first goaltender that Connecticut has signed for next season and she was named the NESCAC Women's Hockey Player of the Year.
Löwenhielm had three points in six games at the Sochi Olympics and the 23-year-old is the first Swedish player to sign in the NWHL. "Playing for Team Sweden is always an honor and a privilege. Being able to represent Team Sweden in the 2014 Olympics meant more than I can ever describe," she said in the press release announcing her signing. "That's why I would absolutely love to be able to represent Sweden in another Olympics. It's my goal and would be another dream come true. Playing against and playing with the best players in the world will be both fun and challenging."