Beginning June 1, NWHL teams can re-sign players from their 2017-18 roster and their draft picks. Additionally, for those players who have completed their college eligibility and want to continue their hockey careers, NWHL Free Agency provides the best opportunity to continue playing at the highest level of professional women's hockey. The fourth season of the NWHL will begin in October as the Metropolitan Riveters defend their Isobel Cup championship, and with the addition of a fifth team – the Minnesota Whitecaps – this will be the most competitive season yet.
My colleague Dan Rice will keep THW readers up-to-date on Metropolitan and Connecticut's signings throughout the summer, while I post updates on Buffalo and Boston. Together we will be keeping readers informed of all of Minnesota's signings. 
Whale Re-Sign Beattie and Sign Four Others
Riveters Add Rookie Audra Richards
Whale Re-Sign Ade & Fluke for Second Season
The Boston Pride have brought back one of their most reliable players by re-upping Dana Trivigno. The slippery forward is an NWHL All-Star who contributes in every facet of the game. Word of her re-signing was announced by the league on Jul. 16, 2018. Entering into her third year, Trivigno began her career as a member of the Connecticut Whale for the 2016-17 campaign. Last year she opted to sign with Boston and became one of their most integral forwards.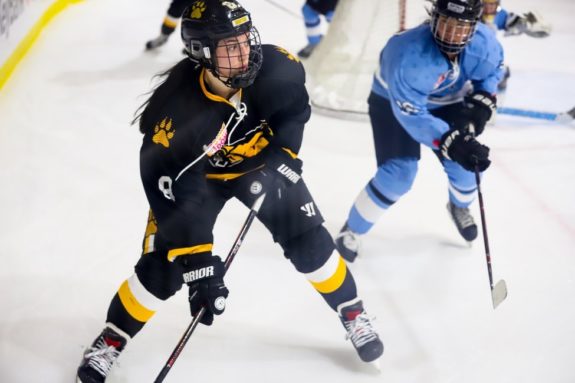 Boston head coach Paul Mara shared the following about Trivigno's signing in an NWHL press release:
"Dana is an outstanding player in all areas of the game and she'll have an important role with the Pride this season. We are very happy that she's staying with us in Boston. I'm confident she's going to have a great year.""
THW takes a closer look at how bringing Trivigno back into the fold is a critical move for "The Pack". One that covers more than one base in their plan for success. We agree with Mara that the 24-year-old forward is going to have a great year.
Trivigno Accentuates Puck Control
Trivigno was among the NWHL's top-10 players in total face-offs won this past season. The 90 draws that she won were the ninth highest during the 2017-18 season, and were the second most for any Pride player after Jillian Dempsey. This isn't anything new for Trivigno either. In her rookie season with the Whale she was eleventh in the entire league with 91 wins in the face-off circle. More often than not, coaches preach the importance of puck control. With Trivigno winning those draws, she routinely ensures that her team gets the first opportunity to make a play.
Her ability to keep hold of the puck has led to other opportunities as well. Last season Trivigno led all Boston players with shots on goal (46). That was still the case despite her playing in just 13 of 16 regular season games, while 10 other Pride skaters suited up for more than she did. Though no player for Boston recorded a shorthanded goal all season long, Trivigno was one of six players for "The Pack" to score on the power play. She is strong in any situation and can be inserted wherever there is the greatest need.
BREAKING: The Boston Pride have re-signed All-Star Forward Dana Trivigno. It will be her second season in Boston.

🔗:https://t.co/VXGYkTP4rn pic.twitter.com/iWAAoylkXl

— NWHL (@NWHL) July 16, 2018
Expect her play to be equally as strong during the season ahead. Trivigno recognized that as last season progressed, the Pride became more cohesive and fell into rhythm. With her being the team's fifth signing thus far this summer, she believes wholeheartedly that the team can build from last season's success:
"I'm very excited for the opportunity to be back with the Boston Pride," she said in the release announcing her re-signing. "Last season was my first with the Pride and I had a lot of fun. As a team we started out slow, and came together a little too late in the season. This year, with that experience under our belt, I think we will definitely be able to get a better jump on the season and come out strong from the get-go."
The Little Things That Count
In 29 regular season games during her previous two NWHL seasons, Trivigno has tallied six goals and 11 assists for 17 points. She is certainly crafty out on the ice, and maneuvers well in small areas with her skating. Always able to put numbers on the score sheet, she finished her four seasons at Boston College having scored 57 goals and 81 assists for 136 points in 148 games. But while she puts the puck in the back of the net regularity, Trivigno also does the smaller, less glamorous things very well too.
Despite her being all of 5-foot-4 and close to 130 pounds, she still plays a scrappier style of play. Trivigno's 24 penalty minutes were the most for any member of the Pride. That was also the second highest total in the league behind only the Metropolitan Riveters' Alexa Gruschow (26). So while Trivigno may be more diminutive in terms of her stature, she never shies away from the physical aspects of the game.
Congrats to Dana Trivigno, who was just named the @NWHL Player of the Week!! That's two POTW nods in a row for #thePack 😎🦁 Read about what @DANEgles8 had to say on being recognized and getting the W this past weekend..

📰: https://t.co/DDJmNhI8SG
📸: @michelle_jay3 pic.twitter.com/vffZNSfbJB

— Boston Pride (@TheBostonPride) March 5, 2018
If the Pride are to make improvements upon last year's third place finish, they needed to make this signing happen. And they did. Aside from Dempsey, getting Trivigno back with the team was arguably the most important re-signing of their forwards that the Pride had to make. She may not be as flamboyant of a scorer as the Dempseys, Gruschows, Hayley Scamurras, or Kelly Babstocks of the league, but Trivigno is a player who is more rooted in defense first and is still capable of making opposing defenders and goalies appear foolish at times.
Here is a look at how the Pride's roster is currently shaping out as of Jul. 16:
Goalie: Katie Burt.
Defense: Alyssa Gagliardi, Toni Ann Miano.
Forward: Emily Field, Dana Trivigno.