The Blues have been a regular feature in hockey headlines this summer as they have made four significant free agent acquisitions and one blockbuster trade. But one new feature that many may be overlooking is not an acquisition at all, but the return of Robby Fabbri. Fabbri has been out of action (save for one preseason game) for over a year now with an injured and re-injured ACL, and his return, though it carries with it some uncertainty, could be a potential boon for the Blues.
A Star on the Rise
A first-round pick in 2014, it didn't take long for Fabbri to make a name for himself in the NHL. In his rookie season, 2015-16, Fabbri collected 37 points in 72 games. Blues fans fell in love with Fabbri for his creativity, speed, and finish, and many were already labeling him a steal of his draft year. Robby continued to impress onlookers with a breakout playoff performance. In the team's Conference Final run, the deepest playoff run the Blues have made in the modern format, Fabbri recorded 15 points in 20 games, tying Vladimir Tarasenko for the team lead in points. He even got into a memorable scrap with Blackhawks' goaltender Corey Crawford.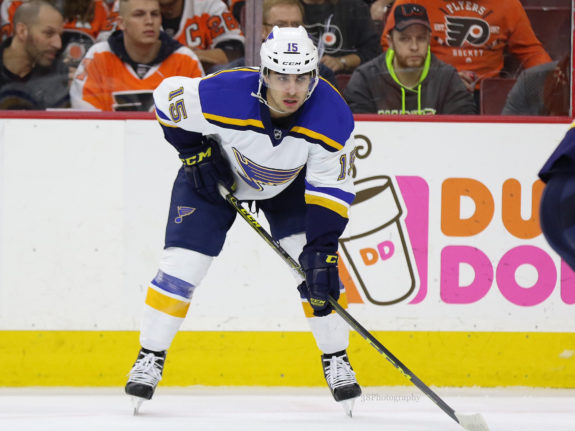 Fabbri continued to show great promise, building on his rookie campaign by tallying 29 points with 11 goals in his first 50 games of the season. He recorded his first career hat trick against the Philadelphia Flyers on December 28, 2016. Everything was looking up for the young winger, and it seemed that nothing would be able to hold him back.
Injury Strikes Fabbri
But Fabbri's season was cut short unexpectedly in a game against the Penguins. In what looked like an innocent enough play, Fabbri was checked by the Penguins' Carter Rowney along the boards. But Fabbri's leg was elevated, and collided awkwardly with the board. He immediately hit the ice in pain and was assisted off with great difficulty. It was quickly revealed that Fabbri had injured his ACL and would miss the remainder of the season.
Robby Fabbri will miss the rest of the season with an ACL injury. Agostino and Paajarvi have been recalled. https://t.co/yftTp1RRCD

— St. Louis Blues (@StLouisBlues) February 5, 2017
"It's a very tough loss," said Blues head coach Mike Yeo, who had only just taken over the head coaching job three days prior, to NHL.com. "I've been real impressed with Robby, I love his competitiveness. Every time he's out on the ice he's trying to make a difference and make something happen."
Fabbri would spend the rest of the season rehabbing, trying to prepare for the following season. And he would be ready in time for training camp the following year. Unfortunately for Fabbri and the Blues, it wouldn't be long before the story began to repeat itself.
Fabbri Injured Again
Despite the fact that Fabbri's ACL surgery was deemed "a success," there was still a slim possibility of recurrence with such a surgery. Fabbri was cleared to return to hockey on July 31, 2017, and was a full participant in the Blues' training camp. However, it was not far into the preseason when trouble emerged. After a preseason game against the Washington Capitals, Fabbri reported swelling in his repaired knee. Team doctors investigated the swelling and confirmed that the ACL was again damaged. The team held a press conference to discuss the news shortly thereafter.
"These last couple days have been very difficult and pretty emotional for me and my family…" Fabbri told reporters in the press conference. "I really felt good and I was excited to get out there on the ice with the guys again… I knew [with] my injury, there was a three percent chance of it happening again, and unfortunately I fell in that three percent."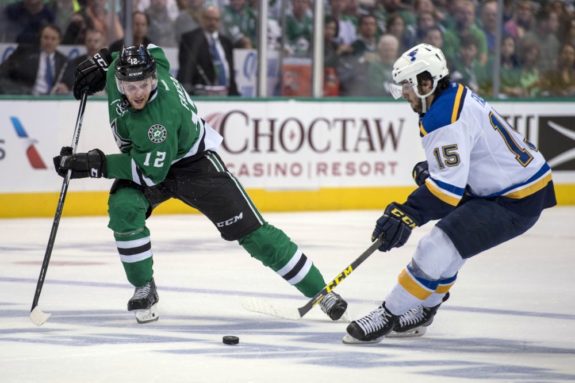 The second injury ended Fabbri's 2017-18 season before it had even begun, meaning that Fabbri would miss at least eighteen months of hockey before he was able to return to the ice. Blues' GM Doug Armstrong commented on what that meant for his recovery.
"I think that there's the hope of a full recovery, but the reality is the more surgeries you have… things can go wrong… What I've been told by our training staff and our doctors is that they expect a full recovery… Now he's just missed a full year and a half of hockey and we have to [get him] back into the NHL."
Fabbri's Medical Prognosis
ACL reconstruction has become such a common procedure in sport that we can often take it for granted. The heroic return of players like Adrian Peterson in the NFL indicate that this surgery is hardly the potential career-ender it used to be.
According to the National Center for Biotechnology Information, a sub-department of the United States Department of Health and Human Services, even though initial ACL Reconstruction (ACLR) surgeries are generally successful, particularly in young patients, they do carry complications. "A young post-ACLR population (25-40 years old) is at increased risk for the early onset of chronic pain and functional impairments associated with knee OA (osteoarthritis)." Consequently, one ACL surgery can quite possibly shorten a young player's career.
Things become more complicated with a second surgery (revision ACL reconstruction). A separate NCBI study indicates that while "generally, good results can be achieved with regard to graft stability, return to play, and functional knee instability" with Revision ACLR surgery, "results are generally inferior to those of primary ACL reconstruction." Fabbri's knee is likely already weaker for having a second surgery. If he has a third, his athletic future is grim: "Most patients do not return to prior activity level following repeat revision."
Robby's Uphill Battle
Doubtlessly, Robby Fabbri knows all of these statistics, and he's determined to prove them wrong. Fabbri now finds himself something of an outlier, an extra piece in a top nine for the Blues that has added four forwards (Ryan O'Reilly, David Perron, Tyler Bozak, and Patrick Maroon) this summer. On the surface, it looks like Doug Armstrong learned from his mistake last season and built a team that is prepared to succeed whether Fabbri contributes or not. His comments certainly indicate as much:
"He's doing very well," Armstrong told NHL.com.  "He is up in Toronto working very hard and time is going to tell on this one… we want to make sure we're not putting him in a position to fail when he comes (to training camp). He'll come back in and be hoping for the best, but expecting a little bit of re-adjustment. But health-wise, he's doing good."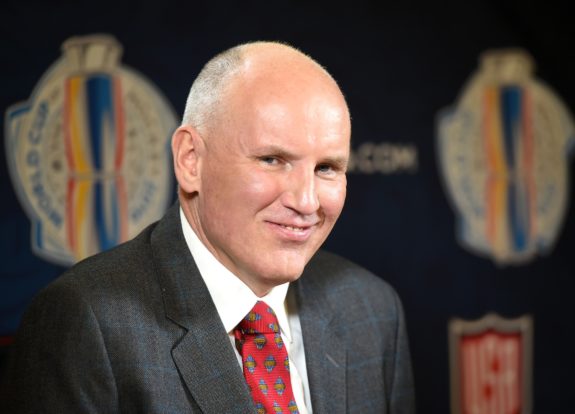 The final line will be the most exciting to Blues fans. As far as the medical staff can determine, Fabbri is healthy, and he's been cleared for all hockey-related activities. But they've told this story before. He's also signed a one-year extension with the team. Time will tell whether Robby can return to the dynamic, budding star that he once was, or whether his two surgeries will permanently alter his career. Everyone in St. Louis is certainly hoping for the former.
What to Expect from Fabbri
With that said, what is it fair for fans to expect from Fabbri? Judging by Armstrong's comments, fans should probably keep their expectations low. Fabbri will be worked into the lineup where appropriate, likely being given stretches of time off to deal with soreness and weakness in the knee. Fans should not expect a full 82-game season from Fabbri. Something in the 60 to 70-game range would be a huge success. And while Fabbri's debut season saw him record 37 points, and his second season put him on pace for even more, anything over 30 points this season would be quite an accomplishment.
Primarily, Blues' fans should hope to see health for Fabbri. The most important thing for Robby is to stay on the ice. In this first season back, what he does there is supplemental. There will come a time where it will be appropriate to push Fabbri to the limit. He cannot be handled with kid gloves forever. But for the time being, he needs to build strength up in that knee, and build back his confidence as a player. If he can do both those things in 2018-19, this season will be a huge success for Robby Fabbri.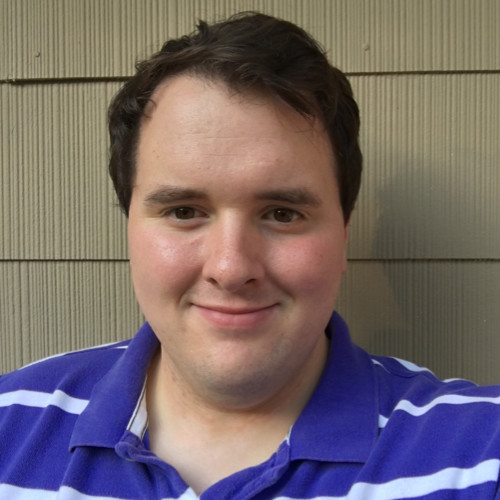 Stephen Ground is a veteran of over three years at THW, focusing on the St. Louis Blues, NHL goaltending, and the annual World Junior Championship. He is the co-host of the Two Guys One Cup Podcast, a hockey podcast focused on the Blues.