The St. Louis Blues announced on Tuesday that the team had agreed to a one-year, one-way contract extension with forward Robby Fabbri, according to Jeremy Rutherford.
The Blues and Robby Fabbri have agreed to terms on a one-year contract extension. Fabbri hasn't played a regular-season game since February 2017, when he suffered the first of his two ACL injuries. #stlblues

— Jeremy Rutherford (@jprutherford) July 3, 2018
The deal reportedly carries an annual average value (AAV) of $925,000 which is a slight increase in cap hit and decrease in AAV from his entry-level contract that expired following the 2017-18 season.
Fabbri Remains a Question Mark
The 22-year-old from Mississauga, Ontario, has had a rough start to his NHL career – playing 72 games in his rookie season before just 51 in 2016-17 when he tore his left ACL on Feb. 4, 2017. He missed the entire 2017-18 campaign after re-injuring his surgically-repaired knee which likely led to him signing this one-year extension.
Related: David Perron Signs 4-Yr Deal With St. Louis
When he's been healthy, Fabbri's played some impressive hockey for the Blues. He had a career-high 37 points in his rookie season in 2015-16 and was on pace for an even better year when he tore his ACL back in 2017.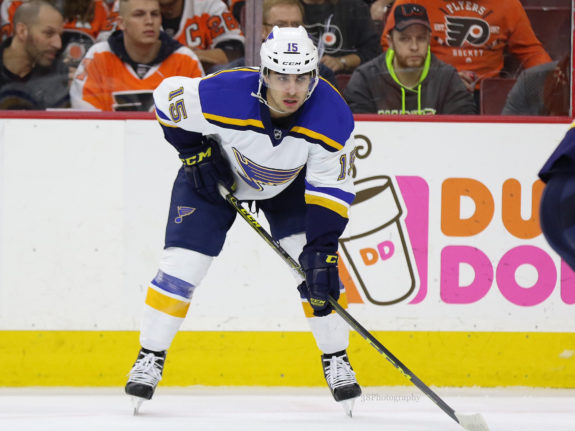 Through his first 123 regular season games in the NHL, the young forward has 29 goals and 66 points. On top of that, he's posted a 52.1 Corsi-for Percentage (CF%) over that span with 15 points in 20 playoff games during the 2015-16 season.
Fabbri Getting Ready for Return
Along with the announcement of his contract extension, it was also announced that Fabbri was cleared to participate in hockey-related activities as both the Blues and Fabbri ready themselves for training camp in September.
"He's doing very well," said Blues' general manager Doug Armstrong according to NHL.com. "He is up in Toronto working very hard and time is going to tell on this one. It's very difficult, you feel for Robby. He was projecting to be such a good player and then these two injuries kept him out a year and a half. We want to make sure we're not putting him in a position to fail when he comes (to training camp). He'll come back in and be hoping for the best, but expecting a little bit of readjustment. But health-wise he's doing good."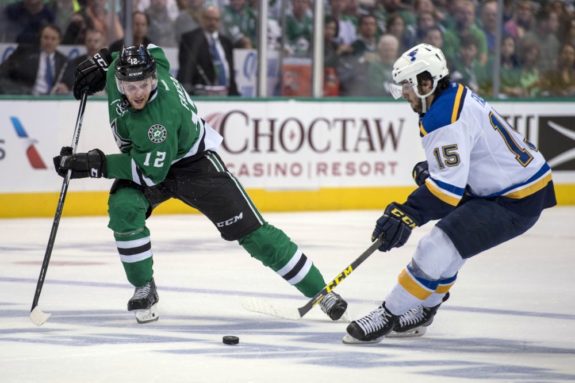 The extension will carry through to the end of this season at which point Fabbri will, once again, become a restricted free agent with his rights belonging to the Blues. With his history of injury already playing a role, the Blues will surely wait and see if Fabbri can make it through the season unscathed.
If, in fact, Fabbri can return to the form that landed him worthy of the 21st overall pick in 2014, he could be one of the biggest bargains of this NHL season. After all, the young forward will have something to prove after sitting for more than a year and a half. The question will be which Robby Fabbri will the Blues get when the puck drops on the upcoming campaign?