Beginning June 1, NWHL teams can start signing players for the 2018-19 season. For players who have completed their college eligibility and want to continue their hockey careers, the free agency period provides them an opportunity to continue playing at the highest level of professional women's hockey. The fourth season of the NWHL will begin in October as the Metropolitan Riveters defend their Isobel Cup championship, and with the addition of a fifth team – the Minnesota Whitecaps – as well as the inclusion of players who participated in the 2018 Winter Olympics, this very well could be the most competitive season yet. 
My colleague Nathaniel Oliver will keep THW readers up-to-date on Boston and Buffalo's signings throughout the summer, while I post updates on Connecticut and the Riveters. Together we will collaborate to keep readers informed of all of Minnesota's signings.
A trio of Defenders Return to Riveters
Janiga Returns to Beauts After a Year in China
"I hope to establish the Whitecaps as a competitor in the NWHL while continuing to advance girls' hockey in Minnesota and across the U.S." —- @kate_schipper pic.twitter.com/JK13RMXzJG

— Minnesota Whitecaps (@WhitecapsHockey) July 18, 2018
On July 18 the Minnesota Whitecaps signed their fourth player and just like the first three signings, Kate Schipper just happens to be a former University of Minnesota Golden Gopher. The 23-year-old helped the Gophers win back-to-back National Titles (2015, 2016) and was one of the two players from the then independent Whitecaps to play in the 2018 NWHL All-Star Game in St. Paul before the team had joined the league.
"The All-Star Weekend showed the strength of the women's hockey community and fan base we have in Minnesota, so I'm very excited for the opportunity to play a part in bringing professional women's hockey to the state," Schipper said in the league's press release announcing her signing. "I hope to establish the Whitecaps as a competitor in the NWHL while continuing to advance girls' hockey in Minnesota and across the U.S."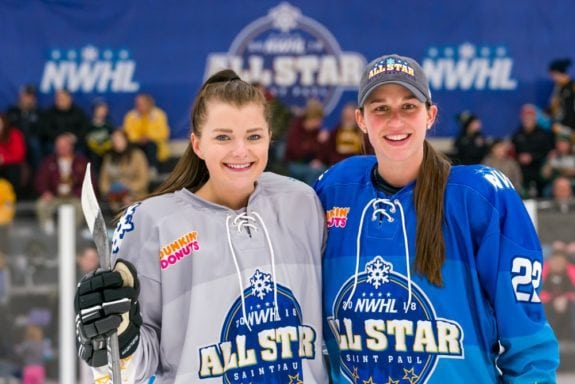 In her junior season with the Gophers, she had a breakout season with 40 points (14g-26a) in 40 games as they capped off consecutive championships. She will play alongside former college teammates Amanda Leveille, Hannah Brandt, and Lee Stecklein with the Whitecaps. Currently, there are two other former Golden Gophers from the 2016 team in the league: Dani Cameranesi (Buffalo Beauts) and Amanda Kessel (Metropolitan Riveters).
Dan Rice is in his 9th year of reporting for THW & has covered NJ Devils home games for 15+ years at various websites. He began his journey working for legendary broadcaster/writer Stan Fischler from 2002-04 & completed an internship at the ECHL; he also has been writing features for the NWHL (nwhl.zone) website since 2016.