Buffalonians had their first opportunity to witness Savannah Harmon's skill set at the Buffalo Beauts Free Agent Camp in early-June. Though if you have followed women's hockey closely, you would have already known that the 5-foot-3 blueliner was one of the most steadfast players coming out of NCAA hockey. So much so that the Beauts made sure she was a high selection when they chose her at number six in the 2017 NWHL Draft. It's not just that Harmon produces a sizable amount of offense from the back end, which she does. What maybe more so separates her from the rest of the pack are her sound decision making and the type of character she exhibits both on and off the ice.
When THW asked her at the camp what ingredients she could help supply the Beauts with, Harmon responded with the following:
"I think there's a lot I can bring. I learned a lot over my four years just about leadership, and grew as a person in those roles the past two years, so I think that a lot. It will be a new team and new dynamics. They've been successful. They've been to the Cup championship the past three years. So there's a lot. A different dynamic definitely, but I think I can bring a voice and a second, new opinion. A different style of play than what they've been used to in the past."
Two-time National Champion and Beauts draft pick, Savannah Harmon, meets the Buffalo media. pic.twitter.com/f1CA4yYz73

— Buffalo Beauts (@BuffaloBeauts) June 9, 2018
Just days after the camp had come to a close, the official word came out that Harmon had signed her first professional NWHL contract. She became a full-fledged Buffalo Beaut. Now that some time has gone by and with the 2018-19 season just starting to come into our field of vision, THW caught up with Harmon for a one-on-one conversation. We wanted to get to know her better, and in turn, give both Beauts and NWHL fans some further insight into what this exciting youngster is all about.
Make no mistake, you're doing to like her a great deal and will find that there is much she will bring to her team and the league.
A Native of Downer's Grove, Illinois
Harmon is originally from Downer's Grove, which is a suburb of Chicago, Illinois. Like most players who have continued the game through college and onto the professional level, she began the game at a very young age. In Harmon's instance, she took after an older brother whom she adored and admired, never once looking back.
"I think I was probably about three or four," she recalled when asked about when she started hockey. "I have an older brother who has been one of my best friends since the day I was born, and he played hockey. Growing up I always wanted to do every single thing he did. He started playing, and then as soon as I was able to walk and talk, I wanted to do what he did. So that meant playing hockey too," she laughed.
The Chicago area is a tremendous sports market, and long has been. Though to play at an elite level for girls and eventually women's hockey, Harmon found that her particular path brought her to New York and a legendary locale in the history of the game.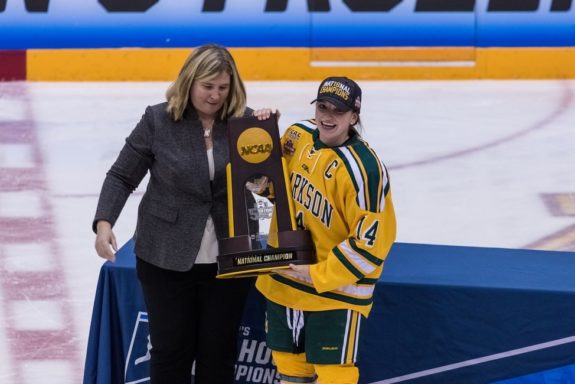 "I think that now it is definitely growing way more," she said about opportunities for her to play in her hometown. "When I was younger I played on a boys team. I played one year of checking hockey, and then I moved over to the girls. Then once I was there we had four competitive triple-A teams. I played there for the end of grade school and then my first year of high school. I ended up moving out east to play in Lake Placid at the National Sports Academy. A different path for sure, but I loved it – it was great!"
During her first year playing at the Sports Academy, 2012-13, Harmon finished third in scoring among all Junior Women's Hockey League (JWHL) defenders. In 30 games she scored 11 goals and added 32 assists for 43 points. The only two defenders to score more points than her that season – Toni Ann Miano and Jenny Ryan – have also made it to the NWHL.
NCAA Success at Clarkson University
As Harmon was wrapping up her high school career, she began to explore different colleges and universities that might be a fit for her. Though she was initially open to a variety of schools, once she found hers she knew it from the start. Finding her way to Clarkson University would lead to her becoming a two-time NCAA champion, though it was the family aspect of the school that drew her there to begin with.
Harmon explained:
"When I was getting recruited and ended up going on a few college trips, I didn't know what I wanted to study. I was pretty open with whether I wanted a big school or a small school. I was just kind of taking everything in. When I got to Clarkson, right away it was pretty much a big family atmosphere. When I was being recruited by them, a husband and wife (Matt and Shannon Desrosiers) had coached and they had two young kids. The strength and conditioning trainer that was there had a young kid running around too. You could just tell from the second you got on campus it was a family atmosphere. It was a small community, small town. At the time I was living in Lake Placid which was only an hour and a half from there. I loved Lake Placid, and when I looked everywhere else I knew that Clarkson was the place for me. From the coaches, and the hockey that was obviously amazing, to the academic side which had a lot of options for whatever I would want to end up going into. That just made it a good fit for me."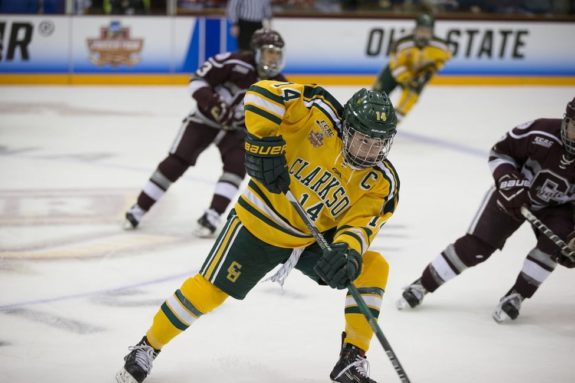 Harmon played for the Golden Knights from the 2014-15 season through 2017-18. In her four years she scored 30 goals, 83 assists, and 113 points in 160 games. Once she hit the 100-point plateau, she was only the second defender in the program's history to accomplish the feat. 10 of her goals were power play tallies, while eight of them ended up being game-winners. Harmon's career plus/minus  of plus-131 is simply staggering.
For her junior year at Clarkson she served as a co-captain, and then held the captaincy outright for her senior campaign. While Harmon is very humble and would quickly spread the credit elsewhere, it is no coincidence that the Golden Knights became national champions for both years in which she held such a leadership role. Her collegiate career brought her numerous memories that she cherishes, though those two championships stick out as the definition of "special moments".
The defending NCAA champion @CUknights will look to Patty Kazmaier candidate Savannah Harmon to bring them back to the promised land! pic.twitter.com/Zs6JW7nsMd

— NCAA Ice Hockey (@NCAAIceHockey) September 25, 2017
"When we won the NCAA championship," Harmon said when asked for pinnacle memories from Clarkson. "I think both years were pretty special for it. The first year when we won – my junior year – that was absolutely amazing. Then to win it again my senior year, we won it back to back. I think those two take the top of the special moments. I think that just everyday being able to come to the rink and play. The group of girls that I had on my team every single year have just been all amazing and great friends. I think that's been a special part of it too."
The Beauts Made Her an Early Draft Choice
Being able to pluck a player from the national spotlight who was fresh off of two straight championships, the Beauts wasted little time in drafting Harmon. Buffalo's defense has been formidable through each of the previous three years of the NWHL, and with this rookie defender in their armament they appear poised to continue that tradition in Season Four. The summer that the Beauts drafted her, they were coming off of their finest performance yet.
"They had just won the year before," Harmon recalled, "so I was super pumped to be able to get drafted by them. I was really excited, and I knew that the league had still only been up for three years. It was exciting. When you're younger, I had always wanted to continue playing hockey as long as I could. To know that was something that was definitely doable and coming in the near future, I was really excited. To be able to be drafted from Buffalo, I was super honored, super excited, and definitely interested in getting a chance to play for them."
Rivals 🔜 teammates pic.twitter.com/g0iGVNyWts

— Buffalo Beauts (@BuffaloBeauts) June 14, 2018
Harmon is in very good company too. At the time that her signing was announced the Beauts had inked only one other defender, veteran and Olympian Lisa Chesson. A tremendous puck-mover herself, Chesson is the elder stateswoman of the team. Soon to be turning 32 years old, she was a member of Buffalo's 2017 Isobel Cup-winning squad and earned a silver medal at the 2010 Vancouver Games. Both Harmon and Chesson are from Illinois, and could conceivably be an elite defense pairing. The fresh-faced, skillful rookie alongside the savvy, stymieing veteran. It is certainly food for thought.
Veterans and fellow rookies alike, Harmon however is excited to be playing alongside all of her new teammates:
"I think all of them to be honest," she said, when asked who she was most looking forward to playing with. "From the training camp when I was there, the girls who were back – Jordan (Juron), Maddie (Elia), Hayley (Scamurra) – all of them that were back, they were definitely super nice right from the start. Really outgoing, fun to be around and fun to play with. That was awesome. Then the other girls like Juls (Iafallo) who played at Ohio State and Annika (Zalewski) who played at Colgate, whom I kind of had known and played against for the past four years, I'm super excited to be on their team this year too. We got along really well. It was fun to be able to go through the camp and get to know them that weekend. I'm really excited for everyone."
Harmon Feels Welcomed in Buffalo
You can also tell that Harmon is looking forward to being part of the Buffalo community. Having traveled to "The Queen City" from Chicago with her mother to attend the free agent camp, she brought it up to the media then. More than a month later, she is still smiling from her welcoming visit.
"That's one thing I've heard too," she responded when THW referred to Buffalo as "The City of Good Neighbors". She went on to say, "It's a big city, but has a small town vibe. My mom and I were there for camp, and definitely the one thing we noticed from everywhere we went, whether it was going out to eat or just walking around, it was a great sense of community and neighbors. It was awesome, and I'm really excited to be there."
The next time that Harmon steps foot in Buffalo she will do so as a professional hockey player. With that new status as an NWHLer, there will be many youngsters who will be looking on in both wonder and admiration. While being a pro will be new for Harmon, interacting with kids and serving as the positive role model that she is not unfamiliar territory. In fact, the notion is already quite dear to her.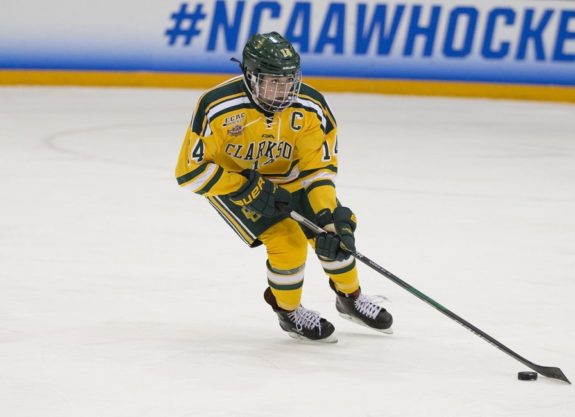 "To look up and be able to see little girls at our games that's one thing I really got to experience at Clarkson," she recalled fondly. "That was the coolest thing. We had the 'Lil' Knights' club here, and got to know a bunch of the younger kids that would come to the games all the time. I think that is just so cool. I know in Buffalo from what I've seen that their support and fan base are absolutely amazing."
Youngsters and adults alike will enjoy getting to know Harmon this coming NWHL season. Not only for her pleasant nature and enthusiasm, but also because she is going to make a difference among the Beauts defense corps. By selecting her sixth overall, believe us when we tell you that Buffalo got a steal.
"One thing that I just always like to preach is to have fun," Harmon ended with. "I think that's when you play your best and have the most fun. When you're working hard, you're having fun. And usually when you're having fun, you're working hard. It's a sport, it's a game, and it's supposed to be fun. If you work hard everything else will come with it."
General Manager of the Buffalo Beauts (NWHL). Hockey history writer "The Hockey Writers". Credentialed media for the NHL Combine and 2018 IIHF World Junior Championships in Buffalo, NY, USA. Born and raised in Buffalo, NY. Lifelong hockey fan for over 40 years. Proponent of the women's game.