In today's news, the Nashville Predators have signed defender Ryan Ellis to a significant contract extension, the Devils signed restricted free agent Steven Santini to a deal and the Zach Werenski outlined his ambitions to not miss a single game this season following shoulder surgery in the offseason.
Predators Extend Ellis
The Predators were able to lock up Ellis to an eight-year contract extension worth $50 million. The 27-year-old defender is in the final year of a five-year contract that he signed in 2014 worth $12.5 million that has him earning $2.5 million per season – this new deal will be a significant increase for him as it's set to pay him $6.25 million per season.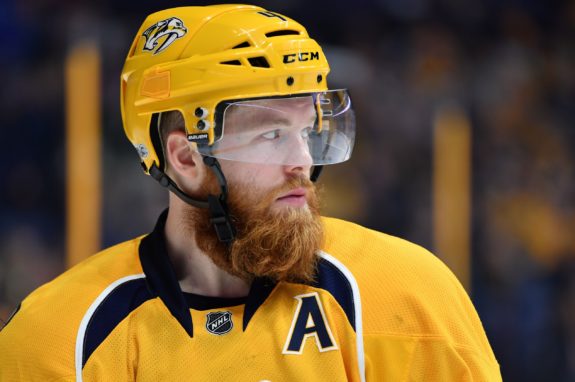 Ellis has played all 396 regular season games of his career as a member of the Predators after the team drafted him 11th overall in 2009. In that time, he's scored 55 goals and 173 points and has become one of the better two-way defenders in one of the best top-four defense units in the NHL.
As it stands, Ellis' career-highs in goals and points both came in 2016-17 when he scored 16 goals and 38 points, though he was on pace for over 16 goals and 59 points in 2017-18 before injuries hampered his year. With a new contract already in place and no stress about where he'll be beyond the 2018-19 season, Ellis should be able to pick up right where he left off next season.
Werenski Hopes to Be Healthy
The Blue Jackets are hoping they won't be without their star defender for long this season following Werenski's shoulder surgery in early May. If Werenski's most recent comments are a sign of things to come, then the team and the fan base should all breathe a collective sigh of relief.
"My goal, ultimately, is to be there for Game 1," When speaking to Brian Hedger. "You never want to miss time, you never want to miss games, so my goal going into training camp and into the season is to be ready for Game 1.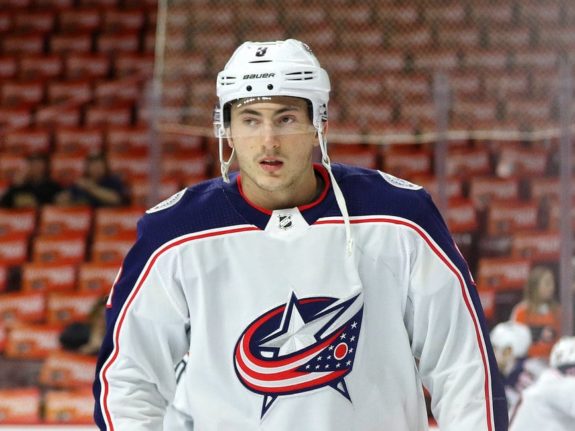 Werenski, however, was still realistic in his ambitions.
"If it's later, like Game 5 or Game 10, whenever that is, I'm going to work to miss as few games as possible and be ready to help the team."
"I feel great out there," he said. "There's no problems right now. I'm just kind of ramping it up here, trying to get my timing back. Everything feels good on the ice. I haven't had any contact yet. That's not until later. I probably won't do that until probably halfway through training camp, but everything is good. Everything's on pace. I actually don't know what my timeline is, to be honest, but I'm hoping to be back toward the start of training camp – probably not Day 1, but as soon as I can be."
Devils Re-Sign Santini
The Devils re-signed Santini to a three-year contract extension worth $4.25 million that will pay the 23-year-old $1.416 million per season over its lifetime. Santini was a restricted free agent and had just completed his second full season split between New Jersey in the NHL and Binghamton in the AHL.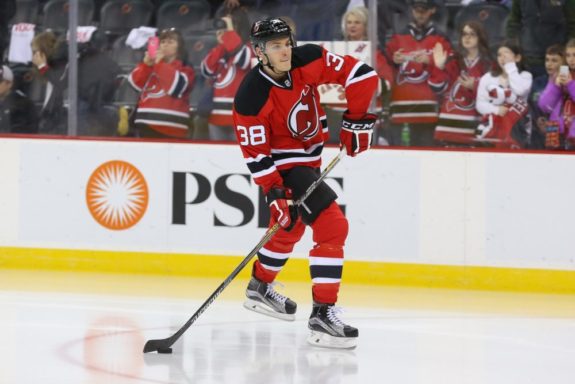 "We are excited to lock up Steven, a young, developing defenseman, for the next three seasons," said Shero. "He provides size and a physical element that complements our existing defensive group moving forward."
Santini was taken with the 42nd overall selection in the 2013 NHL Entry Draft and has only played in 75 games in his career thus far across three seasons following three years at Boston College. With this deal, the Devils will get a good chance to see just what they have in him as an NHL player and the two sides will be able to reconvene in a few years to discuss a possible extension if it's in the cards.