Ever wonder why a goalie became a goalie in the first place? Or what goalies do in their offseason? Luckily for you, we got the answers to both of those questions and much more when we spoke with goaltender Amanda Makela from the NWHL's Buffalo Beauts. What's her connection to the rookie goalie that just led the Pittsburgh Penguins to the Stanley Cup Final? Glad you asked! The answer is below.
Through the power of social media, we got to know a little about the 22-year-old Makela during this past season, the first season in which women were paid a salary to play hockey, as she and her fellow teammates/opponents start to become more known in the hockey community. The Hockey Writers spoke with the goalie who appeared in six games during her first season as a professional via email and hopefully you all enjoy reading her answers as much as we did!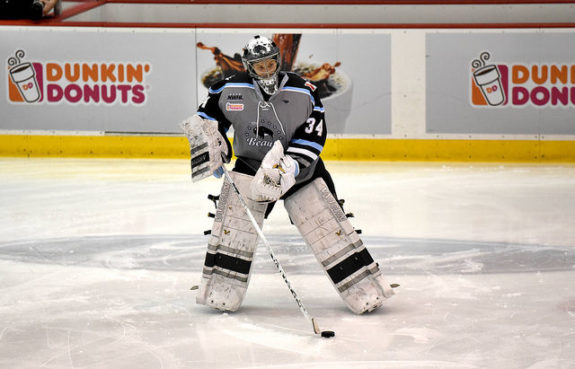 The Hockey Writers: The first NWHL season has been over just about a month now, and it seems you've been pretty busy with the filming of Mission: Impawsible. Any other big projects this summer
Amanda Makela: The filming of my first video was a very tedious process. It took about 10 seconds; I got the idea while talking to my friend on Snapchat. Our mission was to make it down 3 flights of stairs, outside and back without a leash or collar. It was probably midnight or 1am so I was hoping no one else would be awake. Knowing me there will probably be more projects featuring Charlie. For now, she is my only roommate so we do everything together! So stay tuned. Other than filming I recently got a job at an ice cream store. My family owned an ice cream store for many years, we even made all the ice cream in our garage. So that job seemed pretty fitting for me. People usually have so many questions once they know that I owned an ice cream so I'll save everyone the trouble… Yes, of course, it was the best thing ever.
Mission: Impawsible pic.twitter.com/wI2vQ7Srjr

— Amanda Makela (@amakela34) April 3, 2016
Hockey is the reason I'm not 500 lbs. I did eat ice cream for every meal, some days even for midnight snack since my parents would wake me up at midnight to try new flavours. I invented a flavour and named it Hockey Puck, of course (vanilla ice cream, peanut butter cups for pucks and a chocolate drizzle for the lines). I do really miss it. Yes, I can still eat other ice creams although they will never be as good. I will forever have an ice cream addiction that I attend meetings for – so don't worry! That should cover the big ones.
#happy #NationalHighFiveDay #puppy #golden #tbt pic.twitter.com/Krtcoe72zF

— Amanda Makela (@amakela34) April 21, 2016
THW: Obviously you have a lot of fun with your pup, and you seem like you had a lot of fun this season with Buffalo. Can you tell the fans what the season was like for you?
AM: This season was amazing! I loved every moment of it. I could probably write pages about all the great things we did. First of all, the fans were incredible! Definitely proved that Buffalo is the best sports city. We had a pretty slow start to the season for various reasons; mainly due to the visa problems we weren't able to have a full team for a while. At the same time, I think that helped us down the road because it gave a chance for our practice players to get some experience. Throughout the year, we missed various players during games and it was really nice to have our practice players step up. The team was so fun to be around as well.
Usually, all teams deal with some type of drama throughout the year but there was something special about our group. We got along so well on and off the ice and everyone had a great attitude. I think that is the main reason we did so well at the end of the year. We all worked really hard and played for each other. When things weren't going well we were able to stay positive and push through. For me personally, compared to past years my ice time was dramatically decreased but because the team was so fun to be around it didn't bother me at all. Of course, I would have loved to play more but the goalie relationship we had between Bri (Brianne McLaughlin), Sass (Kimberly Sass) and I really helped. It didn't matter who played, we would rally around them.
THW: You're from Thunder Bay, Ontario, so naturally we have to ask if you know the Staal family?
(We asked NJD prospect, goalie Mackenzie Blackwood – also from Thunder Bay – the same question last summer.
AM: I don't know them personally. When they come back in the summer I see them around the rinks either waking around or on the ice.  When I was younger I did win an autographed practice jersey from Eric and they would make some guest appearances along with Patrick Sharp at some hockey camps. I know more of the goalies from Thunder Bay. I played with Matt Murray in PeeWee who is now playing for the Pens. My goalie coach for a few summers was Carter Hutton, the backup goalie for the Preds. I also know Mackenzie Blackwood, we've trained together a few times. We also tend to forget about the great women players from Thunder Bay — so I have also met Haley Irwin and Katie Weatherston who played for Team Canada.
THW: At what point in your life did you decide you wanted to be a goalie and why? (They did tell you beforehand that people shoot pucks at you, right? haha)
AM: I had a pretty late start to hockey, especially as a Canadian. I think I was 8. I'm not sure exactly why I wanted to play, but I think it was because my best friend in school played so I wanted to try it too. I came home from school one day and asked my parents if I could play. I had skating lesson prior to that and I was pretty good so I'm not sure why I didn't start sooner. A pretty funny story about skating lessons is that both my brother and I took lessons and of course my parents got me figure skates and my brother had hockey skates so I cried the entire time because I wanted hockey skates too. My brother never got into hockey and my parents never played either so I was the only one who wanted to play. By the time I asked it was too late to start that season so I tried roller hockey first. I think I was the only girl and would always get made fun of for being a girl and playing. I remember one boy on my team was really mean and didn't think girls should play with him so for some reason I got traded to the other team and I ended up getting my first goal against that boy's team and I was so happy. I think I was too young to fully understand or care about being a girl playing a "boys sports" all I knew was that I enjoyed it and wanted to continue with ice hockey.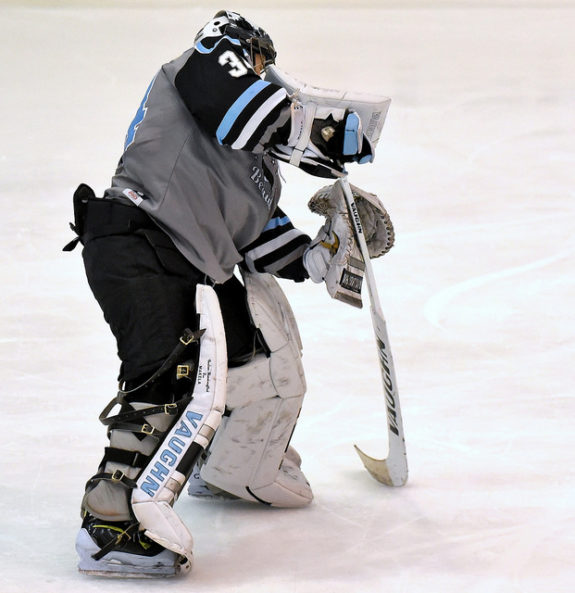 So the next year I started playing and fell in love with it! I think it was halfway through the first season I wanted to try going in net. I have absolutely no idea why I wanted to do that. They definitely didn't tell me that people shoot pucks at me. It probably had something to do with the cliché goalie story where the team didn't have a full-time goalie and everyone got a chance to play. For my team, we could volunteer to play goal. I told my parents that I wanted to try it. I think they were pretty surprised. So they said that if I asked the coach I could try it. I was a very shy kid. I still am. I don't think I said one word to the coaches all year. My parents even had to bribe me to talk to my teachers. So I guess I really wanted to play so I asked the coach all by myself. For Christmas that year, I asked for either goalie pads or a puppy. I also really wanted a puppy so really it was a win-win. My parent got me the goalie pads because they thought it would be cheaper… boy were they wrong! I think I got those pads before I played my first game so I got to use my own stuff to play. I'm pretty sure I let in 6 goals my first game against the best team so I don't have the 'I was amazing right away' story but all I remember is having a smile on my face the whole time! I loved it! I was still a very good forward, probably one of the best in the league and I remembering being the first to raise the puck. So lots of people were surprised that I wanted to be in net but once they saw me play they understood. I wasn't great but you could see that I had a natural ability for it. I would alternate between goalie and forward.
Roads? Where @meganebozek is going, she won't need roads… The #BozeBlast won the hardest shot competition today! 💣 pic.twitter.com/tIZSsD0WXx

— NWHL (@NWHL) January 24, 2016
THW: What's the hardest shot you've ever faced, or one that stung you really good?
AM: That's a tough one. I have faced a lot of hard shots and it's all relative based on my age at the time. In PeeWee, we had this one defenseman with a really hard shot and I always hoped he missed the net. I have a lot of guys shoot on me in the summer who all have hard shots. Boz (Megan Bozek) this year had one of, if not the hardest shot I have faced for a female hockey player. I've been fortunate and have never had any really bad stingers. You will always get the few that hit you in the wrong spot.
THW: You were CHA goalie of the year in 2015, was it hard to not see action in a lot of games this past year with three goalies on the roster?
AM: I partially answered this already in a question above but yea it was definitely hard transitioning from playing almost 34 games to 4-6. Playing fewer games makes it tougher to be on your game when you do get a chance to play, so you really have to work hard in practice to make sure you're prepared for your opportunity when it comes. Someone could get hurt, have a bad game or just need a day off. Like I said earlier with the goalies we had, Bri and Sass, and the relationship we had it made that transition so easy. Goalie is definitely a tough position mentally. You can go through years of playing to years of sitting on the bench and everything else in between. All that is part of the position which we all have to experience so I think because of the experience level of our goalie squad we've been through it all and understood our roles.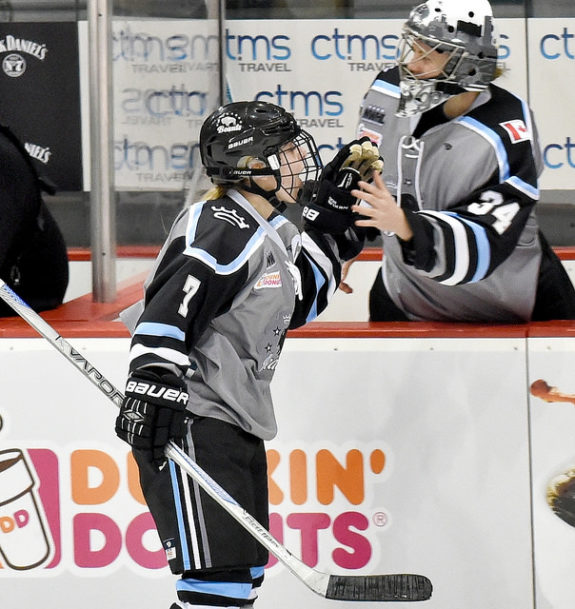 THW: We noticed you wear a Buffalo Sabres touque when you're on the bench and most of other goalies wear their mask; any reason why?
AM: When allowed or I could get away with it I would definitely wear my toque over my mask. Most times the ref would make me put my helmet on. I find it easier to watch the game without my mask on. The angles are different on the bench and I have to turn my head a lot more as the puck moves around the ice. Whereas when you're in net the play is always in front of you and stay square to the puck as it moves. So the toque helps my head stay warm while also helping me see the game more clearly. I also have a pretty quiet voice so I find when I take my mask off I can be more vocal to the players on the bench and don't have to yell as loud. I also just like wearing hats cause they are so comfy and we got those Sabres hats for free, so I thought I would rep Buffalo!
She's everything to me and I'm a headrest to her. ❤️ #puppy #golden #love pic.twitter.com/M4AJpu1E4v

— Amanda Makela (@amakela34) April 25, 2016
THW: Which teammate did you become good friends with that you didn't know at all one year ago?
AM: I'm pretty laid back so I got along with everyone but if I had to pick I would have to say, Hayley Williams and Hannah McGowan.
THW: Do you have any goals for next season and how will you be training this summer?
AM: I would love to keep playing next year and will if given the opportunity. It's pretty stressful right now not knowing what's going to happen but I'm trying not to worry about it because now it's out of my control. As far as training goes, because I live so close to Buffalo I am still training with the same strength coach that we had with the Beauts. It's nice having someone who you already have a relationship with, knows your strengths and weakness, and injury areas. So you don't have to go through all that with someone knew. Tom is also great and knows his stuff so it was an easy decision to make. Apart from my ice cream job, I work goalie camps in Toronto so I am able to also train on ice there pretty much whenever I want which is another great bonus! I'm really looking forward to a full summer of training. Unfortunately, the past 3 summers I've had to deal with injuries and rehab so I finally will have a full summer to just train!
You can keep up with Amanda Makela on Twitter: @amakela34 – this summer and beyond.