Goalies generally take longer than skaters to develop enough to become NHL caliber goaltenders. So for 18-year-old Mackenzie Blackwood, who was just drafted in the second round of the NHL Draft by the New Jersey Devils, he shouldn't plan on looking into buying any property in the state of New Jersey for a few more years. But, he could just be the goalie of the Devils' future as the heir to the throne of Cory Schneider in the team's crease. Schneider won't turn 30 until next March and he is under contract for the next seven seasons, the last two of which could see Blackwood as his partner if all goes right in his development.
Blackwood was the top-rated North American goalie in the draft and the Devils hadn't put too much effort into developing young, NHL-caliber goalies during the Martin Brodeur era; and rightfully so with Brodeur playing 70+ games annually plus the fact he was injury free until 2008-09. This was the perfect time to draft a stud prospect, especially with a regime change in the front office and behind the bench; a goalie for the future of the new era New Jersey Devils.
Blackwood is a tall (6'4″), calm goalie and according to the pre-draft scouting reports, he's also a solid and smart puckhandler. In talking to him it is noticeable quickly how confident he is in his abilities, but also that he is young and aware that he still has work to do to become who he wants to become. Eventually with a defense in front of him that is a greater caliber than a CHL defense, he could turn out to be a nice grab with the 42nd pick in the 2015 NHL Draft.
After the final day of New Jersey's Development Camp, The Hockey Writers spoke with Mackenzie Blackwood following a scrimmage in front of season ticket holders to find out what his life has been like since the NHL Draft, who his favorite goalies are and what his two seasons of OHL hockey have been like among other topics.
The Hockey Writers: This was your first professional camp; how was the experience now that it's over?
Mackenzie Blackwood: It was pretty cool; I really enjoyed it and had fun competing with the guys. This (week) is pretty much the first skate of the summer, so it was nice to get that going.
#MacAttack MacKenzie Blackwood grabbing some water. #hydrate #NJDevCamp pic.twitter.com/4p7iXfBIGS

— amayzingamanda (@amayzingamanda) July 19, 2015
THW: Has it been a whirlwind for you mentally from draft day (June 27) to this point now at the end of development camp (July 18)?
MB: Oh yeah for sure (smiles). When it first happened I was really in shock and barely realized what happened. Moving on up until now you don't really realize that it happened until you step into this locker room and you see the New Jersey Devils logo (on the floor) in the middle of the room, and you get to see all the guys and then it sinks in that you are actually here; a part of an NHL team. It's been kind of crazy and a lot of mixed emotions up until now.
THW: Was there a goalie that you patterned yourself after or idolized when you were growing up?
MB: My favorite goalie as a little kid was Patrick Roy and obviously now it's Carey Price. He's just prototypically the best goalie in the league right now (chuckles), I mean, he's so perfect in the way he does everything. Those two are definitely the two that I grew up idolizing.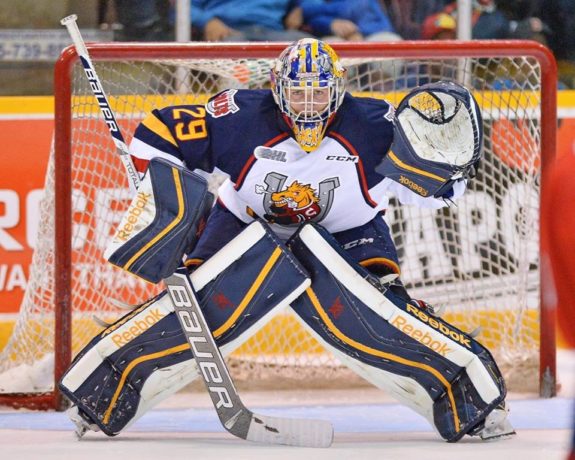 THW: You now join a Devils team that has a rich history of goaltending, mainly a guy named Martin Broduer; and this Cory Schneider fellow isn't too shabby either. Does that create any added pressure on you, mentally, to live up to a standard set in this organization?
MB: Not for me, no; it's nice to see that history and the same guys in this organization that acquired them are the ones that drafted me. It's a good feeling to know that they liked me (enough to draft me), but I'm not nervous. It's big shoes to fill obviously if you want to get to the next level but it just makes you realize how big of a job it is and how much work it takes. It's going to be a long road but hopefully it happens and it works out for all of us.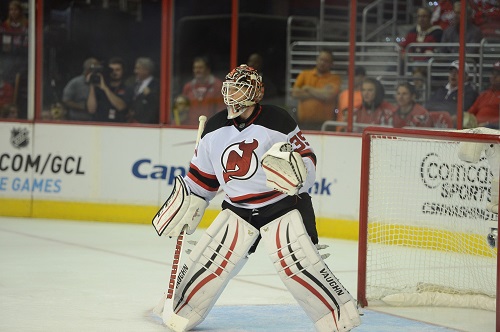 THW: Tell the fans about what your experience has been like in the OHL with the Barrie Colts the last two years while you recorded 56 wins in 96 games.
MB: It's nice to play for Dale Hawerchuk (head coach) and the Barrie Colts, it's been a really awesome two seasons (there). I'm really looking forward to this next season coming up, but the best thing to happen to me there has been the chance to play in playoff series and we've had some really good battles. We certainly haven't made it as far as we would like to make it, but hopefully this next season coming up we can crack that North Bay curse, move on a little further and see if something special happens.
THW: You're from Thunder Bay, Ontario, a place where a few notable NHL players are from; do you train with or know them at all?
MB: I'm not personal friends with the Staals or anything like that, but I know of them. Everybody in town idolizes them and has grown up watching them play, and says 'oh there's a chance (I could make it to the NHL)'; and there are a few NHL players from Thunder Bay, so it's not out of the realm of possibility. It could happen. But no, I don't know them; we know where their house is, and their camps. You always drive by it; everybody knows where it is. Patrick Sharp for like six years was my next door neighbor, so that was pretty cool (smiles).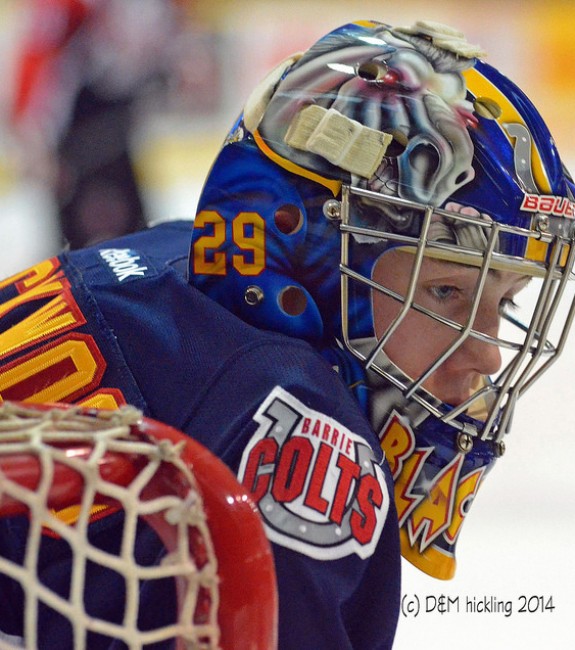 THW: So you must know Patrick Sharp pretty well then?
MB: I see him here and there when he was in town, but I don't know if he knows me.
Dan Rice can be reached via Twitter: @DRdiabloTHW or via Email: drdiablo321@yahoo.com
Dan Rice is in his 9th year of reporting for THW & has covered NJ Devils home games for 15+ years at various websites. He began his journey working for legendary broadcaster/writer Stan Fischler from 2002-04 & completed an internship at the ECHL; he also has been writing features for the NWHL (nwhl.zone) website since 2016.