Mackenzie Blackwood THW Close-Up:
Date of birth: 12/9/1996
Place of birth: Thunder Bay, Ontario
Ht: 6'4″     Wt: 215 lbs
Catches: Left
Position: Goaltender
NHL Draft Eligibility: 2015
Twitter: @MacBlackwood1
THW The Next Ones Rankings (February): not ranked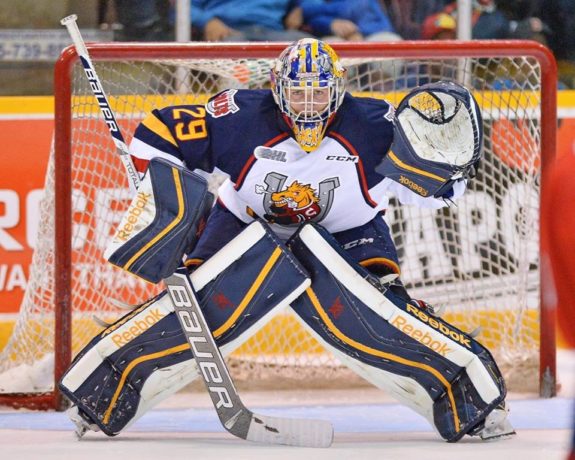 Other Rankings:
NHL CSS (North American Goalies) – 1st
Craig's List (Craig Button) – 60th
The Hockey News (Ryan Kennedy) – 1st
The Hockey Writers (Chris Ralph/Eldon MacDonald) – 46th
Future Considerations (Midterm Draft Ranking) – 61st
***
Blackwood? He's THAT Good
When Mackenzie Blackwood donned his first pair of hockey skates, he didn't have to add on the extra equipment that goaltenders usually wear in order to protect themselves from a slab of frozen rubber.
Stepping into the crease at 12-years old, Blackwood's road to the 2015 NHL Entry Draft didn't start because his siblings needed a goalie to man the net standing in their driveway, garage, or basement. Starting out as a skater, Blackwood stepped into the crease when his team – the VP Bearcats – lost their starting netminder, and he surely hasn't looked back since then.
Over the last four years, Blackwood has honed his craft and has shown progression during each and every season that he has played. Standing tall at 6'4″ and weighing in at 215 lbs., Blackwood has the size that NHL teams will covet when looking for a goalie in this year's draft. Couple Blackwood's size with the fact that he is a relatively raw talent that is still learning the various intricacies of his position, and any hockey fan can safely assume that the 18-year old has an extremely high ceiling.
Given his development time as a goalie, Blackwood's ability to stay calm and collected in net in most any game situation separates him from other goalies on CSS's final rankings. Having only six years of goaltending experience under his belt, Blackwood has literally had to learn in an "On-The-Go" type of fashion – which makes his composed demeanor that much more impressive, especially when compared to other draft-eligible netminders in his class that have had more time to develop technically, mentally, and emotionally.
Playing in the OHL during the last two seasons, Blackwood showcased his mental acuity when he was brought up during the '13-'14 season and promptly appeared in 45 games (23-15-2, .902 Save Percentage, 2.98 GAA). Compiling such impressive statistics, Blackwood found himself on the OHL First All-Rookie team at the end of his first campaign – a distinction that the goalie obviously earned through hard work.
Following up his rookie effort, Blackwood continued his progression with Barrie during the '14-'15 OHL season as he guided the Colts to another playoff berth. Playing to the tune of a 3.09 GAA and .906 Save Percentage in 51 games – and a 33-14-2 W-L-OTL record – Blackwood not only shouldered a heavier workload during the regular season while playing without the likes of Aaron Ekblad, he made it a point to rise to the occasion during the OHL playoffs as his Save Percentage statistics showed a tremendous amount of improvement in his postseason play from the previous year.
Despite losing to North Bay in the second round of the OHL playoffs, Blackwood certainly raised his draft stock with a strong showing in the postseason. Seeing as how the 2015 NHL Entry Draft is a little bit more than one month away, goalie enthusiasts will have plenty of time to decide which netminder will be selected after Blackwood's name appears on the draft board.
Scouts Honour:
"Mackenzie's overall net coverage is excellent. His size and explosive leg power pushes is a great asset in his lateral ability. He is able to get across laterally with ease and very quickly, always being in control. Another advantage is when he drops in the butterfly he covers the lower corners post-to-post with his excellent leg extension while sealing the ice. While he's in the butterfly he also keeps his upper body in an upright position with his glove in the proper position as well to cover the upper half of the net. There are not many holes for the shooters to shoot at."
– Al Jensen, NHL.com
"Tall acrobatic netminder whose aggressive style includes super-quick leg and mobility. Moves really well from side. Loves to challenge shooters and gets out on the edge of the paint to cut down their net. Aggressive goalie prospect whose is very athletic, acrobatic, and positional sound at the junior level. Always ready to challenge attackers and has lightning quick less that stop the low shots with regularity. His big frame and natural mobility allow him to slide from post to post easily. Already had soft pads that help control rebounds. Will need to work on his puck-handling but he seems guaranteed to have his name called early this Spring."
– Bill Placzek, Draftsite.com
"Already at 6'4″ tall, MacKenzie Blackwood has the ideal size that teams look for in goaltenders now.  He uses that size effectively and comes out to challenge shooters and take away the amount of net they have to look at. He skates extremely well and can back up quickly to close down the net on dekes. Blackwood is almost always square to the shooter, even on cross ice passes as he gets across very quickly due to a strong leg push. He stays in control and avoids oversliding. Blackwood plays a strong butterfly technique with strong legs that take away the bottom of the net, and an excellent glove hand."
– Ben Kerr, LastWordOnSports.com
Bio/Interview(s)/Links:
Where He'll End Up in June:
Blackwood will likely be selected at some point during the second round of this year's draft.
Statistics:
International Tournaments:
None, but played extremely well – along with Zach Fucale – against the Russian Selects in the 2014 Subway Super Series.
NHL ETA:
Risk/Reward Analysis:
Risk: 1.5/5  Reward: 4.5/5
NHL potential:
Strengths:
Athleticism
Mental acuity
Excellent leg strength and lateral movements
Utilizes size to maximize efficiency in butterfly
Squares himself well in order to get in front of the puck
Good glove hand
Good puck-handler
Plays angles well and takes away large portions of the net
Flaws/Aspects He Needs to Work On:
Could use minor work on rebound control
Butterfly technique could use some slight polishing.
Fantasy Potential:
NHL Comparable:
Models his game after Pekka Rinne and Mike Smith.
Video:
_________________________
THW's The Next Ones prospect profile template design architect: Chris Ralph