It's certainly a bittersweet time in Chicago. As we all know by now, the Chicago Blackhawks have relieved head coach Joel Quenneville of his duties. No matter what your opinion of this hard-nosed, stubborn bench boss, 10 years and three Stanley Cups isn't easy to forget. Quenneville left a lasting impression; one with many more happy memories than sad.
Needless to say, Jeremy Colliton has some awfully big shoes to fill. Yes, this 33-year-old now takes the helm, as the youngest head coach in the National Hockey League. Is he up for the task? The former Rockford IceHogs head coach has the backing and respect of virtually every young player he's coached. But will that be enough?
Let's face it, even if Coach Quenneville was deemed a problem, he wasn't the only problem. In the eyes of this writer, he was a scapegoat for many other larger issues. Coach Colliton will lead us into a new era, but he also inherits the same problems Quenneville faced. In that spirit, today Meghan Dillon, Greg Boysen, and Gail Kauchak tackle a few of the same questions Coach Colliton will be asked to address.
Let's start with the power play. Through the first 15 games, the Hawks have scored seven power play goals on 50 chances, for a dismal 14% and 27th in the league. For the team to turn its fortunes around, this must improve. So if you were Coach Colliton, how would you go about fixing the power play?
Related – Blackhawks Roundtable: Call-Ups, the Third Line & Rivals
Power Play Changes
Meghan Dillon
This is such a cliché answer, but I think some of the stronger scorers should be out on the power play, such as Patrick Kane, Alex DeBrincat, and Jonathan Toews. However, they should be spread out so there is always a strong forward on the ice. The same thing goes for defense with Duncan Keith, Brent Seabrook, and Henri Jokiharju.
Greg Boysen
The first thing I would do is take both Keith and Seabrook off the power play. Neither is doing much on the man advantage, plus it will save them both a couple of minutes of ice time a night which will be beneficial down the road. I would have Jokiharju quarterback one unit and Erik Gustafsson the other.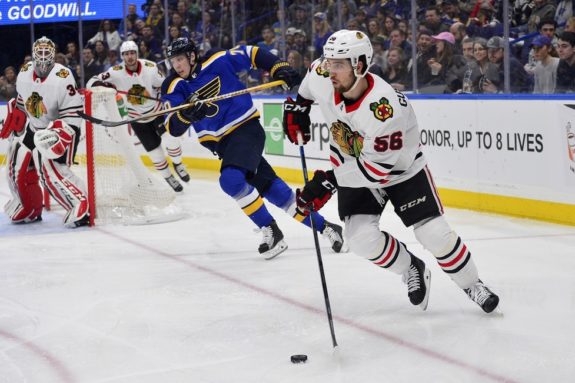 You need a big body in front of the net. Artem Anisimov is very successful at getting there and letting pucks hit off of him for goals. He needs to be on a unit with the best shooters like DeBrincat and Kane. Brandon Saad should fill that role on the other unit. Shots through traffic are what you need for a successful power play. They need to simplify things; instead of trying to make the perfect pass to set up the highlight reel goal, just get the puck to the net and make it hard for the goaltender to see it coming.
Gail Kauchak
The wave of the future on the power play is to deploy four forwards and one defenseman. I think the Hawks should embrace this on both units, not just the first unit as we've seen in the past. Jokiharju and Gustafsson could be the two defensemen on the man advantage. Keith and Seabrook should be taken off the power play altogether. After all, they're the elder statesmen. They should get a break on this end of special teams. This would also cut down their minutes so they could be more effective during 5-on-5 play.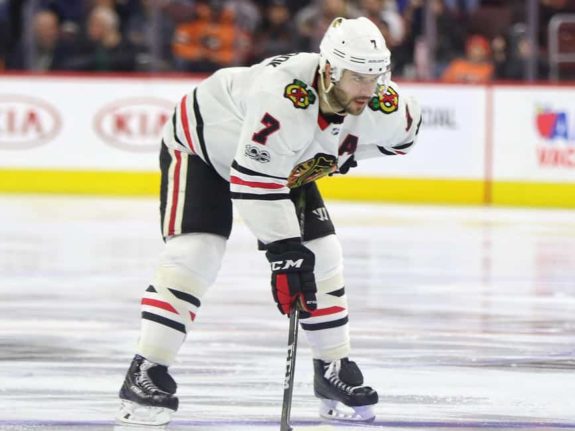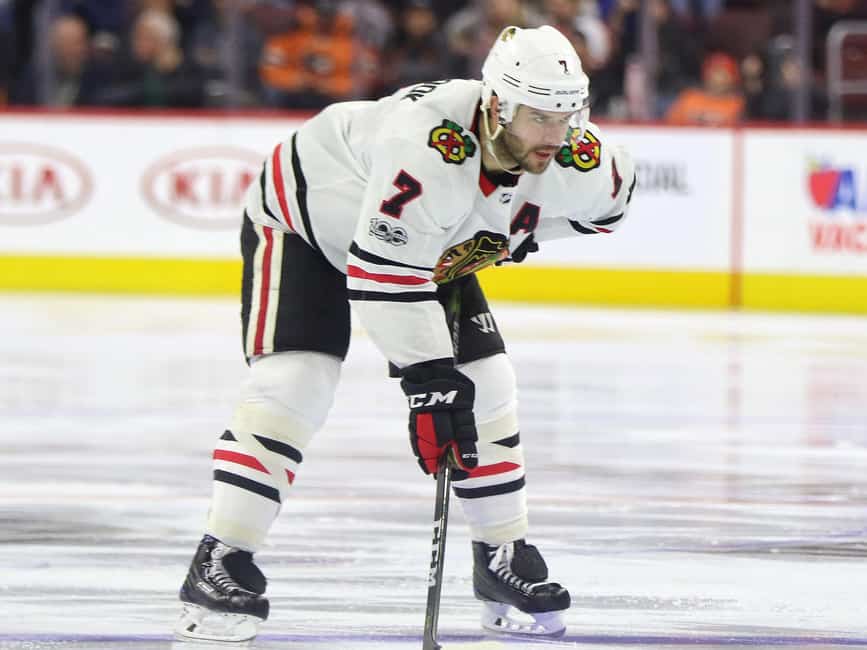 Moving to the four forwards, let's keep it simple. The first line should make up the first unit, and the second line the second unit. The hottest offensive players on either the third or fourth lines should be rewarded as the extra forwards on the power play.
For example, the top line during this week's practice was DeBrincat, Toews, and Dominik Kahun. In this case, Saad could be the extra forward and the net front presence on the first power play unit. The second line of Nick Schmaltz, Anisimov, and Kane would make up the second unit. Perhaps Alexandre Fortin could be the extra forward in this scenario. After that, encourage the players to be aggressive and shoot the puck often.
---
Let's move on to offense. There's so much firepower on this team, yet the Hawks have only scored nine goals in their last five games, all concluding in losses. That's an average of 1.8 goals a game. It needs to be more. If you were Coach Colliton, what are some changes you might make to the forward lines to spark production?
Forward Line Adjustments
Meghan Dillon
First off, separating Toews and DeBrincat is a bad idea. The third member of their line can be something to experiment with, but they work very well together.
Finding a solid second line is very important, mainly to pick someone who works with Kane and can actually score. Schmaltz and Saad with Kane did not do too well. Perhaps they have the potential to work in the future, but finding a good line for Kane should be top priority.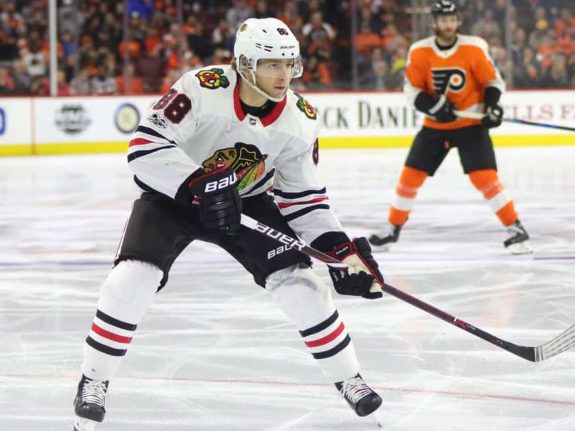 Everyone on the bottom two lines should be given a chance to prove themselves, even a player like John Hayden who has been a healthy scratch lately. Like the top lines, its important to find players who have good chemistry with each other.
Greg Boysen
The problem with the Blackhawks right now is that they are a top-heavy team. DeBrincat, Kane and Toews are producing, but there is not much happening on the bottom six. Colliton's biggest challenge is going to be trying to get guys like Luke Johnson, Fortin and David Kampf to start producing more. Thankfully, he has experience with those players. So hopefully he can get them to start contributing on a more consistent basis and make opponents worry about more than just the top two lines.
I would also end the Chris Kunitz experiment. He has already taken away too much valuable ice time from younger players who could be developing. Send him off to a Cup contender for a conditional pick and move on.
Gail Kauchak
Coach Quenneville was criticized for changing up the lines too often, and not letting players develop chemistry with each other. While I understand Q was trying to see all his options, perhaps he went a little overboard. I would expect less line-blending under this new staff. Sure, there will be adjustments and tweaks, but they won't be every game. The players will therefore be able to build that chemistry and truly work off each other. They just have to be mindful to not get too predictable.
That being said, look to see more experimenting on the bottom two lines, as it's imperative they become more productive. Hayden appeared to be in Coach Q's doghouse. He'll get more of a fair shake with Colliton. The same probably goes for Johnson. And I wouldn't put it past the Hawks' new coach to call up the likes of Dylan Sikura and Victor Ejdsell sooner rather than later. After all, he's been personally grooming them for just that. Older players like Kunitz and Andreas Martinsen? Well they're going to have to work extremely hard to prove their spot in the lineup. As it should be.
---
We know defense has been a weak link for the Hawks since last season to the present. The signings of Brandon Manning and Brandon Davidson were NOT the big splashes fans were looking for. What the Hawks' really needed was another top-four defenseman. And injuries to Connor Murphy and Gustav Forsling certainly haven't helped matters. So how will Coach Colliton tweak his defense?
Defensive Fine-Tuning
Meghan Dillon
I certainly wouldn't change Keith and Jokiharju being paired together. They are a reliable pairing and they seem to help each other improve. Jokiharju has shown so much potential to be successful in such a short period of time, and I think being paired with Keith has a lot to do with that.
There should be more of a focus on who plays best with Seabrook on the second pairing, and who would work well together on the final pairing. I definitely saw potential of defense in the last game when Keith got ejected. If defense plays every game like Keith isn't there, they're picture perfect. They've proven what they can do, and that should be the expectation from now on.
Greg Boysen
Right now, the defense is what it is. It really won't make much of a difference who is paired with whom. I would play Davidson more and rotate Manning and Jan Rutta in and out. Once Murphy and Forsling are healthy enough to return then you can make more adjustments and hopefully find three pairings that are successful in all three zones of the ice. Murphy will take a lot of pressure off Seabrook and will add another heavy body on the back end which the Blackhawks really need.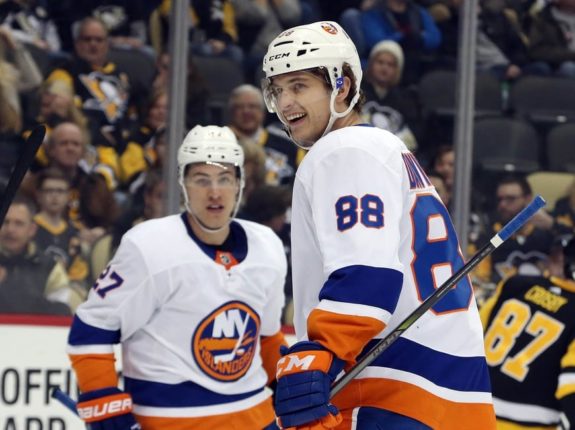 Gail Kauchak
I wouldn't mind seeing Davidson get a few more games. He's only suited up for five games to Rutta's 12 and Manning's 13. It might not work out, but at least give him a fair shot. The first and second pairings actually seem to be working out better than expected, thanks to Jokiharju's unprecedented emergence and Gustafsson's continuing maturation. Until Forsling and Murphy are healthy and can contribute, the status quo is probably the best bet.
One thing to keep in mind is that Colliton is general manager Stan Bowman's first hand-picked head coach. Which means he's much more likely to give him what he needs to succeed. If the Blackhawks can turn things around in the next few months, the Hawks have plenty of money to invest in another defenseman for a playoff push. That is, of course, if anyone of value is available.
Related – Blackhawks Lay a Goose Egg on Canadian Trip
---
We are witnessing a very interesting and exciting time the Chicago Blackhawks. It's fun to project what changes may come from this new coaching regime. There's a clean slate, a fresh start. But one thing is for certain. Coach Colliton has his work cut out for him. Let's see how he, and his new team, will respond.