The Chicago Blackhawks headed to western Canada for three tilts this past week, where they didn't do themselves any favors. They dropped all three contests, and have gone 0-4-1 in their last five games. There are some valid reasons for the Blackhawks' struggles. But let's face it, they need to be better in a very competitive Central Division and Western Conference. Here are some talking points.
Blackhawks' Week 5 Matchups
@Vancouver Canucks, Wed. 10/31, Loss 4-2
@ Edmonton Oilers, Thurs. 11/1, Loss 4-0
@Calgary Flames, Sat. 11/3, Loss 5-3
Overall Record: 6-6-3, 15 points
Kane Can't Go
The first challenge the Blackhawks faced was Patrick Kane was ill and couldn't play against the Canucks on Halloween night. This ended a 258-game streak for the star winger. The last time he was out was when he broke his collarbone in Feb. 2015. It also ended a six-game point streak.
Kane had the best start to his career this season, recording 11 goals and seven assists for 18 points in his first 12 games. This led the team in goals, assists, and points. It goes without saying it hurt the Blackhawks to not have his services.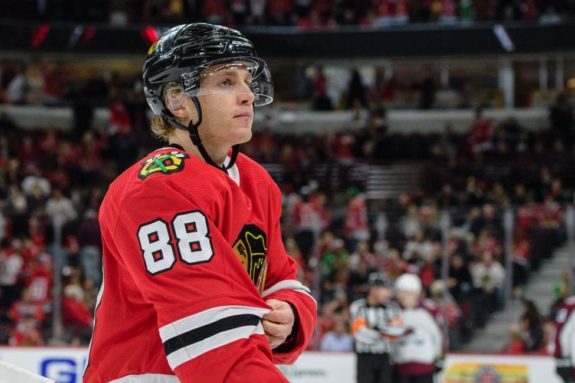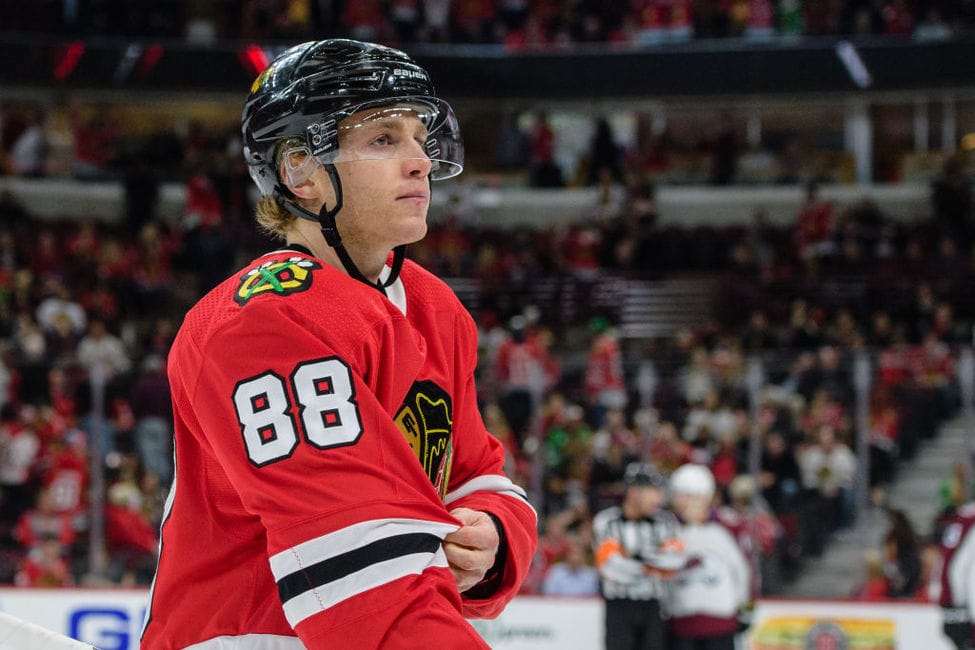 Kane returned the following night versus the Oilers, but it was obvious he was still under the weather in the shutout loss. Yet he actually managed a team-high six shots on goal. He also provided the helper on Jonathan Toews' power play goal against the Flames on Saturday. Hopefully this will be the beginning of another successful point streak for Kane, as well as some future wins for the team.
Schmaltz Struggles
Contrary to Kane, his linemate Nick Schmaltz hasn't been as effective as the Hawks would like him to be to start the season. In the first six games, Schmaltz centered the second line with Kane on his right wing. In the following two tilts, he was still on the second line, but played on the left wing with Artem Anisimov at center. He and Kane have built up some great chemistry, but it hasn't yet translated into production for Schmaltz.
In those first eight games, Schmaltz managed only one goal and five assists. It wasn't enough. He found himself demoted to the third line for the next five games. With the exception of a lovely feed to Alexandre Fortin for a goal against the Rangers, he didn't stand out much there either. And then he had that terrible game in Vancouver. A careless pass by Schmaltz to nobody led to the Canucks' first goal. He ended the night with no shots on goal, no hits, and no blocked shots. Heck, he didn't even force any takeaways, which has become somewhat of his specialty.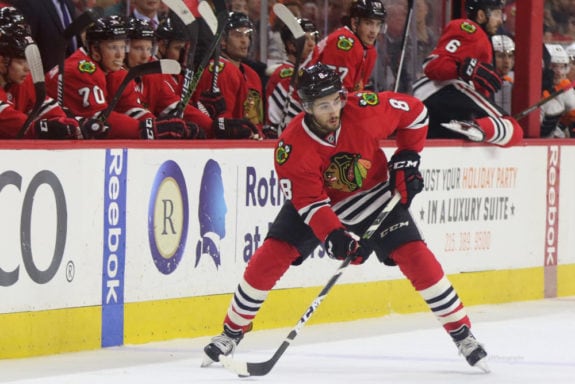 The forward was scratched the next tilt against the Oilers as Coach Quenneville attempted to send a message. This young man has been around too long, three years now to be exact. And he's had the advantage of playing alongside the superstar Kane for most of it. There's no excuses anymore. He needs to take on a primary role, not be a member of the supporting cast. He needs to become a playmaker.
Schmaltz should concentrate on what he does best and build on it. He has excellent skating abilities, and as mentioned above, a knack for generating takeaways. He had four takeaways in his most recent tilt versus the Flames, and Coach Q played him with Kane once again. He was placed back on the left wing instead of center, where he could potentially produce more offense. Now it's up to him to grow into the player the Hawks need him to be.
Keith Gets Ejected
After four straight losses, the Hawks were looking for some redemption against the Flames on Saturday. It didn't start out well. Duncan Keith was given a major 5-minute game misconduct and ejected just 2:14 minutes into the contest for boarding Dillon Dube. It was obviously not intentional, and Keith made a point to reach down and check on Dube immediately after the hit. Charlie Roumeliotis of NBC Sports Chicago described it best in his post-game takeaways. "Dube also made a quick turn, putting him in a vulnerable position and giving Keith no time to react."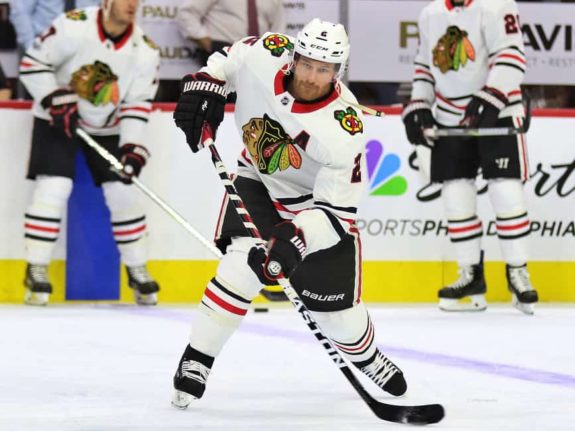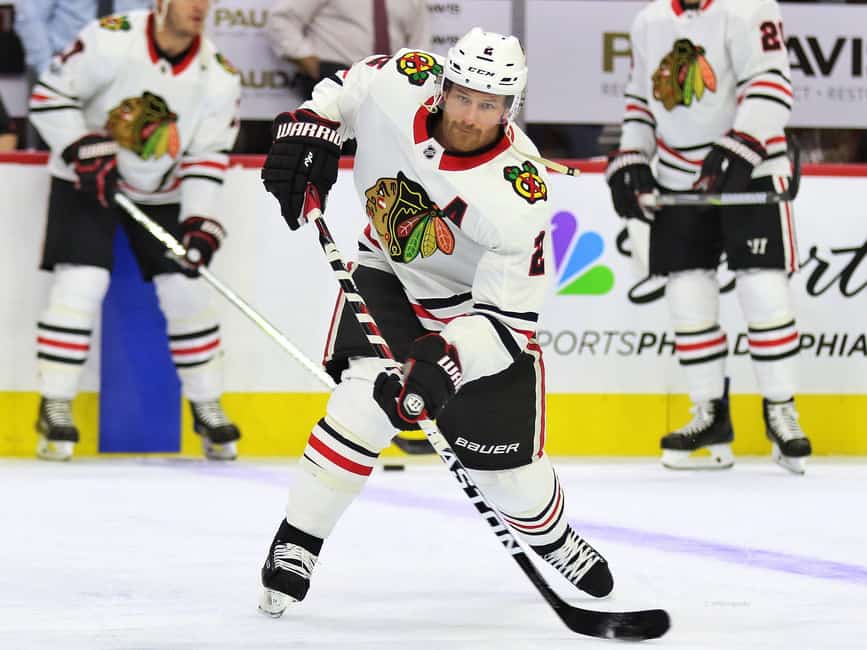 Needless to say, the Hawks were forced to compete with only five defensemen for the remainder of the game. Although they put up a valiant effort, the Flames scored four unanswered goals (one at the end of the second period and three in the third) to negate a 3-1 Blackhawks' lead. It was a rough way to end a losing three-game road trip.
Related – Duncan Keith: An Unfinished Legacy
Other Blackhawks' News and Notes
Here's a few more items of interest from of this past week: three negative and three positive.
The Blackhawks were handed their first shutout loss of the year when the Oilers beat them 4-0 this past Thursday, despite the Hawks having 40 shots on goal to the Oilers' 29.
In their loss to the Flames Saturday, the Hawks only recorded 15 shots on goal (the Flames had 41), which is their lowest number of the season.
The Hawks power play continues to be abysmal. John Dietz of the Daily Herald gives a thorough synopsis with this tweet.
A few quick things before I exit Twitterverse for a while:
— #Blackhawks are 3-for-15 on PP last 5 games.
— Two of those goals, however, came with a 2-man advantage.
— They have taken only 12 SOG in 26:15 over that time. That includes ONE SHOT yesterday in 6:35 (Toews goal).

— John Dietz (@johndietzdh) November 4, 2018
The above-mentioned power play goal was Toews' 300th NHL goal. He's currently tied with Alex DeBrincat for second place on the team with eight goals.
While struggling at the beginning of the season, Brandon Saad has been playing well of late. He provided his team with a goal versus both the Canucks and the Flames this past week. In the most recent contest against the Flames, he was promoted to the top line alongside DeBrincat and Toews.
It was unfortunate Keith was ejected from the game on Saturday, but in his absence defenseman Henri Jokiharju recorded 3:11 minutes of power play time. Considering the Hawks are struggling mightily on the man-advantage, perhaps they will look to Jokiharju as a viable option moving forward.
---
The Blackhawks will have some time to lick their wounds, as they don't play again until this Thursday when they take on the Carolina Hurricanes at the United Center. They wrap up a short week of action by traveling to Philadelphia where they meet the Flyers this Saturday. It's time to put the past in the rear-view mirror and only look forward as the long grind continues.
Gail Kauchak has covered the Chicago Blackhawks as a content writer since 2014. She previously wrote for Fansided's Blackhawk Up, and has been part of The Hockey Writer's team since 2017. It's not always easy to balance life's responsibility's with one's passion, but Gail's doing her best to make it happen. Quote to live by, "Follow your dreams, and good things will happen." Wait, maybe it's "Good things happen when you shoot the puck!" You get the idea.
Follow Gail for her unique commentary about this storied franchise. And be sure to catch her and the rest of the Blackhawks' crew on their weekly Blackhawks Banter show, as well as follow her on Twitter.