The past week of play is not one the Pittsburgh Penguins are looking to emulate anytime soon.
After an undefeated trip through Canada which saw the Penguins outscore the Toronto Maple Leafs, Edmonton Oilers, Calgary Flames and Vancouver Canucks 23-6, the team followed it up with their worst week of the season, with poor on-ice play and tragedy off the ice.
The Penguins began their week mourning the lives of those who were killed in last week's anti-semitic mass shooting at The Tree of Life Synagogue in Squirrel Hill, along with launching a number of philanthropic efforts for the victims of the attack.
On the ice, the Penguins had a three-game slate, which included a home and home against the New York Islanders, and a matchup with the Toronto Maple Leafs. They were outscored 13-5 and collected one of a possible six points.
Teams in Pittsburgh tend to play down to their opponents and the Penguins are no exception. On Tuesday night, Matt Murray was pulled after allowing four goals on nine shots, and the Penguins ultimately fell 6-3 to the Islanders. On Thursday night, they put forth a better effort, but a heroic performance from Thomas Greiss led the Islanders to a sweep of the home and home series with a 3-2 shootout victory.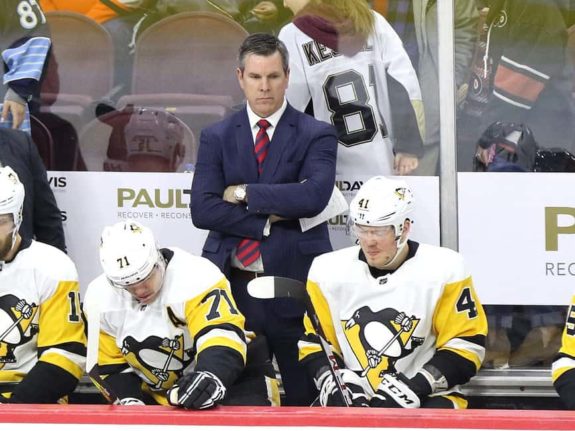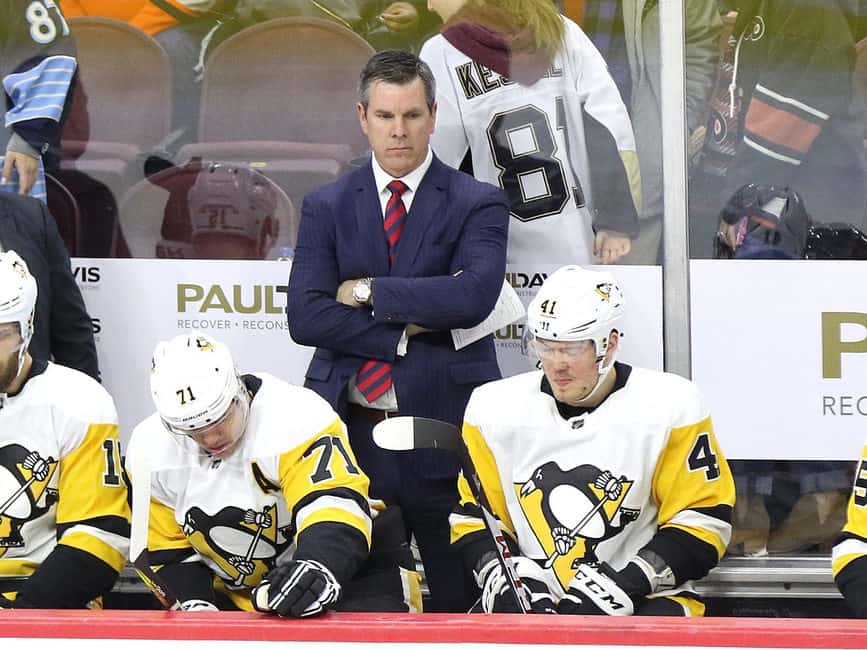 On Saturday night, the Penguins played their worst game of the season, falling 5-0 to the Leafs at home. It was a game filled with turnovers, poor defensive effort, and no sustained offensive pressure. The one positive takeaway from the blowout is the fact the Penguins can't play much worse than they did.
With roughly 15 percent of the season in the books, some observations can start to be made about the season as a whole, and it begins in this week's edition of Penguins Pulpit. The focuses are the Penguins' lack of secondary scoring, a rough start to Jack Johnson's Penguins career and Jamie Oleksiak stepping up in the absence of Justin Schultz.
2018-19 record: 6-3-3, 15 points (second in Metropolitan Division, seventh in Eastern Conference, 16th in NHL Standings)
Lack of Secondary Scoring
Entering the season, scoring depth wasn't on the list of concerns for the Penguins, but it's quickly becoming one. After a month of play, only one player outside of the top-six forward group (Patric Hornqvist) has more than five points. With Derick Brassard on the mend from a lower-body injury, the Penguins are in the same spot as they were early last season; as Riley Sheahan is handling third line pivot duties.
The Penguins top-end talent involves the likes of Sidney Crosby, Evgeni Malkin, and Phil Kessel; so the team can survive prolonged slumps from their secondary pieces, but it's not a recipe for success, especially in a conference as competitive as the East. Below are two key players who need to improve their offensive production over the course of the next 70 games.
Carl Hagelin
Hagelin's game is based on his speed and penalty killing abilities; but with a $4 million salary and a spot on the second line with Malkin and Kessel, the 30-year-old needs to do better than three points in 12 games.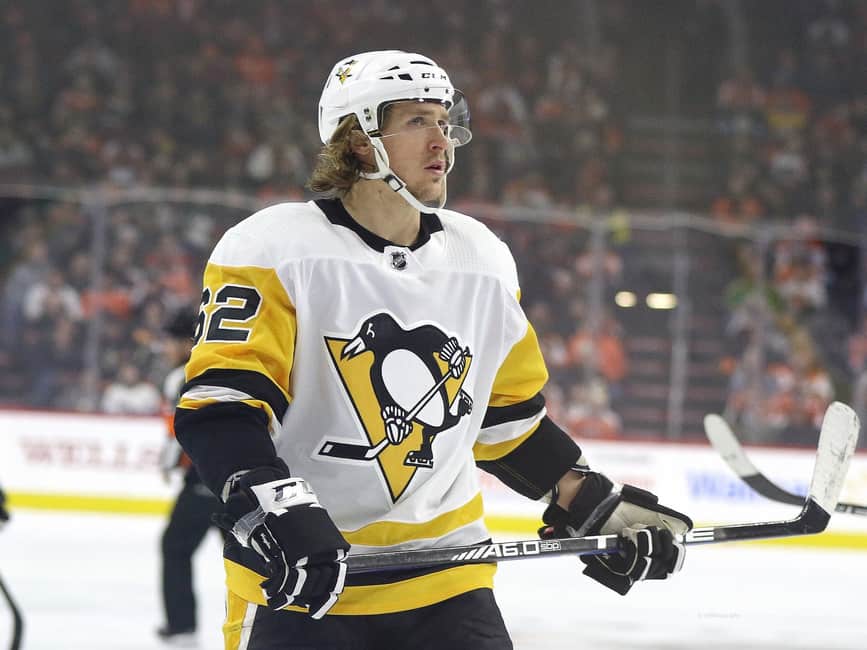 Hagelin isn't in danger of losing his spot, as the line has been the Penguins' best, with a CF% of 53.5 (155 CF, 135 CA) and a GF% of 61.1 (11 GF, 7 GA). But with Kessel and Malkin combining for 36 points, Hagelin needs to start doing his part in the counting stats department.
Since recording 16 points in 24 games as a member of the HBK (Hagelin, Bonino, Kessel) line during the 2016 playoffs, Hagelin's production has been on a steady decline. In 2016-17, he recorded 22 points — six goals, 16 assists — in 61 regular season games and just two goals in 15 playoff games. Last season, he recorded 31 points — 10 goals, 21 assists — in 81 games and just three points in nine playoff games. This season, Hagelin is on pace for just 21 points — seven goals, 14 assists.
Hagelin's calling card isn't his offense, with a career high of 38 points set back in his rookie season of 2011-12 and a career total of 225 in 500 games, but at some point, he needs to turn his strong advanced metrics into an impact on the scoresheet.
Bryan Rust
After inking a four-year, $14 million contract this offseason, the Penguins expected Rust to take a step forward production-wise. So far, that hasn't been the case. In fact, he's taken a step back.
In 12 games, the 26-year-old has three points and has seen time on three of the four lines in an effort to get him going. After recording 38 points — 15 goals, 23 assists — in 69 games last season, Rust in on pace for 21 points this season.
He's still making an impact on the game, as the Penguins are controlling 51.4 percent of attempts (144 CF, 136 CA) and 52 percent of the scoring chances (64 SCF, 59 SCA) with Rust on the ice at five-on-five; he's also helped the Penguins kill off 85.3 percent of their penalties. He hasn't done much else, though.
While Rust is never going to be a 30-goal or 50-point player, he has a chance to be a 20-goal, 40-point player. To do so, he needs to start shooting the puck more. With 19 shots in 12 games, Rust is on pace for just 130 shots this season; which would be just seven more than he had in 2017-18, despite being on track to play 13 more games.
After recording nine points in 13 games last October, Rust had just nine points over his next 25 games. Perhaps a slow start to the season will provide him with a reversal of fortunes this time.
The Jack Johnson Experience Isn't a Good One
When Johnson was signed to a five-year, $16.25 million contract on July 1, the front office expected him to be an important piece of the blue line, but his first month as a Penguin was difficult. The 31-year-old had some good moments — such five-on-three penalty kill against the Montreal Canadiens in early October — but overall, it's been a struggle for the Penguins with Johnson on the ice.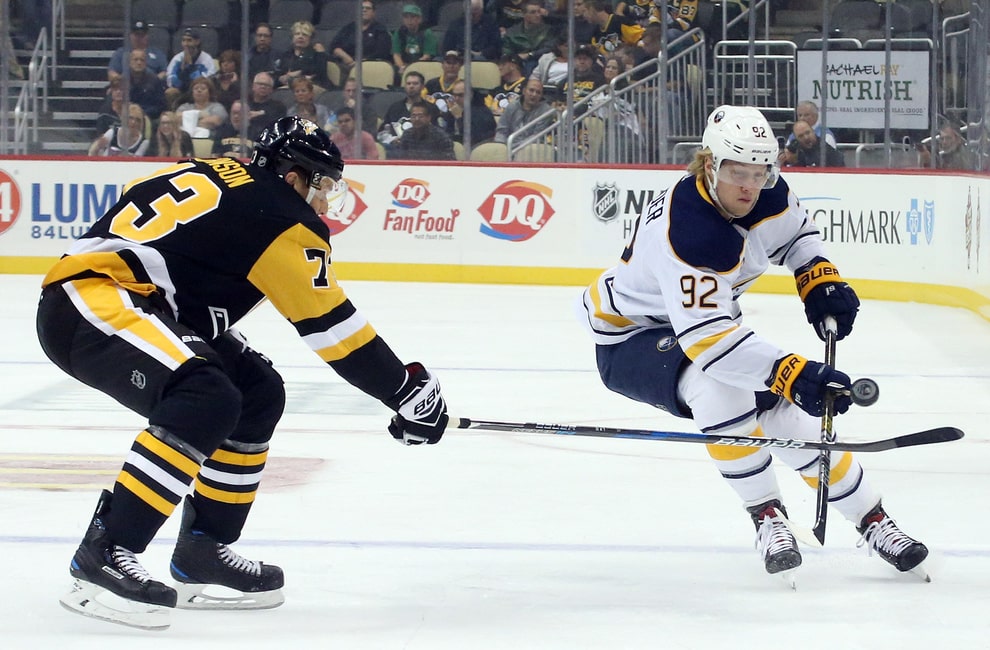 In Johnson's 185:28 of ice time at five-on-five, the Penguins have been out-attempted 166-197 (45.7 CF%), outshot 84-105 (44.4 SF%) and outscored 7-15 (31.8 GF%). Those numbers rank him 144th, 150th, and 166th, respectively, among defensemen who've played at least 100 minutes at five-on-five. Essentially, Johnson is playing second-pairing minutes (19:08 ATOI) while posting low-tier third-pairing results.
The number that has to concern the Penguins the most is Johnson's 15 goals against (GA) in 12 games. He's been on the ice for an average of 1.25 GA per game at five-on-five, which adds up to 103 over 82 games. In all situations, Johnson has been on the ice for 47.4 percent of the goals the Penguins have allowed this season (18 of 38). It's not fair to blame a player for every goal their respective team allows, but Johnson hasn't made it easy on himself.
Johnson struggles to pass the eye test, too. He routinely screens his own goalie, bobbles the puck in the offensive zone often and leaves players open to cover areas already taken care of by his teammates. Johnson is often in the right position initially but will attempt a needless crosscheck or hit that results in him being at a disadvantage.
After a number of difficult seasons with the Columbus Blue Jackets, there was hope, with a change of scenery and playing in Mike Sullivan's system, that Johnson could join Schultz, Oleksiak and Trevor Daley on the list of defensemen who have revived their careers in Pittsburgh. While there's still time for him to do so, the early returns aren't positive.
Oleksiak Stepping up in the Absence of Schultz
The Penguins have long utilized the next man up mentality because of limited trade assets and cap space, so when Justin Schultz suffered a lower-left leg fracture on Oct. 13, the mentality didn't change. In the past, it's been Paul Martin, Matt Niskanen and even Schultz himself. This time, it seems Oleksiak has taken advantage of the opportunity.
Acquired from the Dallas Stars on Dec. 19, 2017, for a fourth-round pick in the 2019 draft, Oleksiak recorded 14 points in 47 regular season games and provided the Penguins with solid defensive play. Overall, the 25-year-old had 17 points in 68 games between the two teams. His efforts earned him a three-year, $6.41 million contract as an RFA to keep him in Pittsburgh through the conclusion of the 2020-21 season.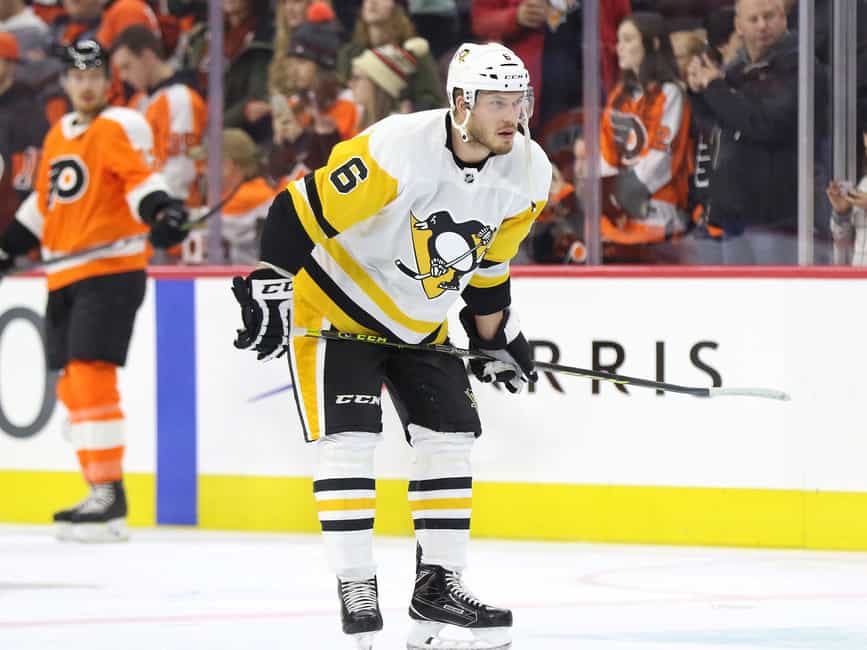 Oleksiak has taken his play to another level through the first month of the 2018-19 season. In addition to playing strong defensive hockey, he's also posted some of the best offensive numbers of his career; with seven points — three goals, four assists — in 11 games, including six points — two goals, four assists — in eight games since Schultz's injury.
Oleksiak's play has also helped the Penguins find a solid if unspectacular pairing outside of Kris Letang and Brian Dumoulin. Since Olli Maatta, who had a miserable start to the season, was paired with Oleksiak, his season has taken a step in the right direction. In 106:16 together at five-on-five, the Penguins have been out-attempted 100-104 (49.02 CF%) but have outshot opponents 69-57 (54.3 SF%) and outscored them 10-3 (76.9 GF%). Additionally, Maatta and Oleksiak's GF% is second among pairs who've spent at least 100 minutes together.
With just Oleksiak on the ice at five-on-five, the Penguins are being out attempted at a small margin of 173-180 (49 CF%) but are out-shooting teams 98-91 (51.9 SF%) and outscoring them 14-7 (66.7 GF%). This is despite Oleksiak starting just 37 percent of his shifts in the offensive zone and having just 45 offensive zone faceoffs, compared to 81 defensive zone draws.
It often takes a while for defensemen to find their stride at the game's highest level, and the 14th overall pick of the 2011 draft has been no exception. The beginning of the 2018-19 schedule has been a promising development for both the Penguins and Oleksiak; who is displaying some untapped offensive potential, as well as using his 6-foot-7, 255-pound frame to make plays in all areas of the ice. If he can keep his level of play up, the blueline could become a position of strength when Schultz returns later this season.
Related: Penguins Oleksiak Finally Finding His Role
The Penguins have seen some positives through their first month of play, Oleksiak's emergence included. But some of their flaws have started to become noticeable, like their secondary scoring woes and Johnson's difficult start. There's plenty of time left for these issues to be corrected and no team is perfect, but it's something to watch as the season progresses.
What's Up Next:
Nov. 5: vs. New Jersey Devils
Nov. 7: @ Washington Capitals 
Nov. 10: vs. Arizona Coyotes 
Leading scorer of the week: Evgeni Malkin and Dominik Simon (two goals)
Three Stars of the Week:
Dominik Simon: two goals
Jamie Oleksiak: two assists
Evgeni Malkin: two goals
What are your thoughts about the Penguins play through the first month of the season? Make sure to let us know in the comment section below.