The Pittsburgh Penguins made a statement during their four-game Canadian road trip that began on Oct. 18 in Toronto and concluded on Saturday night in Vancouver — as they won all four games and outscored their opponents 23-6. The Toronto game was covered in last weeks Penguins Pulpit; so this week will be looking at the western Canadian swing of the trip.
Tuesday night saw the Penguins take on Connor McDavid and the Edmonton Oilers in a game full of back and forth action. Sidney Crosby's goal of the year candidate gave the Penguins a 6-5 victory in overtime.
Next up was the Calgary Flames on Thursday night. The Penguins took the lead on a Crosby goal just 4:23 into the first period and never looked back, as they won in a 9-1 blowout at the Scotiabank Saddledome.
Their final game in Canada came on Saturday night with a 5-0 victory over the Vancouver Canucks at Rogers Arena. While the Penguins were victorious, they were playing with heavy hearts for those back home; as a mass shooting on Saturday morning at The Tree of Life Synagogue in the Squirrel Hill neighborhood of Pittsburgh, left 11 dead and six others injured. The shooting is being investigated as a hate crime due to the suspects' anti-Semitic comments on social media and to local police officers.
Crosby: "We woke up to the terrible news this morning. Our thoughts and prayers are with all the victims and families affected by what happened this morning. Knowing Pittsburgh, I know we'll stick together and rally around them and be there to support and help in any way we can."

— Pittsburgh Penguins (@penguins) October 27, 2018
On Sunday morning, Penguins announced the cancellation of their Halloween themed night; scheduled for Oct. 30, against the New York Islanders. The team will collect donations for families and victims of the shooting. They will also hold a moment of silence for the victims prior to puck drop and will rally behind a city in mourning.
On tap for this week's edition of Penguins Pulpit: the team's stars are hot, Matt Murray has returned to form and Daniel Sprong's journey from a healthy scratch to his best game of the year.
2018-19 Record: 6-1-2, 14 points (1st in Metropolitan Division, 3rd in Eastern Conference, 6th in NHL Standings)
The Penguins' Top Players are Hot
All the Penguins' star players had strong weeks, and it helped the team score 20 goals in three games; an average of 6.67 per game and the trio of Crosby, Evgeni Malkin, and Phil Kessel combined for 19 points. For the season, the Penguins are third in the league with 40 goals for; but lead in goals per game (4.44). While scoring is up league-wide this season — 3.1 goals per game — the Penguins likely won't continue to score at their current clip, though, an average in the mid-to-high threes isn't out of the question.
Sidney Crosby
After beginning the season with no goals and five points in six games, Crosby recorded five goals and two assists in three games this week.
Related: Crosby's Sluggish Start No Reason for Concern
He deflected a pass from Kris Letang by Oilers netminder Cam Talbot to get the monkey off his back in the first period on Tuesday. Crosby then potted the game-winner in overtime with one of the best goals of his career. After making a sharp turn in the corner, he put the puck through the legs of Ryan Strome, fought off Darnell Nurse and put a backhand shot past the glove of Talbot for the victory.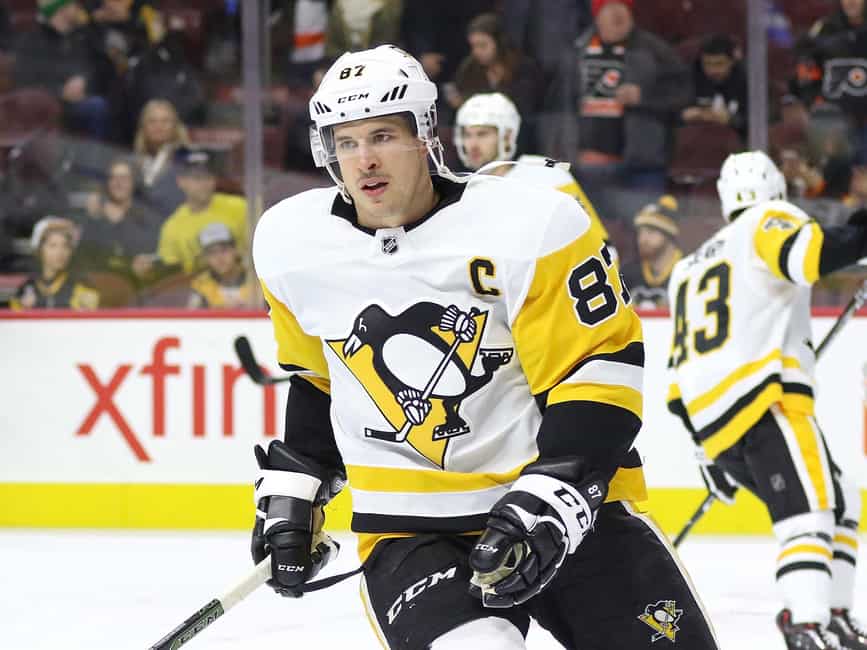 Crosby scored another highlight reel goal against the Flames on Thursday, putting a backhander past Mike Smith from a difficult angle. He added two assists on goals from Patric Hornqvist and Jake Guentzel. Crosby then finished off his week with a two-goal performance against the Canucks; one on a backhand shot on a pass from Dominik Simon and the other was a tic-tac-toe play from Guentzel and Jamie Oleksiak.
For the season, the 31-year-old now has 12 points — five goals, seven assists — in nine games. It also brings Crosby up to 1,128 career points, leaving him within 72 of the 1,200 point milestone. With 73 games left on the Penguins' schedule, it's likely Crosby will reach the milestone later this season.
Crosby's hot week once again brought up the best player in the world debate between him and McDavid. Crosby says it's McDavid, while McDavid says it's Crosby. Media and fans are equally split on the issue, as well. It's a debate which will continue until the day one pulls ahead of the other, but it's interesting, nonetheless.
Evgeni Malkin
Malkin's hot start was looked at in last weeks Penguins Pulpit, and he hasn't slowed down since. After four points in two games last week, Malkin recorded six points — two goals, four assists — in three games this week. For the season, the 32-year-old has 18 points — five goals, 13 assists — in nine games, which has him three back of Mikko Rantanen for the league lead. But his points per game (P/GP) average of two, is .22 ahead of McDavid; who's second place with 16 points in nine games (1.78 P/GP).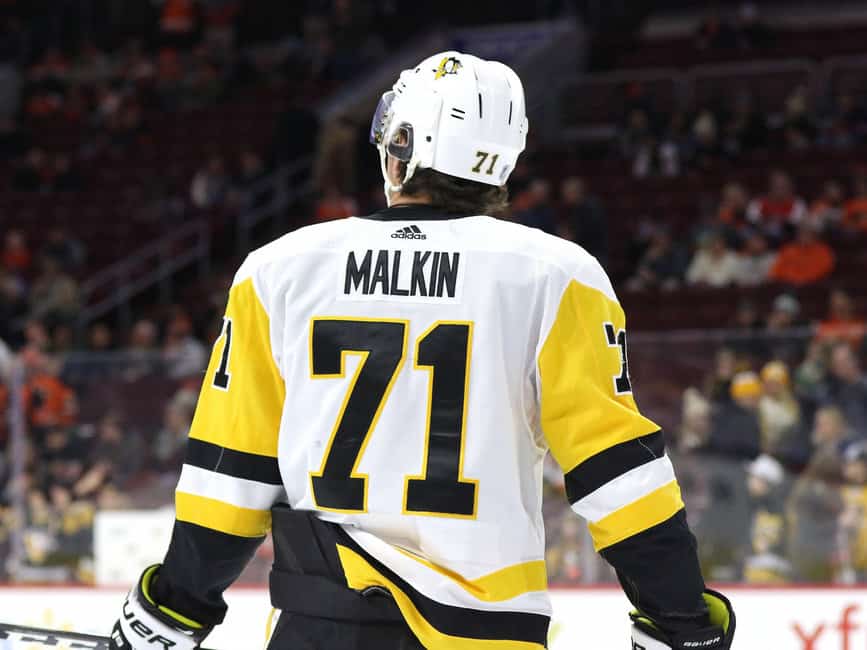 Malkin has been held off the scoresheet once in nine games; which occurred in the second game of the season against the Montreal Canadiens. He's tied for second in the league with six multi-point games and leads the league with four games of three or more points. Dating back to last season, Malkin is tied with Nathan MacKinnon for first, with 16 games of three or more points. Additionally, his 5.73 P/60 at five-on-five is first among skaters who've played at least 75 minutes — teammate Phil Kessel is second with a 5.4 P/60.
Despite being a world-class player, Malkin still needs a supporting cast to be as dominant as he's been to date. He credits his linemate, Kessel — who he's combined for 32 points this season with— for his current run of success.
When Phil play good, I am playing good. When he is feeling it, I feel it too. When he is lazy I am like I can't do it myself.
While it's early, Malkin is playing some of the best hockey of his career and is showing no signs of slowing down. If he can stay healthy, he has a chance to capture his third career scoring title.
Phil Kessel
The Penguins' iron man played his 700th consecutive game on Thursday in Calgary and celebrated with his second multi-goal game of the season. For the week, he recorded six points — three goals, three assists — in three games, all of which were multi-point efforts. After a 92-point season in 2017-18, Kessel has begun the 2018-19 campaign with 14 points — seven goals, seven assists — in nine games.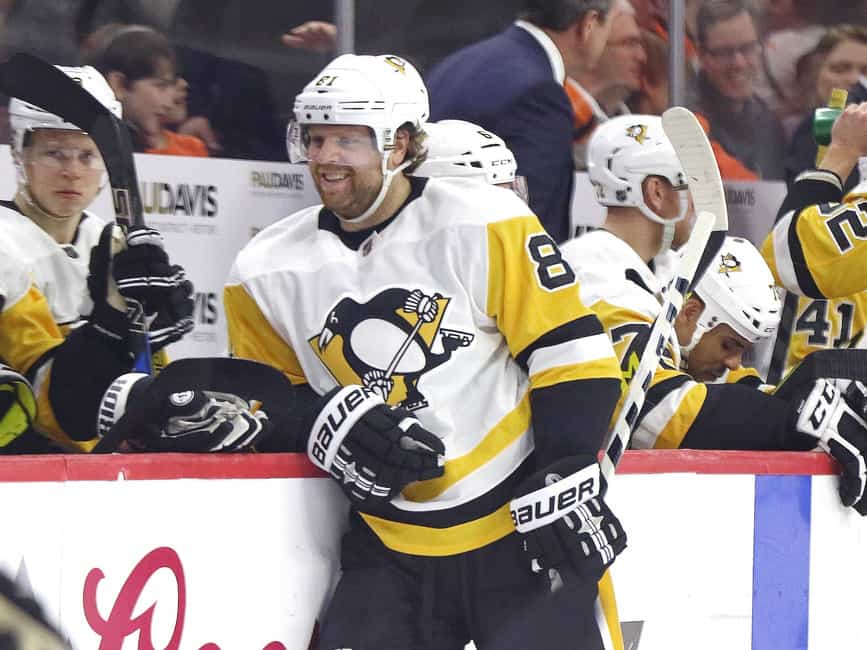 Whether they have legitimate traction or not, Kessel has been involved in trade rumors since arriving in Pittsburgh in 2015-16. It doesn't seem to bother him, though, as he's remained consistent with his production and recorded 235 points — 90 goals, 145 assists — in 255 games as a Penguin, 14th most in the NHL over that time. Kessel has also recorded 61 multi-point games since 2015-16, 15th most among all skaters. Six of those efforts have come this season.
Related: Kessel Is the Catalyst to the Penguins' Offense  
Kessel has an outside shot at recording 100 points for the first time in his career but would need 86 points in 73 games (1.18 P/GP) to reach the century mark. He will almost certainly reach the 800 point milestone for his career, though. He currently has 755 for his career, so he needs just 45 points over the remainder of the season (.62 P/GP) to get there.
Patric Hornqvist
After a slow start to the season with one point in six games, Hornqvist used the trip to the west as an opportunity to break out of his slump; recording four goals and one assist in three games. This included consecutive two-goal games against the Oilers and Flames. Three of his goals were from his normal home in front of the net and his fourth was an uncharacteristic wrist shot on a 2-on-1, which snuck by Mike Smith on the far-side. On the season, the 31-year-old is up to six points — four goals, two assists — in nine games.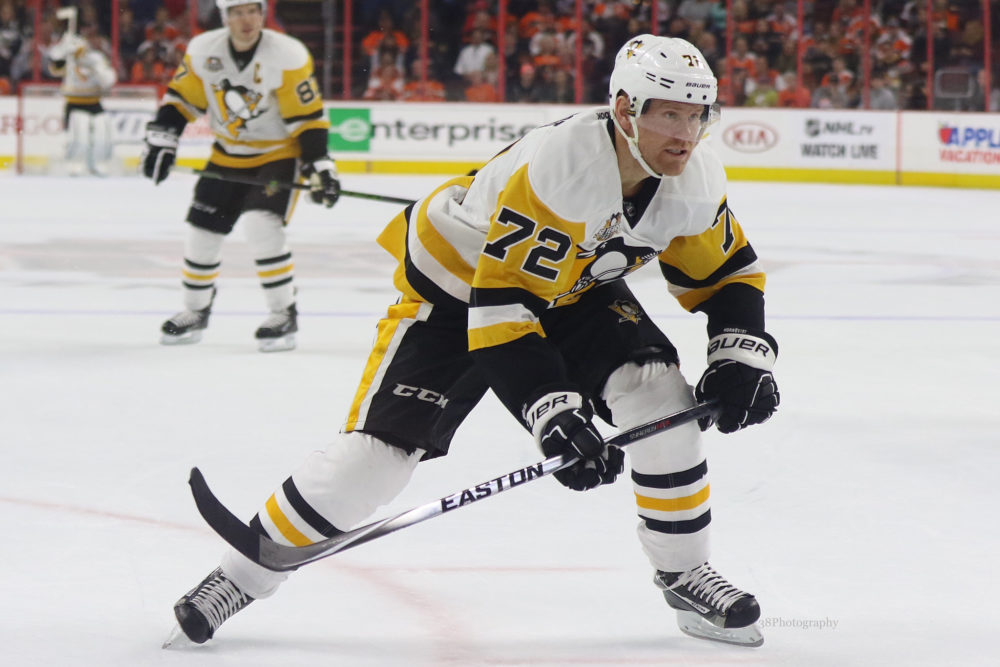 Hornqvist also reached a trio of milestones this week. His assist on Oleksiak's third-period goal on Tuesday earned him his 100th assist as a Penguin. His first-period goal on Thursday earned him his 100th goal and 200th point as a member of the team. Overall, in 295 games with the Penguins, Hornqvist has 201 points — 101 goals, 100 assists. For his career, the Swedish forward has 417 points — 207 goals, 210 assists — in 658 games.
Murray's Return to Form
Murray returned from the third concussion of his career against the Maple Leafs last Thursday and recorded a 38-save shutout. He continued his return to form this week against the Oilers and Flames before being given the night off on Saturday.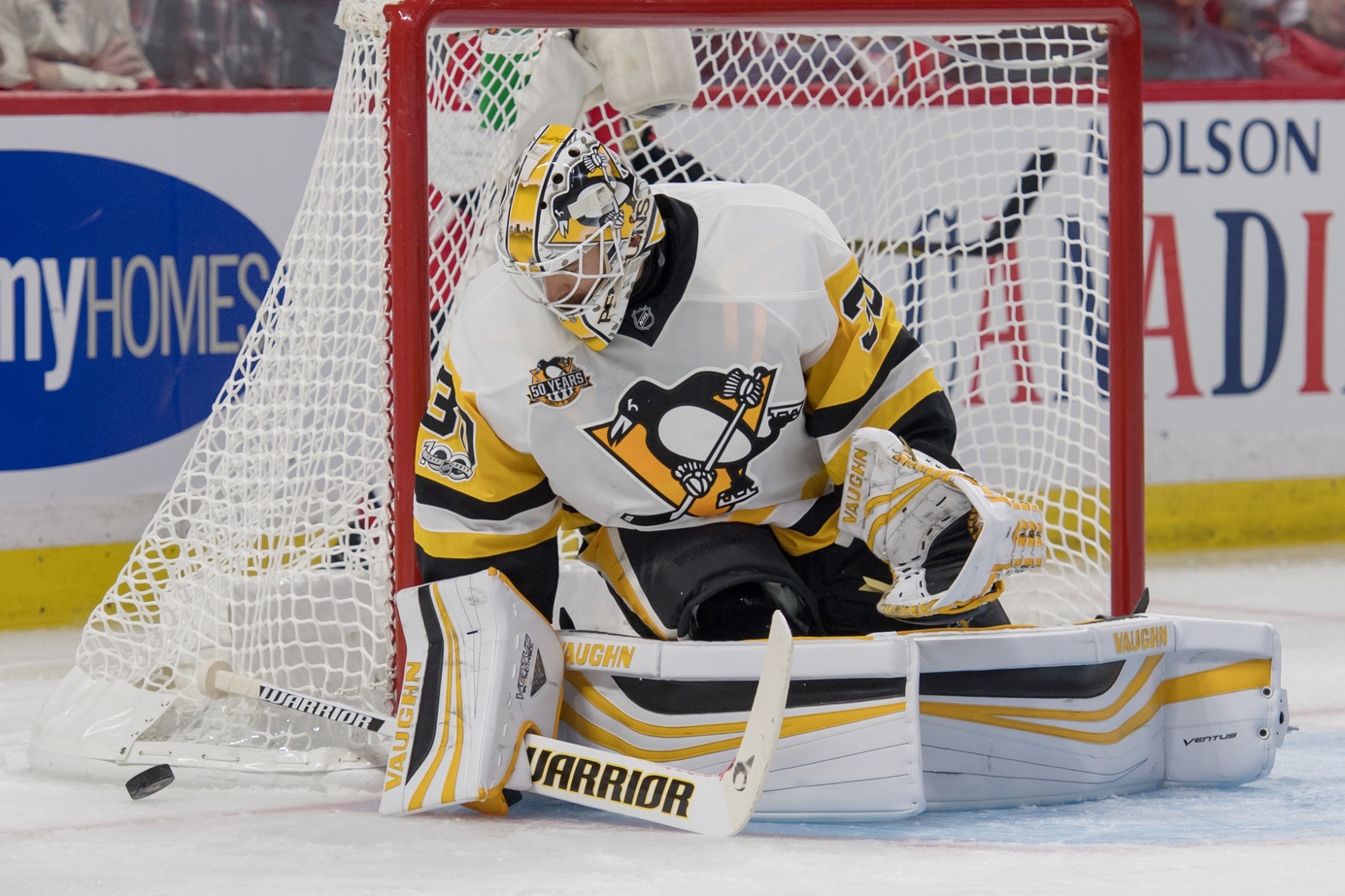 Murray's numbers from Tuesday weren't favorable — as he allowed five goals on 46 shots — but only McDavid's power-play goal in the third can be blamed on him; squeaking through his blocker side. Without Murray, the result may have been much different. He made a number of key stops — including two late in the third period on a McDavid breakaway, and a shot from the slot off the stick of Leon Draisaitl — keeping the game close and allowing the Penguins to come away victorious.
Murray didn't have to be good against the Flames because his team scored nine goals, but he was anyways, stopping 38 of 39 shots in the blowout. Only a knuckle puck from James Neal with two minutes left in the game prevented Murray from recording his second shutout of the season.
Murray's rough start to the season, where he allowed 11 goals in his first two starts while recording a .831 save percentage (SV%) and 5.47 goals against average (GAA), raised some concerns. But since returning, Murray has looked like a new goalie in his last three outings. A renewed confidence, better positioning and several stops in close have helped him post a 3-0-0 record, .951 SV%, and 1.98 GAA. Murray's beginning to look like the goalie that helped the Penguins win back-to-back cups, which is bad news for the other 30 teams.
For the season the 24-year-old has a 4-1-0 record, .910 SV%, 3.37 GAA and one shutout in five games. He'll look to keep his momentum going next week in the Penguins' three-game slate.
Before the season began, Murray introduced his "Saves MATTer" program in honor of his late father, James. Each save Murray makes will see him donate $30 to children's based charities. $15 will go to the Ward Home in Pittsburgh and $15 will be split between two charities — Dilico and Children's Aid Services — in Thunder Bay; Murray's hometown. With 171 saves so far in 2018-19, Murray has raised $5130 for Saves MATTer.
Sprong's Up and Down Week
If Sprong's week could be summarized in one word, it would be the following: interesting. On Tuesday, he played 3:37 which included no shifts in the third period or overtime in the Penguins' 6-5 victory over the Oilers. Sprong then found himself as a healthy scratch for the Penguins' 9-1 win over the Flames on Thursday. On Saturday, he returned to the lineup and played a season-high 11:46 with one assist in the team's 5-0 victory over the Canucks.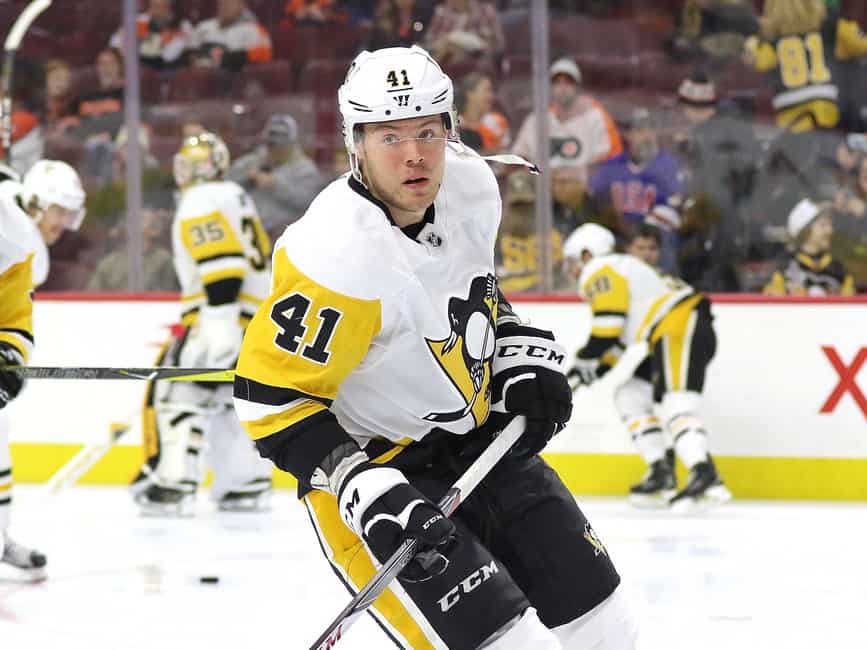 After a 65 point performance with Wilkes-Barre Scranton of the AHL in 2017-18, general manager Jim Rutherford spent the offseason praising Sprong and said he would be regular for the Penguins in 2018-19. The 21-year-old ended up having disappointing training camp and difficult start to the regular season. Through eight games, Sprong's averaging 8:24 a night and hasn't been overly impressive while on the ice. Talent isn't a question for him; it's just a matter of putting it together at the game's highest level.
Related: Penguins Need Sprong to Step Up
Head coach Mike Sullivan has shown no hesitation to stick the young forward to the bench if he makes a mistake. This happened on Tuesday when Alex Chiasson overpowered him in the corner and scored to put the Oilers up 2-1. Sprong saw just one shift during the remainder of the game, and it contributed to his healthy scratch on Thursday.
With Derick Brassard suffering from a lower-body injury, Sprong got back into the lineup and put on his best performance of the season against the Canucks on Saturday. Sprong played a season-high 11:46 while firing six shots on net — three more than he had in his first seven games combined— and set up Malkin's third-period goal with a tape-to-tape saucer pass. In just 52 seconds with Malkin and Sprong together, the Penguins had seven shot attempts, five shots, three scoring chances and one goal for. In his 10:46 of five-on-five ice time, the Penguins controlled 56 percent of the attempts (13 CF, 10 CA), 64 percent of shots (11 SF, six SA) and 55 percent of the scoring chances (six SCF, five SCA).
The positive metrics are a step in the right direction for Sprong, as he holds a CF% of 38.14 (45 CF, 76 CA), SF% of 41 (29 SF, 42 SA) and SCF% of 37 (19 SCF, 32 SCA) for the season. It's more indicative of the quality of his linemates than it is of himself, though. Sprong's counting stats are more positive, with four assists in eight games. He's still searching for his first goal, but if performances like Saturday's become the norm for Sprong, it should come soon.
In a week marred by tragedy back home, the Penguins were at their best with an offensive outburst from their stars, Murray continuing to round into form and Sprong ending the week on a high note.
What's Up Next
10/30/18: vs New York Islanders 
11/1/18: @ Islanders 
11/3/18: vs Toronto Maple Leafs
Leading scorer of the week: Sidney Crosby (five goals, two assists)
Three Stars of The Week:
Sidney Crosby: seven points
Evgeni Malkin: six points
Matt Muray: 2-0-0, .929 SV%
What did you think of the Penguins' fourth week of action? Make sure to use the comment section below.  
Conner McTague is a recent graduate of the Journalism program at Durham College. He covers the Pittsburgh Penguins for The Hockey Writers. He hopes to make a career out of sports reporting.