Welcome to Senators' Weekly, where you can catch up on the past week of the Ottawa Senators throughout the 2018-19 season. From trending topics to surging prospects to news and notes, this is your weekly roundup on all things Sens.
The Senators came into the week on a three-game winning streak and are leaving with another three-game streak, although it will be one they're looking to snap quickly. The club dropped all three games this week and were outscored 14-7. They currently sit 12th in the Eastern Conference at 4-4-2 with just one game left in October. They fell 4-1 in their second matchup against the Boston Bruins, after previously losing 6-3 to Brad Marchand and company. Matt Duchene's return to the Pepsi Centre was ruined by the Colorado Avalanche in a 6-3 loss before the Vegas Golden Knights won 4-3 in overtime to end the week.
It's still early and the Senators are just three points out of a playoff spot, but the team will need to turn things around quickly if they want to avoid the league's basement. Here are the headlines and stories from the past week.
In Monday's game versus the Bruins, Mark Borowiecki was protecting the net when Urho Vaakanainen came crashing in. Borowiecki appeared to see Vaakanainen approaching and threw his elbow up into the Bruin's face. Vaakanainen went down and it was later announced that the rookie suffered a concussion on the play. Borowiecki was suspended for one game, serving that during the 6-3 loss to the Colorado Avalanche.
Related: Borowiecki Suspended One Game
On the suspension, Borowiecki owned up to his mistake, although he hasn't reached out to Vaakanainen to apologize, "I respect the decision. Obviously, George [Parros, from the NHL Department of Player Safety] has a tough and thankless job and there's always going to be one side that isn't happy with him but I'm always willing to own up to my actions and I respect his decision."
What makes the hit worse, is that just two days prior the Senators faced off against the Montreal Canadiens. In that game, Canadien Brenden Gallagher hit Mark Borowiecki from behind against the boards. After the game, Borowiecki commented on the contact, "I think you've got to make sure guys aren't taking liberties on certain players because of who they are and because they're strong. That was a hit I don't like and I wasn't happy about it. I told Gallagher I thought it was a dangerous hit." (From "Snapshots: Borowiecki not happy with 'dangerous hit' Habs' Gallagher delivered" – Ottawa Sun – 10/22/2018).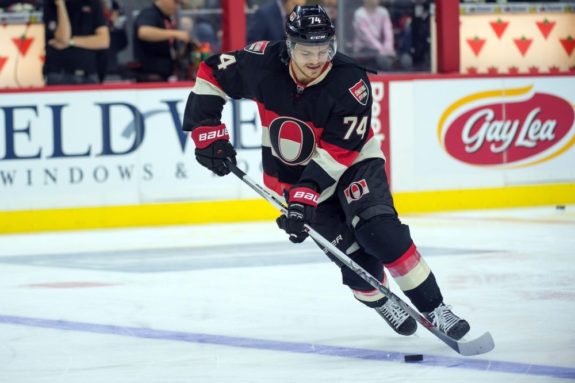 Then, in his first period back from his suspension versus the Vegas Golden Knights, Borowiecki was handed a game misconduct for hitting Knights' forward Cody Eakin. Eakin's teammate Jon Merrill dropped the gloves with Borowiecki in defence of his teammate, who didn't return to the game after the hit. This is a week that Borowiecki would like to forget, but he may have some time to think about it if he gets handed another suspension. He played just 3:25 against the Golden Knights.
Through nine games this year, Borowiecki has yet to record a point and is a minus-four with 26 penalty minutes.
Duchene Returns to Colorado
Nearly a year after being traded to the Senators, Matt Duchene returned to the Pepsi Centre. The Avalanche honoured the long-time centreman with a tribute during the first period, leaving the 27-year-old teary-eyed. Within seconds of the tribute, Duchene scored his first goal ever against his former team, making him one of just twenty NHL players to score a goal against all 31 teams. Duchene would score again later in the game.
Related: Duchene Finally Traded
A moment for Matt Duchene. pic.twitter.com/denDF8HjGA

— Colorado Avalanche (@Avalanche) October 27, 2018
While he was booed at first by fans, he received a nice ovation after his video. On the video and the goal that followed, Duchene said, "That meant a lot to me, I teared up, for sure. It was the hardest thing I ever had to do in my life, leaving here. I'm very grateful to the Avs organization for how they accepted me, and to the fans, too. I think I still had tears in my eyes and Ceci just hit my stick, I had so much emotion going until the second period. I could barely breathe out there." (From: "Duchene's love affair with Denver continues: 'I could definitely see myself coming back here'" – Ottawa Sun – 10/27/2018).
His return proved emotional for the centreman other than the video as well, telling reporters, "I will never cut ties here. Denver will always be a home for me and I could definitely see myself coming back here one day. Whether it's to play or to retire here, it's definitely in the realm of possibilities, absolutely."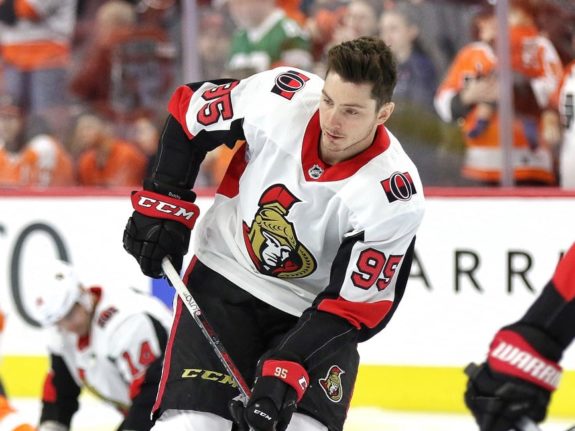 Duchene is currently in the final year of his contract and this comment raises eyebrows as to the future of the star. While his agent has had preliminary talks with management on a suspension, but Duchene will likely see how the season plays out before deciding on his future. (From: "Snapshots: Matt Duchene keeping his focus on hockey rather than contract talks", Ottawa Sun – 10/17/2018).
During his time in Colorado, the third-overall pick in 2009 collected 178 goals and 428 points. Since joining the Senators, he has 27 goals and 60 points.
Injuries Continue as Smith Goes Down
The Senators' bad luck with injuries this season continues, as Zach Smith will be out for likely a month. Playing against the Avalanche, Smith took a skate to the face and immediately left the game. After, head coach Guy Boucher announced that Smith has a broken bone in his face and will be sent home. It remains to be seen how long Smith will be out, as he may require surgery but the Ottawa Suns' Ken Warren believes it will be at least a month.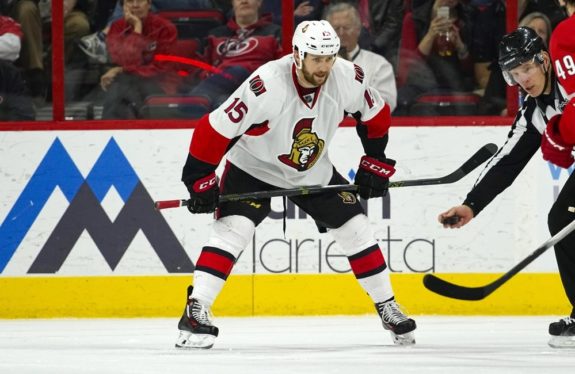 His future in Ottawa was uncertain at the start of the season, being sent through waivers by the team during the preseason. The message was apparently a message to the dressing room, with general manager Pierre Dorion stating, "We knew that if we let the team know we won't accept what happened last year, including how Zack played, that, hopefully, the message will be passed through the room."
Smith finished the 2017-18 season with five goals and nineteen points in 68 games. The message seems to have worked though, as the 30-year-old has started the season with two goals and five points. Smith joins an injured list of Senators that includes Marian Gaborik, Jean-Gabriel Pageau and Brady Tkachuk.
Senators News and Notes
Prospect Josh Norris, acquired from the San Jose Sharks in the Erik Karlsson trade, has been on fire for the University of Michigan. In his first five games, the 19-year-old leads the team with three goals and eight points and has recorded at least one point in every game. The sophomore player appears to have grown immensely in just one year, a good sign for Senators fans.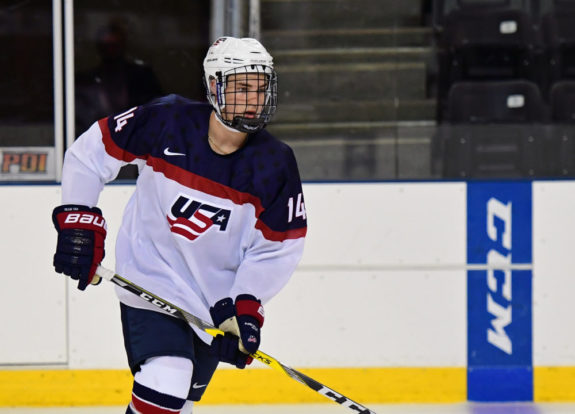 After recording a point in all but one game so far, defender Thomas Chabot is currently leading the team in points, with three goals and 13 points in his 10 games. With his assist in the game versus the Avalanche, Chabot tied the franchise record for most points in the first nine games of a season from a defenseman. He's tied with Filip Kuba in 2008-09 and Norm MacIver in 1992-93.
He may have let in all 14 goals this week, but you can't blame Craig Anderson for everything. Especially after his 49-save performance against the Golden Knights. Anderson stole a point for his team, in a game that could easily have been a blowout. If the team could have hung on for the win, Anderson would have broken his own franchise record for most saves in a win (47 versus the Toronto Maple Leafs in 2011). The 37-year-old is now 4-3-2 with a 3.54 goals against average and a .908 save percentage while facing the most shots against in the league, 348.
Starting out as an Ottawa Senators contributor for The Hockey Writers, Josh is now an editor and at-large contributor, focusing on prospects, the NHL Draft, hockey history, and breaking news stories.