Welcome to Senators' Weekly, where you can catch up on the past week of the Ottawa Senators throughout the 2018-19 season. From trending topics to surging prospects to news and notes, this is your weekly roundup on all things Sens.
The Senators played just two games this week, winning both games. They beat the Dallas Stars by a 4-1 score and the Montreal Canadiens 4-3 in overtime. The wins have started a streak for the Senators, who have now won their last three games.  This brings the team to 4-2-1. Here are the headlines and stories from the past week.
Rookie Lajoie Emerging as Star
Senators' defenseman Maxime Lajoie is becoming the biggest surprise in the team's early start. Through seven games, Lajoie leads the team in goals with four (tied with Mark Stone), is third on the team in points (seven) and is first in power play points (four) and power play goals (two).
Related:  Senators' Lajoie Playing Into Early Calder Conversation
Lajoie's start is the best by a defender in franchise history, including players like Erik Karlsson, Wade Redden and current teammate, Thomas Chabot. Yet those players were chosen in the first round of the NHL draft, with management knowing of their offensive skill. Lajoie, on the other hand, was chosen in the fifth round, 133rd overall.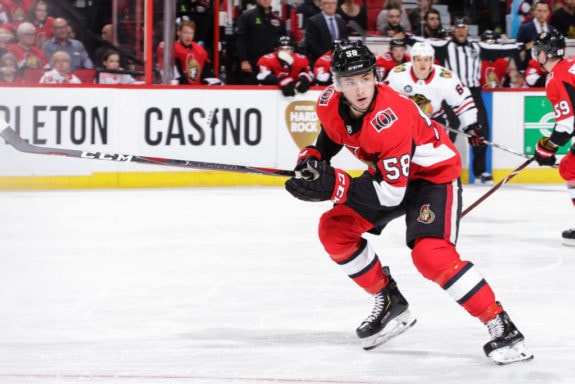 Lajoie himself doesn't have the words to describe his NHL start. "It's kind of hard to explain. I'm not sure what's going on right now," said Lajoie on his hot start, "I guess I've been in the right spot at the right time. Guys are making plays for me. It's been nice. I don't think I've ever been on a heater like this for a while."
It's only been seven games, so it remains to be seen if Lajoie can keep up his production over the season. But for now, the young defender is playing confidently and looks to have cemented his spot on the top-four. He's gained the confidence of the coaching staff, averaging 20:50 a game.
Tkachuk Latest to Hit IR
It hasn't seemed like it in the standings, but the Senators have been plagued by injuries to start the season. Marian Gaborik has been sidelined since last season with no clear end in sight. (From: "The future of Gaborik, still not medically cleared to play, is clouded, at best", Ottawa Sun – 09/12/2018). Centreman Jean-Gabriel Pageau was the first to go down this year, not expected to return until March 2019 after tearing his Achilles tendon. Pageau was joined by Cody Ceci, Alex Formenton and Ryan Dzingel on injured reserve, although Dzingel has since returned. The latest addition to IR is rookie Brady Tkachuk.
Related – NHL News & Notes: Tkachuk, Injury Updates & More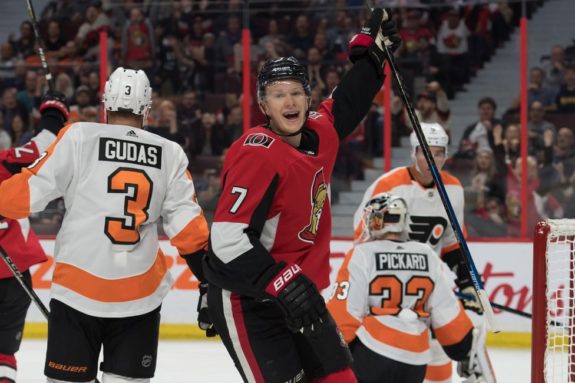 Tkachuk missed the first two games of the season with a groin injury and will now miss a month after tearing a ligament in his leg. Tkachuk has had a solid start to the year, playing in four games and collecting three goals and three assists. He has also looked to be exactly as advertised, adding a grit to his game and getting under the skin of opponents.
The son of Hall of Fame Keith Tkachuk and brother of Calgary Flame Matthew Tkachuk, Brady has shown he has the makings of a Calder Trophy year, but this setback may hurt his chances at that.
Anderson Bouncing Back Quick
It was a rough start to the season for goaltender Craig Anderson, starting his first three games with a .896 save percentage and was lit up for 13 goals. Anderson has turned in around since though, including those first three games, the goaltender has a .920 SV%, 2.99 goals against average and is tied for most wins in the NHL with four.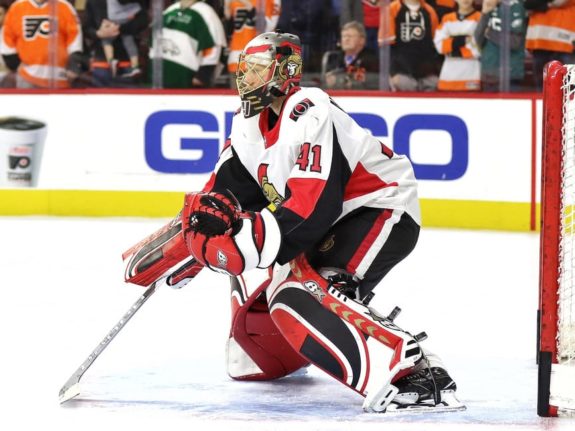 What makes his quick turnaround all the more impressive is his shots against. Anderson has had the third most shots against in the NHL with 226 shots against. This is a very young team, especially on defence. The goaltender will need to keep up his current level of play to bail out his team's mistakes through the year. There will likely be a few games that Anderson will need to steal for the team if they are to remain competitive.
At 37, though, Anderson won't be able to play every game. Last season he played in 58 games and 40 the year prior. If Anderson can play 50 to 60 games, the team will need to rely on Mike Condon at some point. Condon has played in one game this year, the 6-3 loss to the Boston Bruins. He let in five goals in that game, with a .828 SV% and 5.02 GAA. Last season, he finished the year 5-17-5 with a .902 SV% and 3.25 GAA. They'll need to rely on him at some point, so he'll need to turn it around as well.
Senators News and Notes
The newcomers from the San Jose Sharks are off to a great start for the Senators. The play of Chris Tierney has been stellar – he's currently leading the team in points with two goals and nine points through seven games. Defenseman Dylan DeMelo is third in the NHL in plus/minus as a plus-eight and has five points. Finally, Mikkel Boedker is almost at a point per game pace, with two goals and six points.
The Ottawa Sun's Bruce Garrioch reports that the Senators and Duchene have started preliminary contract talks. Duchene wants to stay out of the conversation unless absolutely necessary but he will likely wait and see how the season plays out before making a decision on his future. (From: "Snapshots: Matt Duchene keeping his focus on hockey rather than contract talks", Ottawa Sun – 10/17/2018)
This past week was a week of honours for the Senators. At the Monday game against the Stars, the team honoured late goaltender Ray Emery. Emery passed away on July 15 of this year at just 35 years old. His ex-fiancee Kesha Chante was there to sing the National anthems, getting choked up as she wore an Emery jersey. Emery's former teammate Jason Spezza was also visibly affected by the tribute video, hanging his head for a period of time after.
Related: Ray Emery: Remembering the Fighter
The other person honoured was legendary hockey announcer Bob Cole. Cole is entering his 50th and final season in the booth as the voice of Hockey Night in Canada. The Senators had a video tribute and skated out to centre ice saluting him. It's likely that many teams through the season will honour the announcer as well. He's scheduled to announce for ten games.
Starting out as an Ottawa Senators contributor for The Hockey Writers, Josh is now an editor and at-large contributor, focusing on prospects, the NHL Draft, hockey history, and breaking news stories.