To put it simply, Marco Scandella has had a rough start to the 2018-19 season. After coming over via trade with the Minnesota Wild during the summer of 2017, fans rejoiced as it appeared that the team finally acquired a defensively responsible presence that was desperately needed in the Sabres' top-four.
Following what could be considered an up-and-down, yet generally solid performance last season, he has regressed badly on the team's top pairing thus far. It only took Phil Housley seven games to demote the 28-year-old to the second pair, but after continuing his sub-par play against the Los Angeles Kings and Anaheim Ducks in back-to-back games this past weekend, perhaps he needs to spend time in the press box.
Defensive Deficiencies
We'll start with the most disappointing aspect of Scandella's game. For a player that was lauded as a responsible presence in the defensive zone, he has failed to live up to that billing though, an argument can be made that he has been overmatched on the Sabres' top pairing. After all, he did alternate between the second and third pair during his time with Minnesota (a markedly better team).
Even if that's the case, it doesn't really explain his positional deficiencies, particularly in front of the net where he and Rasmus Ristolainen have struggled mightily as a duo in terms of shot suppression.
Ristolainen in his own zone for the last two years. Keep in mind that Scandella is primarily responsible for the left side and Ristolainen for the right. pic.twitter.com/0MZ2MJJ928

— Derek Jedamski (@D_Jedamski) October 19, 2018
What this chart shows is the rate of unblocked shot rates against the Ristolainen-Scandella pairing. As you can see, shot attempts on the left side (Scandella) have been much easier to come by for opposing offenses while attempts have been thwarted rather effectively on the right (Ristolainen). The gap between chances on the left side versus the right has actually widened even further so far this season, which lends credence to the theory that Scandella is playing his worst hockey to date as a Sabre.
The sample size since he has been moved to the second pairing is still too small to draw any real conclusions. Acclimating to a new partner in Zach Bogosian could take some time, but so far, Scandella has looked just as bad in without Ristolainen. In fact, based on the data, it's fair to wonder if he's actually held Ristolainen back, both this season and last.
Related: Sabres Defense Drawing Mixed Reviews
Ice Time and Deployment
Since last season, some of Scandella's more adamant defenders have pointed to his ice time as a potential explanation for his poor play. As Ristolainen's primary partner (a player who has the third-highest average TOI in the NHL since the 2015-16 season), some claim that he shouldered a workload in 2017-18 that he was not previously accustomed to.
When looking at the numbers, there is some merit to that theory. In his final season with Minnesota in 2016-17, Scandella's average TOI per-game was 18:20. Last season, where he also handled penalty-kill duties on the Sabres' top unit, his ice time increased by nearly five minutes per game at 23:19. That's a pretty significant spike.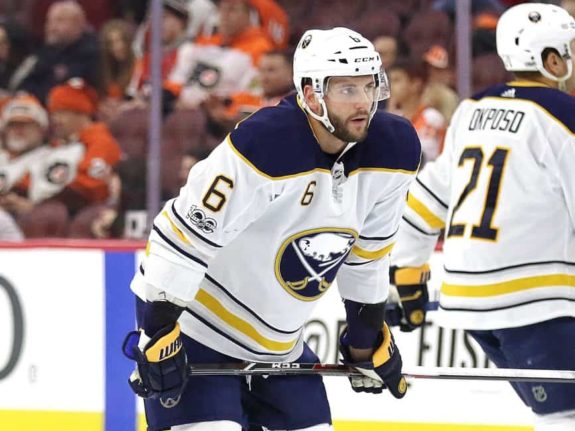 Here's the problem though. If his poor play at times last season was a result of overuse, he should be doing much better now as his average TOI has decreased to 19:52 through the first nine games of 2018-19.
So, if he's not over-encumbered with too many minutes, then what's the issue? Part of it may have to do with how Housley has deployed him thus far. Last season his offensive zone-start ratio was 50.24. This season, it's 42.53, which essentially means that he's averaged fewer offensive zone starts to this point, but that disparity isn't nearly significant enough to justify his current level of play.
It certainly appears that the most logical explanation for Scandella's regression is the strong possibility that he's simply not the player that fans thought they were getting last summer. The Buffalo faithful may just have to wait until some of the team's young blueliners are ready for NHL action so that they can move Scandella down to the third pairing where he likely belongs.
They may not have to wait much longer.
Related: Sabres Mishandling Ristolainen
Pilut Taking Flight
Last season, Scandella's roster spot was not remotely in danger. The Sabres' defensive corps was about as deep as a puddle and none of the team's organizational prospects were ready for full-time roles with the big club. That all changed this past summer.
On top of adding Rasmus Dahlin as the first overall pick of the 2018 NHL Draft, the team also managed to acquire the SHL's Most Outstanding Defenseman award winner in 22-year-old, Lawrence Pilut. Upon his arrival in Buffalo, it was unclear just how much time he would require to adjust his game to North American ice. Even his most ardent supporters couldn't have predicted just how quickly and effectively he'd catch on.
The high-flying @AmerksHockey
have three of the top six scorers in the AHL on their team:

1. Victor Olofsson (12 points)
2.(T) Lawrence Pilut (10 points)
4.(T) Zach Redmond (9 points) pic.twitter.com/jx86UZx9Wt

— American Hockey League (@TheAHL) October 19, 2018
Pilut has been the Rochester Amerks' best defender to start the season, helping lead his squad to an impressive 5-2-1 record. In six games (missing two due to injury), he's posted 10 points, good for third in the AHL among defensemen. As the Sabres' struggles on the blue line have carried over from last year, fans are chomping at the bit to see him in blue-and-gold.
If the Swedish upstart continues his seamless transition to AHL action, the Sabres brass will have no choice but to give him an opportunity with the big club. If that happens, a left-shot defender will likely head to the press box. It's probably not going to be Jake McCabe, who has been one of the more steady presences on the back-end in the early-going. That leaves Scandella and Nathan Beaulieu as the other options.
After a miserable season in 2017-18, Beaulieu is experiencing a resurgence of sorts. He's currently the team leader in terms of relative Corsi at 10.99-percent, more than four points higher than the next leading player (Jeff Skinner). While he hasn't made a huge splash on the score sheet, registering just one assist in seven games, his improvement in terms zone-exit and overall defensive competence has been a pleasant surprise. His return from injury will be a welcome change as his replacement, Casey Nelson continues to struggle.
That leaves Scandella, who may actually benefit from a night or two as a healthy scratch. That move could send a message to the rest of the Sabres locker room that poor play will get you benched, no matter who you are. Housley has already made a similar decision this year, sending veteran center Patrik Berglund to the press box for a game (though it was reported as a maintenance day as Housley cited "bumps and bruises" as the reason for keeping him out of the lineup).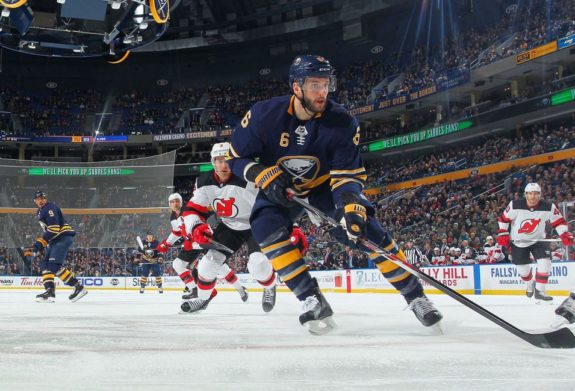 Ideally, Scandella pulls it all together and escapes his current funk. With a cap hit of $4 million over the next two seasons, the organization needs him to perform up to his potential. With players like Pilut, Brendan Guhle, and Will Borgen all coming along nicely in Rochester, he could quickly become expendable. If the Sabres are not in the playoff race when the trade deadline comes along, Scandella could be shopped, especially if he continues to fall short of his price tag.
A passionate supporter and lifelong fan of the Buffalo Sabres. Former Admin and Staff Writer at buffalohockeycentral.com.