There's an opportunity here for the Toronto Maple Leafs, a 'proposal' if you will. It's not the only route Maple Leafs management could consider but one that's worth exploring. That is, trading William Nylander for a defenceman of comparable talent.
Without Nylander, the Leafs have been able to generate serious offensive opportunities and capitalize on them consistently. With the second highest total of goals for per games played (4.13 G/GP) in the league, the team seems to be doing just fine without Nylander's offensive contribution. Though general manager Kyle Dubas has expressed he would like to keep Nylander in a Maple Leafs uniform, he must consider if re-signing him and keeping him in the active line up is imperative for the Leafs' success.
Nylander has come to the end of his entry-level contract (ELC) and is a restricted free agent (RFA). Prior to this season, he and his agent Lewis Gross of Sports Professional Management (SPM) requested the 22-year old centre receive an annual average value (AAV) of $8 million per season. Leafs president, Brendan Shanahan and Kyle Dubas unsurprisingly felt the amount was excessive. Though counter offers have been presented to Nylander's camp, he has been unwilling to move closer to a mutually beneficial number.
Silver Lining for the Maple Leafs
Through all of this, Kasperi Kapanen has risen to the occasion in Nylander's absence. Through eight games this season, Kapanen is on a point-per-game pace (PPG). After a long winding road, the young Finn has finally earned a more finite spot in the Maple Leafs' lineup. Going up and down between the Maple Leafs and their American Hockey League (AHL) affiliate–the Toronto Marlies–has been an arduous experience for Kapanen.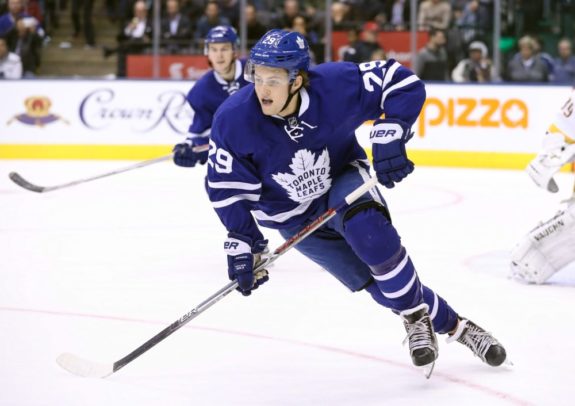 Watching Kapanen with the Marlies, it was evident that he was significantly further along in his development than that of his teammates. He made passes to areas where his teammates should have been, he found areas on the ice where he could be an offensive threat and not be met with the puck, and simple breaks in communication would spoil his efforts in commanding the play. As he played more frequently, his frustrations became increasingly noticeable. However, it also made him hungrier to secure a spot with the Maple Leafs.
With a more permanent spot on the Maple Leafs' roster this season, Kapanen is contributing consistently in point production, displays great chemistry as a right winger on the first line with Patrick Marleau and Auston Matthews, and is playing like he has a point to prove. That point is, "I belong here."
What to Do with Nylander?
Former Leafs GM Brian Burke commented on Kapanen's play: "You can't belittle or somehow dismiss what Kasperi Kapanen is doing. It's pretty impressive," Burke said on Sportsnet 590's Starting Lineup Wednesday. "Can you find a player to play with players like that? Yes. Will they produce? Yes. But he's really taken it up a notch. He's actually elevating the line's play. He's been good."
If Kapanen continues on this tear, what do the Leafs do with Nylander? The 'proposal', would be to sign him to a bridge deal and trade him for an equitable defenseman to strengthen the blue line. There are teams with depth on the back end who are having trouble putting up better offensive numbers.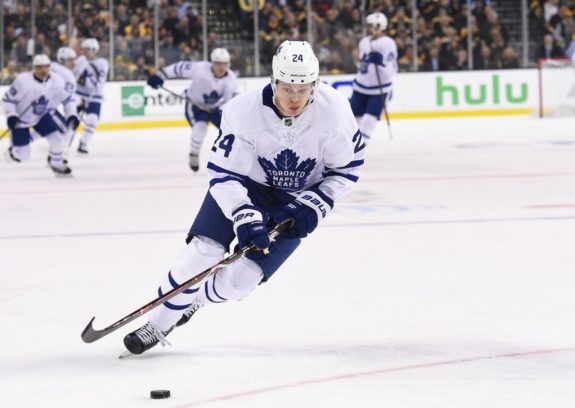 Nylander could help as he possesses a great shot, natural playmaking ability, and solid puck control through the neutral zone and into the offensive zone.
(Blank) for William Nylander
The possibilities on the return for Nylander are almost endless but to determine a starting point, let's establish Nylander's value. In a recent article from Sportsnet's Mike Johnston, various NHL general managers weighed-in anonymously on what they thought would be a fair number for him: "The Leafs are right," one Eastern Conference executive said. "There is no way any team in the NHL is going to pay Nylander $8 million."
Another Eastern conference exec added: "At $6.5 million, I don't think he'd be underpaid."
Attractive Options for the Maple Leafs' Blue Line
The majority of NHL execs feel Nylander is worth $6.5 million. Looking at other prominent stars and what they earned after their ELCs expired further proves their point. Tyler Seguin and the Colorado Avalanche's Nathan MacKinnon earned $5.75 million and $6.3 million respectively. Based on those deals, $6.5 million seems more than fair value for Nylander.
At this price point, given Nylander's age and proven track record, the Maple Leafs have options. Many possible trade returns for Nylander would come in under the $6.5 million price point Nylander might receive. These include New York Rangers' defenceman Brady Skjei at $5.25 million, Philadelphia Flyers defensemen Ivan Provorov and Travis Sanheim who will be coming out of their ELCs at the end of this season, and Minnesota Wild's Matt Dumba at $6 million per season.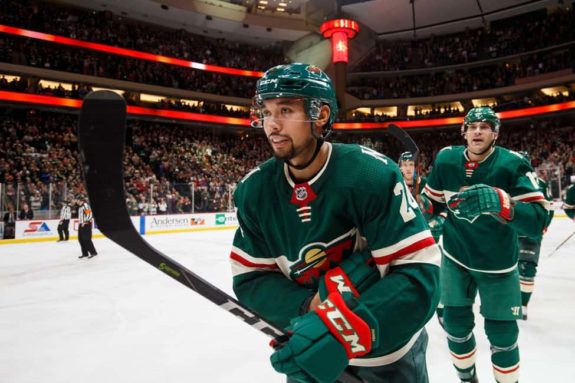 It goes without saying that any trade would be determined by variables such as cap space (both current and future), fit for the team, management's value and projections of the player, immediate positional requirements, and other factors we are not privy to.
If the Toronto Maple Leafs wish to pursue this plan, there are some very attractive options to consider. For now, however, Nylander is practicing in Austria and must sign a deal before Dec. 1 if he plans on playing in the NHL this season. Meanwhile, Kasperi Kapanen is contributing on the Maple Leafs' top line and boosting his value at the game's highest level.
Though both Nylander and Kapanen are great friends off the ice, Kapanen recently mentioned that their conversations have slowed down since the negotiation issues and Kapanen's upward performance.
Ryan regularly covers the Toronto Maple Leafs here at The Hockey Writers. His experience in hockey operations at the NHL level provide a unique aspect to his content. Ryan currently serves as the Head GTHL Scout for TheScout.ca in Toronto in addition to contributing to THW.