Last Saturday, Duncan Keith put on his Chicago Blackhawks sweater for the 1,000th time in his stellar career. He is just the sixth player in franchise history to play 1,000 regular-season games for the team, joining Bob Murray, Brent Seabrook, Eric Nesterenko, Bobby Hull, and Stan Mikita. When Keith calls it a career, we won't be calling him one of the greatest defensemen in team history—we will be calling him the greatest.
From Small Things, Big Things One Day Come
Keith was originally drafted by Mike Smith in the second round (54th overall) in the 2002 NHL Entry Draft. There were 15 defensemen taken ahead of them, five of whom never played a single NHL game. Of those defensemen who were drafted ahead of him, Jay Bouwmeester is the only one have more games played (GP) than Keith (1,111). Former teammate Trevor Daley, who was drafted 11 picks ahead of Keith, needs 27 more games to join the 1,000 GP club.
Heading into the draft, Keith's was ranked as the 94th overall North American skater by the Central Scouting Bureau. He was coming off a rather down season in his first year at Michigan State and scouts were worried about his size.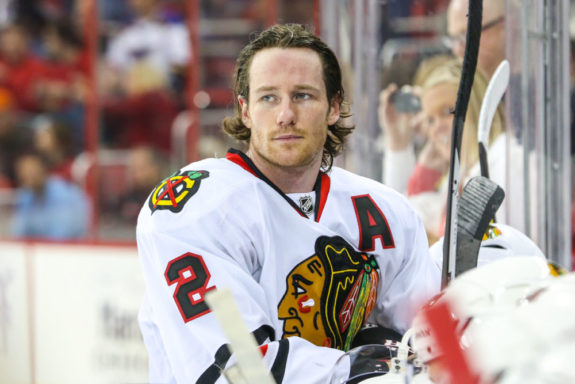 "You always hear the reports and check them out because it's fun to see where you're ranked," Keith said back in 2007. "But I really didn't really care in the end where I was drafted and what other people said about me. I always believed in myself and my abilities to make the NHL and I think that's what any player should do. There are a lot of things that are going to be said about you, but you can't worry too much about that."
Keith spent the next season splitting time between Michigan State and the Kelowna Rockets of the Western Hockey League. After two successful seasons with the Norfolk Admirals of the American Hockey League, he made his NHL debut on Oct. 5, 2005, and has been a fixture on the Blackhawks' blue line ever since.
Over the next 13 seasons, Keith would miss just 37 total games. He would become one of the game's best two-way defensemen, playing against the top competition in his own end while driving the offense on the other end of the ice. He would become a perennial leader in time on ice (TOI) and Corsi-for percentage (CF%), and possibly the biggest reason for the golden age of Blackhawks hockey that produced three Stanley Cups.
Keith Builds a Hall-of-Fame Resume
Very few players have accomplished what Keith has since he made his debut in 2005. He was a major part of three Stanley Cup wins, won a Conn Smythe Trophy (and could easily have another one) and a pair of Norris Trophies, has been a four-time All-Star, was named as one of the top 100 players in NHL history and won two Olympic gold medals with Team Canada. You could very well argue that Keith was the most important player in the Blackhawks' success from 2010 to 2015. Yes, you had players like Patrick Kane, Brent Seabrook, Patrick Sharp, and Jonathan Toews, but a very strong case can be made that those teams would not have won three Cups without Keith.
Since the start of the 2005-06 season, only six players have played in more games than Keith, and nobody has played more minutes than he has. Only Zdeno Chara and Nicklas Lidstrom have a higher plus/minus rating than Keith's plus-145. Since the start of the 2007-08 season, he boasts a 54.0 CF%, one of the highest among all NHL defensemen. He has been a positive possession player each year of his career.
As great as Keith has been over his 1,000 regular-season games, it is during the postseason when he turns up his game to an even higher level. His average ice time jumps up nearly three minutes per game from the regular season while his CF% only takes a slight dip in more minutes against consistently tougher competition.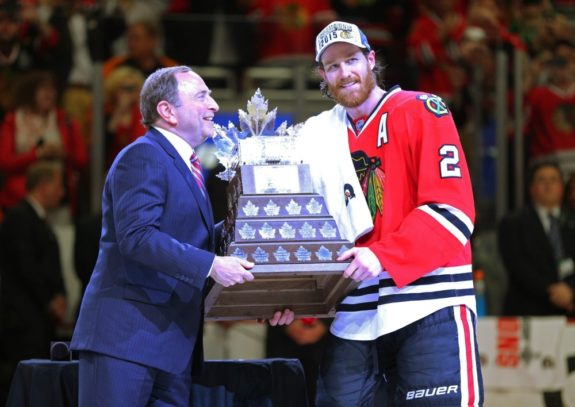 Keith proved that he was the most important player of the Blackhawks' "core" during the championship run of 2015. When you look back at the defense which was forced to take the ice that spring, it is amazing that the team made it out of the second round, let alone win the Stanley Cup. Keith, Seabrook and Niklas Hjalmarsson were all in their prime while Johnny Oduya was a serviceable fourth defenseman.
Things got very interesting when Michal Rozsival was lost to a gruesome ankle injury during the final game of the second round. While Rozsival was far from great, we realized how reliable he was when he wasn't out there. The Blackhawks somehow got past the Anaheim Ducks and Tampa Bay Lightning rotating David Rundblad, Kyle Cumiskey, an injured Trevor van Riemsdyk and what was essentially the corpse of Kimmo Timonen on their third pairing.
Keith played the best hockey of his life that postseason. He averaged over 31 minutes a game and posted a 54.4 CF% all while nearly putting up a point per game. He finished the playoffs tied with the Ryan Getzlaf for the most assists (18) and it was only fitting that he scored the eventual game-winning goal in the Cup-clinching game at the United Center. Nobody could debate that he didn't deserve to be the 2015 Conn Smythe Trophy winner for being the most valuable player of the postseason. There is no way the Blackhawks even sniff the title without their superstar defenseman on the ice.
What Lies Ahead for An Aging Superstar?
Last Saturday night was a celebration of the past 13 years. Sharp returned to the United Center to present Keith with a silver stick, along with Seabrook, honoring his accomplishment. Kane and Toews presented their career-long teammate with a retrospective painting while his friends and family watched from center ice. The team put together this great video package, which they played for the sold-out crowd.
"It was emotional," said Keith after Saturday's overtime win over the St. Louis Blues. "A lot of people who have supported me were here, which I appreciate. You only have one career, so I might as well leave it all on the line. I guess this means I've played a lot of games."
At age 35, one wonders how much is left in the tank for Keith. He is still under contract for another four seasons after this one. Even though he has lost a step after 1,000 games, there are not many reasons to doubt that he will play out his full deal. There are few players in the league who train harder and are obsessed with nutrition and health as Keith.
The Blackhawks have some talented young defensemen in the pipelines, which will help take some of the pressure off of the veteran star. We have already seen some of that this season with the arrival of Henri Jokiharju. The talented rookie has played well on the top pairing and has even taken over for Keith on the top power-play unit. Early on in the season, Keith's ice time is down from his career average by nearly a minute per game, and he is spending less time on special teams will help save his legs for later in the year. Two more reliable defensemen will be added to the lineup when both Gustav Forsling and Connor Murphy return from injury next month.
Going forward, if Keith is to play out the final four years of his contract his responsibilities will have to be lessened. With players like Nicolas Beaudin, Adam Boqvist, Carl Dahlstrom, Dennis Gilbert, Blake Hillman Chad Krys, and Ian Mitchell all possibly playing in Chicago over the next couple of years, it is easy to see Keith's workload becoming lighter in the future.
Regardless if Keith finishes out his contract or not, when he does call it a career he will have a spot in the Hall of Fame waiting for him and his number 2 will be hanging in the rafters of the United Center for decades to come. The Blackhawks have had their fair share of elite defensemen like Chris Chelios, Pierre Pilotte and Doug Wilson, but as great as they were, none of them ever came close to accomplishing what Keith has while wearing a Blackhawks sweater.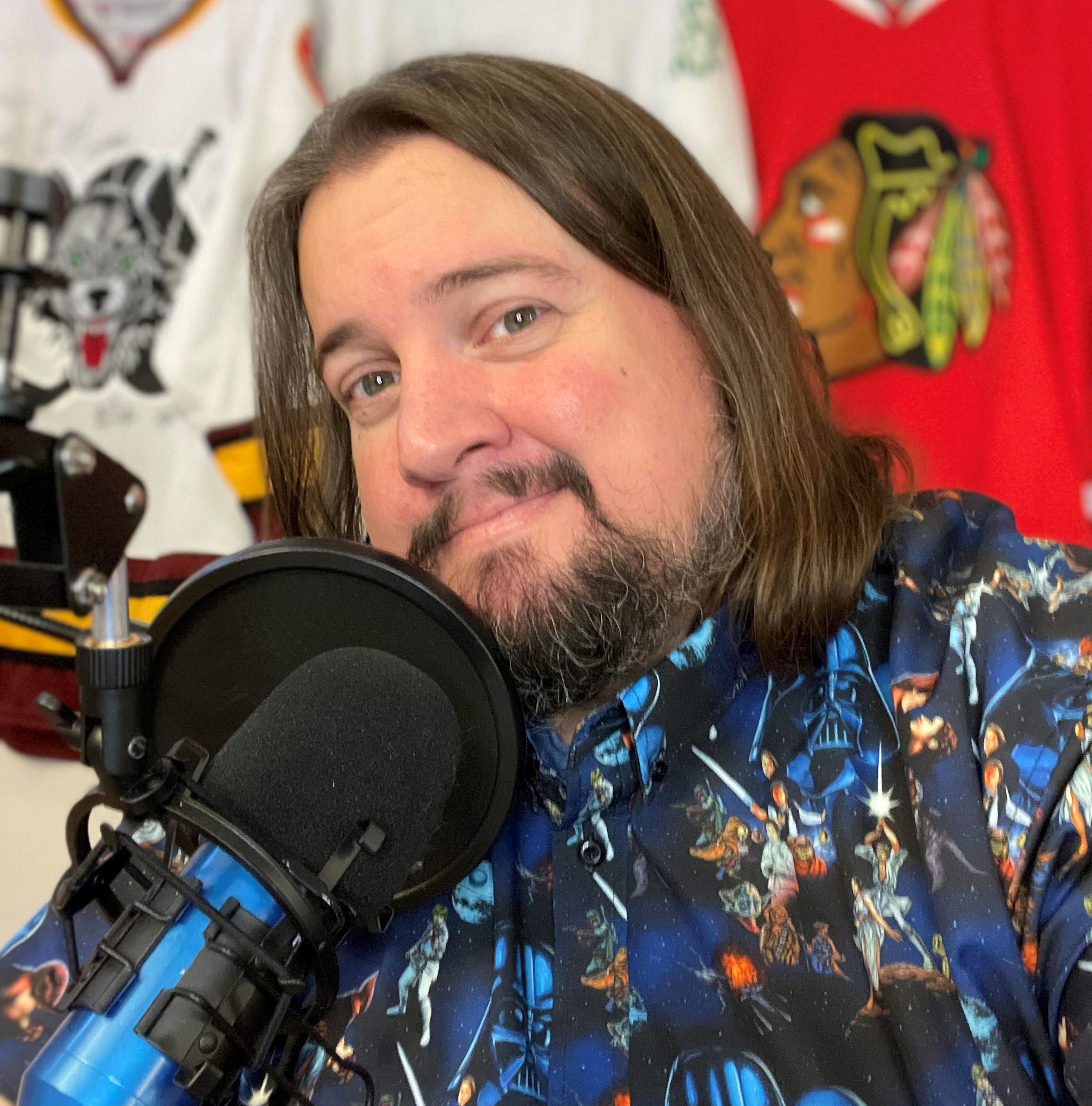 Greg Boysen has been writing about the Chicago Blackhawks since 2010 and has been a site manager for both FanSided and SB Nation. He has been published in The Hockey News and was fully credentialed for the 2013 Stanley Cup Final. Among his various roles with The Hockey Writers are covering the Blackhawks, the AHL, writing the daily "Today in Hockey History" column, serving as a copy editor, and appearing and hosting multiple YouTube shows, including Blackhawks Banter. He is credentialed with the Chicago Wolves, Rockford IceHogs, and Milwaukee Admirals, while also being a regional scout for the NAHL. And, just because his plate isn't full enough, Greg hosts trivia in the Chicago area two nights a week. For interview requests or to provide topic suggestions, follow Greg on Twitter and reach out.