The beginning of the week started out pretty well for the Chicago Blackhawks. It was a busy fourth week of action, ending a stint of seven games in 11 nights. They dominated and won two games on Tuesday and Thursday, albeit not against the stiffest competition. Things got a little tougher as the week went on. A desperate St. Louis Blues team got the best of them on Saturday, and the Hawks only managed one point in a game they probably should have won on Sunday. All in all, the Blackhawks are a month into their 2018-19 season, and they're performing surprisingly better than expected. Let's look at some highlights.
Blackhawks' Week 4 Matchups
Vs. Anaheim Ducks, Tues. 10/23, Win 3-1
Vs. New York Rangers, Thurs. 10/25, Win 4-1
@ St. Louis Blues, Sat. 10/27, Loss, 7-3
Vs. Edmonton Oilers, Sun. 10/28, Loss 2-1 (OT)
Overall Record: 6-3-3, 15 points
Related – Blackhawks Week of Firsts: Crawford Wows in Return
Kane Is Killing It
It's pretty amazing Patrick Kane is still playing at such a high level after 12 years in the league and at almost 30 years of age. He's off to the best start of his career, recording 11 goals and seven assists for 18 points in his first 12 games. He's actually earned at least a point in 11 of the Hawks' 12 games, and is currently on a point streak of the last six games.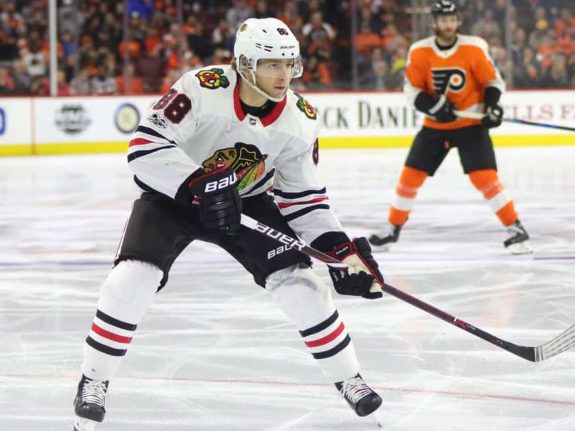 In the four games this past week, Kane notched four goals and earned two primary assists. He now leads the league in goals and trails only Mikko Rantanen (21 points) of the Colorado Avalanche in total points. Kane is certainly continuing to earn his nickname of "Showtime" in the early stages of the season.
Showtimes' Supporting Cast
Kane is awfully talented, but he can't do it alone. He's benefited from new linemates recently. For the last four games, Kane has lined up with Artem Anisimov as his center, and Brandon Saad on the left wing. Now both of these players have spent time on the second line with Kane in the past but couldn't seem to make it stick.
Coach Quenneville has favored Nick Schmaltz at second line center, as he and Kane have developed good chemistry together. But utilizing Schmaltz on the third line instead could provide more balance. And there are advantages to Anisimov. He's a bigger body that can provide more of a physical presence. He's responsible defensively, and he's very good at getting to the net to soak up rebounds and deflections.
Anisimov has proven his worth on the second line by recording a goal and three assists in the last four games. His goal was set up by Kane, and his assists all resulted in goals for Kane. He's also earned a respectable 45% in the faceoff circle. You never know what Coach Q has in mind, but Anisimov has provided a good argument to remain in his current position.
Saad is a little bit more of a conundrum. After not putting up the numbers they were hoping for playing with Kane at the beginning of the season, Saad was demoted to the third and then the fourth line. There was even some talk of him being scratched. But the long and the short of it remains that the Hawks really need Saad to be successful. They therefore want to put him in the best position they can for him to find that success.
Saad finally responded to his demotion by having a strong game against the Tampa Bay Lightning on Oct. 21. It was enough to get him promoted back onto the second line. He followed that up with a two-goal outing against the Ducks, but has since tapered off a bit. Time will tell if he can produce consistently enough to make a case as a contributing member of this line moving forward.
Positives on Defense
Going into this season, defense was one of the biggest concerns for the Blackhawks. It still is, but there are definitely some positives. Duncan Keith isn't getting any younger, but he's shown he's still capable of playing big minutes. It certainly helps that he's reaping the benefits of having a fast and very smart partner in the 19-year-old rookie Henri Jokiharju.
Jokiharju has been everything advertised and then some. He's responsible defensively as well as with moving the puck and helping transition to offense. He's taking on the NHL's best competition every night and he's holding his own. Some mistakes should be expected, but so far they've been few and far between.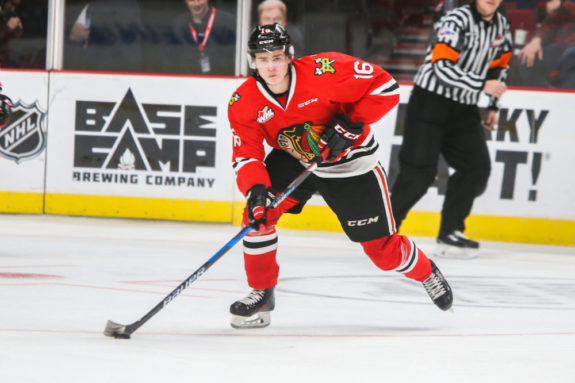 His first NHL goal still eludes him, but he's certainly not afraid to shoot. In last Sunday's tilt against the Oilers, he recorded a team-high six shots on goal. He also happens to be tied with Kane and Keith for the overall team lead of seven assists. He's an asset to the team, and he's only going to get better.
Brent Seabrook came into this season slimmed down and in great shape. And he still has that lethal slapshot. It's true that his minutes should be limited for him to be effective. But that's possible now that Erik Gustafsson has come into his own.
Gustafsson has shown he's capable of being a top-four defenseman. Coach Q is trusting him more this season and giving him lots of ice time. He's responded with solid defense and tons of confidence in joining the rush and leading play.
Now the one thing left to do is get the shutdown pairing in order. Things haven't gone so smoothly for Brandon Manning, Jan Rutta, and Brandon Davidson as they rotate in and out of the final defensive pairing. But let's also not forget Gustav Forsling is cleared to play and started his conditioning stint in Rockford this past week. He looks to eventually get into the Blackhawks lineup. Connor Murphy is still on the same timeline to return in mid-December. All in all, the defense doesn't look so bad anymore.
Power Play Woes
I wish we could say the same for the power play. It's amazing that such a talented offensive team can be so bad on the man advantage. Last season the Hawks ranked 28th in the league on the power play. So far this season, they're still 28th. In the last four games, the Hawks have had 14 power plays, and they've only converted on two of them. Many times they don't even get a shot off.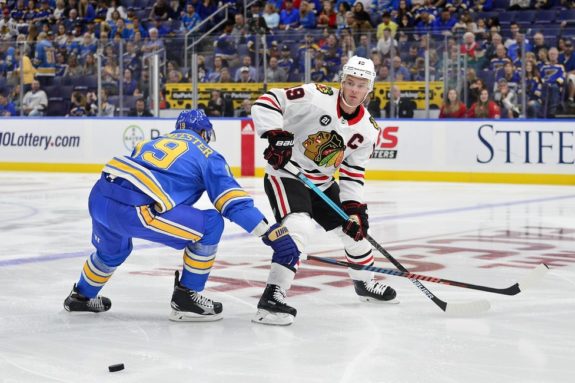 It hasn't been for a lack of trying. They copied the Washington Capitals and went with a 1-3-1 scheme to start the season. They utilized a top-heavy first unit with four forwards and one defenseman. Then they attempted balancing things with the top players spread out among the two units. Saad and Chris Kunitz have been in and out of the power play rotation. They experimented with putting Keith and Seabrook back together for old times sake. They even put Jokiharju on the power play before ditching that idea (try it again!).
At this point, nothing seems to be working. But what else can they do except keep trying? The power play must improve if the Hawks want to remain competitive.
Some Final New and Notes
Center Marcus Kruger has committed five minor penalties in the last four games. Considering he's one of the Hawks' best penalty killers, he's not doing the team any favors with so many trips to the box.
The first line of the Alex DeBrincat, Jonathan Toews, and Alexandre Kahun has cooled off a bit since their hot start a few weeks ago. But I wouldn't expect that to continue. Look for them to get rolling again in the coming weeks.
Rutta had an especially ugly game against the Blues on Saturday. He was benched for the entire third period, and replaced by Davidson the next game. It will be interesting to see who's deployed on this third defensive pairing moving forward.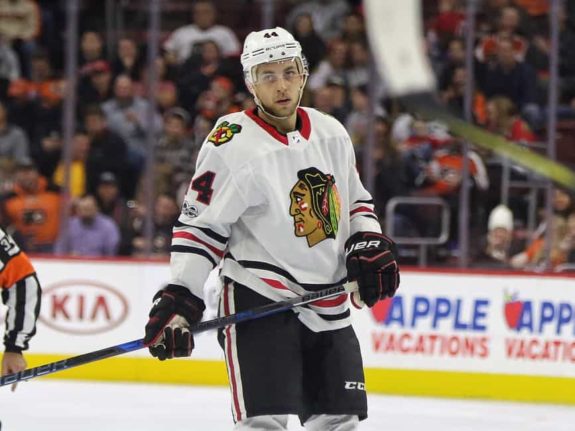 There's some healthy competition on the fourth forward line as well. On Sunday against the Oilers, Kunitz and John Hayden were scratched in favor of David Kampf and Andreas Martinsen. With the exception of Kruger, the makeup of this line is very much up in the air right now.
Related – The Breakaway: Wirtz Family Cups & Controversy
---
The Blackhawks now head west for their fifth week of action. They partake in another pair of back-to-back contests this Wednesday and Thursday, when they face the Vancouver Canucks and the Edmonton Oilers, respectively. On Sunday they travel to Calgary to meet the Flames. Let's hope they can put together a successful road trip!
Gail Kauchak has covered the Chicago Blackhawks as a content writer since 2014. She previously wrote for Fansided's Blackhawk Up, and has been part of The Hockey Writer's team since 2017. It's not always easy to balance life's responsibility's with one's passion, but Gail's doing her best to make it happen. Quote to live by, "Follow your dreams, and good things will happen." Wait, maybe it's "Good things happen when you shoot the puck!" You get the idea.
Follow Gail for her unique commentary about this storied franchise. And be sure to catch her and the rest of the Blackhawks' crew on their weekly Blackhawks Banter show, as well as follow her on Twitter.