The third week of the season is in the books. While the Chicago Blackhawks got off to a hot start, securing a 3-0-2 record in the first five games, those contests were played over a 14-day span. The Hawks are now in the midst of a seven-game stretch in 11 days. It's time for them to show their meddle as they hunker down for the long haul.
How did they fare in Week 3? Let's just say, a lot of things happened for the first time, some positive and some negative.
Related Weekly Post – Chicago Blackhawks: One and Won Makes Three
Blackhawks' Week 3 Matchups
Vs. Arizona Coyotes, Thurs. 10/18, Loss 4-1
@ Columbus Blue Jackets, Sat. 10/20, Win 4-1
Vs. Tampa Bay Lightning, Sun. 10/21, Loss 6-3
First Regulation Loss
This isn't exactly positive. After taking their first five tilts of the season to overtime, the contest vs the Coyotes last Thursday was the first to end in regulation time for Chicago. Unfortunately, they came out on the wrong side in a 4-1 loss.
The Coyotes struggled to start their season, scoring four goals in their first five games. The Blackhawks considered them the best opponent to mark goaltender Corey Crawford's return after being sidelined for 10 months with concussion issues. The idea was he could ease into things against an offensively challenged team.
The Coyotes seemed aware of this as Crawford faced 12 shots in the first period alone, allowing a lone goal by Lawson Crouse. Vinnie Hinostroza was playing with a chip on his shoulder against his old team, scoring two goals. He was packaged in the deal that took Marian Hossa's contract off the Blackhawks' hands.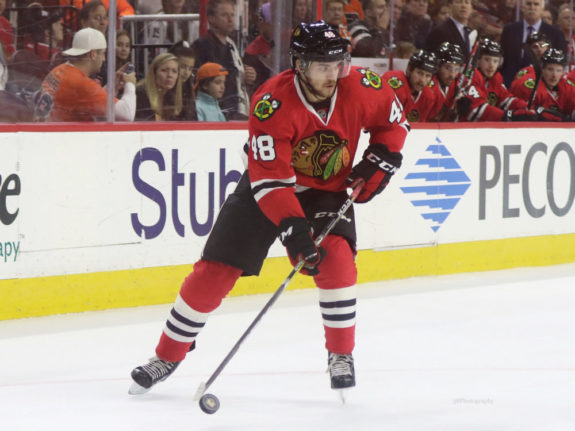 Niklas Hjalmarsson was also honored with an emotional tribute in his first game back to Chicago since being traded away in June of 2017. He was a fan favorite who won three Stanley Cups with the team. Did I mention netminder Antti Raanta (another ex-Blackhawk) stopped 33-of-34 shots and improved his record to a remarkable 16-0-3 at the United Center? Yeah, it wasn't going to be the Blackhawks' night.
First Regulation Win
The show must go on, and the Blackhawks managed to pull a rabbit out of their hat with a 4-1 victory over the Columbus Blue Jackets on Saturday. This was their first regulation win of the season but the game didn't get off to a good start. Despite being tied 1-1 at the end of two periods, the Blackhawks were outshot and outplayed. Charlie Roumeliotis of NBCSChicago summed it up best with this tweet.
#Blackhawks and Blue Jackets remain tied 1-1 at the end of Period 2.

Shot attempts: 54-25 CBJ
Shots on goal: 28-15 CBJ
5-on-5 scoring chances: 17-7 CBJ
Total high danger chances: 11-2 CBJ

— Charlie Roumeliotis (@CRoumeliotis) October 21, 2018
We should know by now never count out the Blackhawks who scored three unanswered goals in the third. Marcus Kruger deflected an Alexandre Fortin shot for a goal, and then Patrick Kane took over with another tally and an empty-netter. Two points are two points and they were lucky to have Crawford in net to give them the opportunity to win in the first place.
Crawford Is Back!
Speaking of which, by far the biggest story of the week was Crawford's return after being out since Dec. 2017 with concussion symptoms. Although not completely ready at the start of training camp, Crawford worked separately with goaltending coach Jimmy Waite. He was cleared to join his teammates in practice on Oct. 1, and finally made his return against the Coyotes.
Everyone expected Crow to be rusty after being out for so long but he returned seamlessly, looking like he'd never been out. He stopped 27-of-30 shots for a .900 save percentage. Yes, the Hawks lost the game, but the goals against were the result of turnovers and unforced errors rather than Crawford's mistakes.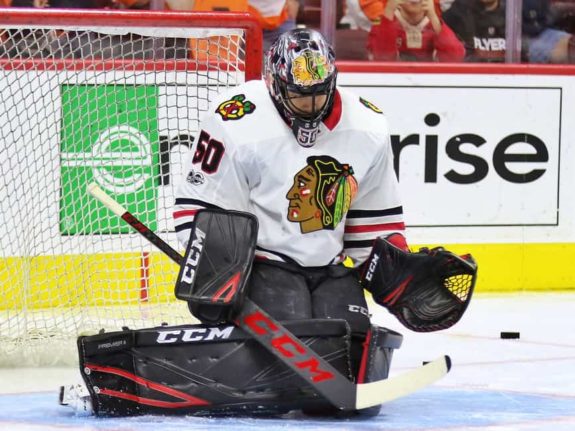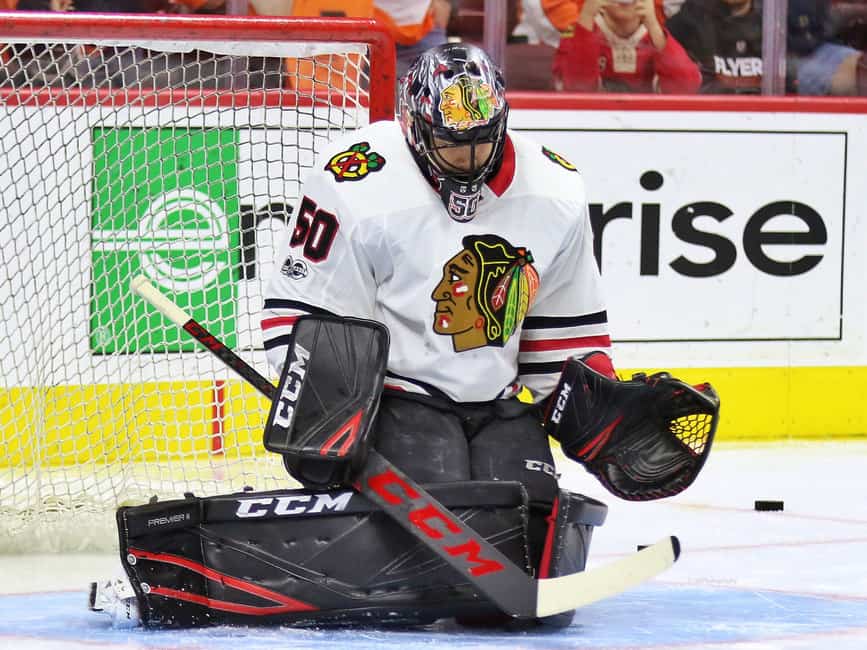 He picked up right where he left off on Saturday but this time he stepped it up a bit, making 37 saves on 38 shots for a .974 save percentage. The tweet above spells out how much the Hawks were giving up yet Crawford took it in stride like a pro. To quote head coach Joel Quenneville, "It's nice to see him play like that. That was vintage [Crawford]."
A Record for Shots Allowed
The Blackhawks are really going to want to forget their 6-3 loss to the Tampa Bay Lightning on Sunday. They gave up 55 shots, were consistently beat to the puck, and had no answer for the Lightning's speed. The second period was the worst, when the Hawks gave up 33 shots, tying a franchise record for the most shots against in a period.
There's a bright side: Backup goaltender Cam Ward suited up on Sunday, the second in back-to-back games. He played his butt off, making 49 saves on 54 shots with absolutely no help in front of him. That might also be a record. One more note on this game: Nick Schmaltz scored a power-play goal in the third period, the first the Lightning have given up all season. So there's that.
First Goal Alert
Four Blackhawks players scored their first goal of the season last week:
Defenseman Erik Gustafsson tallied his first goal of the season on Thursday against the Coyotes. It was a thing of beauty how he snuck into the rush with the Coyotes focusing on Jonathan Toews and Alex DeBrincat. Gustafsson has three assists on the season as well.
Fortin earned his first NHL point on Saturday in Columbus. He was originally given credit for a goal but it was determined the puck was deflected by Kruger. He didn't have to wait long to get his first tally as he scored on a breakaway for his first NHL goal on Sunday.
Nick Schmaltz notched his first goal of the year on a power play tally in the third period on Sunday to go with his five assists on the season.
David Kampf scored his first tally on Sunday. He has one assist so far this year as well.
A Few Other Blackhawks Firsts
Defenseman Brandon Davidson made his debut over the weekend, suiting up on both Saturday and Sunday. He recorded his first assist as a Blackhawk on Kampf's goal.
DeBrincat tallied seven goals in his first seven games. He is the youngest Blackhawks player to do this at 20 years old.
Kane earned an assist on Schmaltz's power-play goal on Sunday, putting him at seven goals and five assists (12 points). He surpassed DeBrincat (11 points) for the team lead for the first time this season.
Related – Alex DeBrincat Is Just Getting Started
---
It wasn't a pretty week for the Blackhawks. They left four points on the table, with losses to the Coyotes and Lightning, and they were lucky to pick up two points against the Blue Jackets. Their record is now 4-2-2, for 10 points.
Things don't get any easier, as they take the ice every other night this next week, ending with back-to-back tilts over the weekend. The Hawks' opponents include the Anaheim Ducks (Tuesday), the New York Rangers (Thursday), the St. Louis Blues (Saturday), and the Edmonton Oilers (Sunday). Onward and hopefully upward!
Gail Kauchak has covered the Chicago Blackhawks as a content writer since 2014. She previously wrote for Fansided's Blackhawk Up, and has been part of The Hockey Writer's team since 2017. It's not always easy to balance life's responsibility's with one's passion, but Gail's doing her best to make it happen. Quote to live by, "Follow your dreams, and good things will happen." Wait, maybe it's "Good things happen when you shoot the puck!" You get the idea.
Follow Gail for her unique commentary about this storied franchise. And be sure to catch her and the rest of the Blackhawks' crew on their weekly Blackhawks Banter show, as well as follow her on Twitter.