Alex DeBrincat came to the Erie Otters as an unsigned free agent. He proceeds to score 51 goals and 104 points in his rookie season. He follows that up by putting up another 51 goals and 101 points. He did that in eight fewer games. A star was in the making.
That was until he slipped out of the first round of the 2016 NHL Draft.
He's Too Small…He's Too Slow…?
You heard the critics. He's too small to play. He can't skate as fast as many of his peers. Everywhere you turned, some critic somewhere was questioning if he could even make it in the NHL.
The Chicago Blackhawks didn't have a first rounder in the 2016 NHL Draft. They didn't get their first pick of that draft until 39th overall. Somehow in the minds of the teams with a pick in the first 38, DeBrincat wasn't good enough to be drafted. The Blackhawks swooped in and said thank you very much.
That draft went from being extremely uneventful to woah thanks to DeBrincat's descent at the draft. He already had a huge chip on his shoulder. It got bigger. He unleashed his fury on the OHL in the season after.
To go from undrafted to verge of OHL history, is one of the most remarkable stories I can ever remember. DeBrincat is special.

— Mark Scheig (@markscheig) February 12, 2017
DeBrincat put up 65-62-127 in 63 games. In other words, he averaged a goal and an assist for the entire season. That is almost unheard of in this day and age of hockey. Blackhawk fans everywhere followed the Erie Otters closely to see the damaged he imposed on other teams.
That Otters team won the OHL that season. DeBrincat won the Red Tilson award as the league's most outstanding player. He may be just 5-foot-7 but he dominated the OHL where most everyone had a size advantage. His skill brought them to their knees.
The excitement was tangible. Could it translate to the NHL? Could he even make the roster the season after given the competition? The answers of course were yes and yes!
How does DeBrincat introduce himself to the NHL? He scores 28 as a rookie including this memorable first goal on Carey Price.
This time however, in the 2017-18 season, his team didn't fare very well. That's where this story begins.
DeBrincat Only Knew Success
See, DeBrincat is not used to losing. Since his Otters' days, he knew success. He didn't see much in the way of failure. The Blackhawks finished last in the central and third from last in the Western Conference. This was new territory.
We caught up with DeBrincat Saturday morning in Columbus prior to his game against the Blue Jackets. Knowing that the Blackhawks had a bad season, how tough was his offseason?
"It was a long summer," DeBrincat told me . "I think playing worlds made it a little bit shorter. It was different. It was not fun. You gotta stay and play as long as possible. We're looking to change that."
He enjoyed a great season. But he knew he needed to improve on everything. What was his number one focus in the summer?
"There was a lot of things. Obviously you want to get faster, stronger. I think those were two big things for me. On the ice, you want to round out the game, be better handling the puck. There were a lot of different things I wanted to work on."
DeBrincat On Toews & Vice Versa
His center is the great Jonathan Toews. That's a nice luxury to have when you're a newer player in the league. I asked DeBrincat what makes Toews such a great player to play with.
"He's always going to the net. He's fast. He's smart with the puck. He's just a really elite player. It's pretty easy to play with him. I'm liking the benefits of playing with him. He's makes it very easy on me."
Toews makes players better around him. DeBrincat continued.
"He's always open. He can pass the puck. He can shoot the puck. He can do everything. It makes it easy for me to get open. People are more focused on him I think. He's also good at dishing the puck."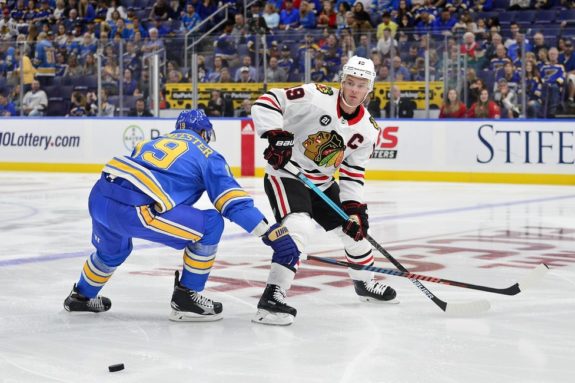 And there's no question Toews is loving DeBrincat on his line. I asked Toews his impressions of playing with DeBrincat and why in his mind he's such a great player.
"Right away, I would say positionally he's smart," Toews told me. "He's not one of the bigger guys. Smaller players have to learn how to play the game smart. You can't overpower. You can't out-skate the kids bantam, midget, junior, where ever. I think he's smart and he's got a great shot. He knows how to get to the right areas and hit the open space at the right times. Everyone knows he's got that quick shot that's really tough to read for goaltenders. He's just got that goal scoring knack. He just knows that he's confident. He's also improving in all other facets of his game."
That's such high praise for a player playing in just his second season. DeBrincat is already a noted sniper. But according to his center and captain, he's already improving at all other facets of his game. That's scary for the league and great for the Blackhawks.
How high is DeBrincat's upside? According to Toews, he will reach 40 at some point "no question." He got 28 in year one. The chances of Toews prediction coming true are pretty good at this point.
That's why DeBrincat is just getting started. He's been passed over multiple times and always plays with a huge chip on his shoulders. With that kind of motivation, 40 is just a matter of time.
Get on the DeBrincat train. The train is leaving the station, destination greatness.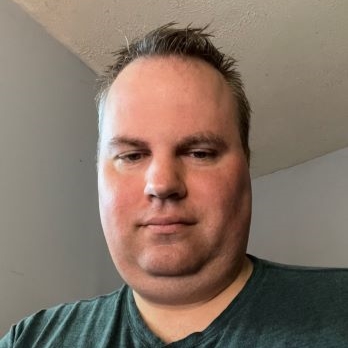 I am a fully credentialed writer who covers the Columbus Blue Jackets, Cleveland Monsters and Erie Otters as well as the Ontario Hockey League and NHL Draft. The 2022-23 season will mark nine seasons with the Hockey Writers. I am also the site's Credentials Manager. Please take note of the updated Twitter handle: @mark_scheig.