The Los Angeles Kings superstar goalie Jonathan Quick surprised most by accelerating his recovery from a lower body injury in order to make his triumphant return against the New York Islanders on Thursday night. Despite getting adequate goalkeeping from Jack Campbell, the Kings netted an underwhelming 2-4 record in Quick's absence. Well, having Quick back between the pipes did not provide the Kings with the elixir that they have been seeking, as they were royally pummeled by the Islanders 7-2, in their own barn no less.
With all-world center Anze Kopitar missing the game due to illness, an opportunity arose for some of the squad's other prominent forwards to step up to help fill the void. One such candidate was winger Tanner Pearson. The 26-year old proceeded to be held off the scoreboard and registered a pitiful minus-four performance. Pearson's showing (or lack there of) marks another low point in a once promising career that has been trending in the wrong direction of late.
Pearson's Road to the NHL
Now in his sixth NHL season, Pearson has reached the zenith of professional hockey success, but also the depths of significance associated with his recent dip in play. These inconsistencies have become a hallmark of his playing career to date.
A Tale of Two Seasons for Pearson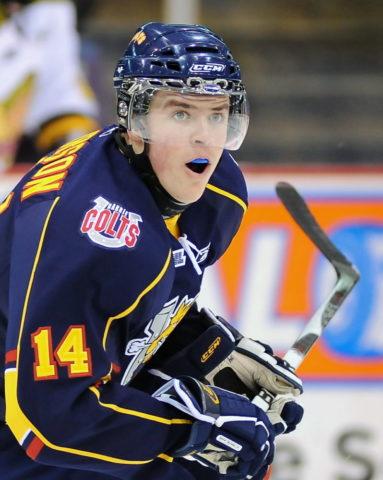 Pearson honed his craft in the junior ranks with the Barrie Colts, after he was selected in the fourth round of the 2008 OHL Priority Draft. While in Barrie, the winger experienced a pair of contrasting seasons. During his freshman campaign, he tallied 42 points in 66 games with an undesirable minus-12 rating. Much to his surprise, Colts head coach and NHL legend Dale Hawerchuk had become a fan of Pearson's future prospects.  "He told me I not only could be a top-six forward in the league, but I could lead the OHL in scoring," Pearson recalled. "I kind of sloughed off the part about me leading the league in scoring, but I knew I could work harder and become better.
Despite his coach's kind words, Pearson was passed up by every NHL team in his second consecutive draft eligible year. Motivated by the snubbing, the forward proceeded to register a 37 goal, 54 assist sophomore campaign with a stupendous plus-21 rating. Pearson's offensive exploits landed him third in the league in scoring, a mere nine points behind his future linemate Tyler Toffoli. It was only inevitable that the third time would be a charm for Pearson's draft prospects.
A Royal, Fairy Tale Run
Taken by the Kings with the 30th pick in the 2012 NHL Draft, Pearson was viewed as a solid all-around player that had made immense strides from year-to-year. He hit the ground running with the Manchester Monarchs of the AHL, with an impressive 47 point season while playing alongside fellow rookie Toffoli. Although both managed to crack the Kings' playoff roster for their NHL Western Conference Final run, their real value would be on full display in coming years.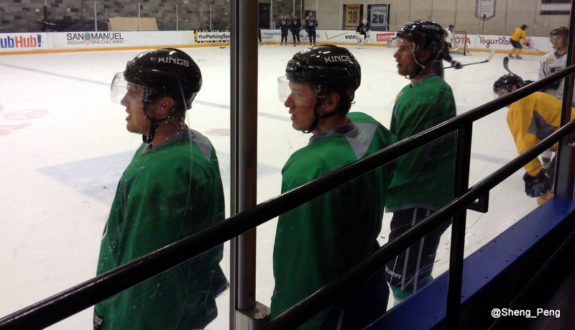 During the 2013-14 season, Pearson played a prominent role with the Kings, seeing 25 games of regular season action. He also developed a lethal partnership with Toffoli and star center Jeff Carter to form the famed "That 70s Line". All donning numbers in the 70s, the towering trio were skilled, physical and hungry. Their efforts helped propel the Kings to a historic second Stanley Cup in three seasons later that summer. Pearson certainly did his part during this fairy tale run by tallying 12 points in 24 games.
Pearson Not Cutting It Lately
The six-foot, 200 pound winger continued his fruitful allegiance with Toffoli and Carter over the next few seasons, increasing his point totals from 16 to 36 to 44. As a result, Kings brass decided to award Pearson with a four-year contract extension in May of 2017. The new contract would pay the youngster an average of $3.75 million per season. Unfortunately, his game has seemingly plateaued and made the team's investment in Pearson a questionable one.
Kings Not Getting Value
On paper, Pearson's 2017-18 season appeared to be an average one. He played a full 82 games and netted 15 goals and 25 assists. The problem is that the Kings need more than average from Pearson. His contract ranks him as the 284th highest paid player in the league, and his last season's production is not up to par with those paid in the same bracket. Namely:
Anders Lee – Center – New York Islanders: 40 goals, 22 assists
Rickard Rakell – Center – Anaheim Ducks: 35 goals, 34 assists
Brendan Gallagher – Right Winger – Montreal Canadiens: 31 goals, 23 assists
Although Pearson did not have the luxury of playing on his team's top line like his comparables, he failed to take his game to the next level to warrant that type of a promotion. Instead, newly appointed John Stevens was forced to mix line combinations, including a reunion with Toffoli and Carter, to help galvanize the winger.
Instead, Stevens' efforts ended in futility, as Pearson registered an unacceptable 12 points in his final 36 games. This included being held off the score sheet during the team's forgettable first round sweep at the hands of the Vegas Golden Knights.
Pearson's Not Playing Possessed
Pearson has carried his mediocre play into this current season, as he has managed only a single assist through seven games. What makes his lack of offensive support even more frustrating are his feeble advanced stats. Both his Corsi and Fenwick possession numbers have declined year-over-year since the 2015-16 season. This, for a forward that was dubbed as a player poised to for a breakout season by The Hockey News because of his promising advanced stats.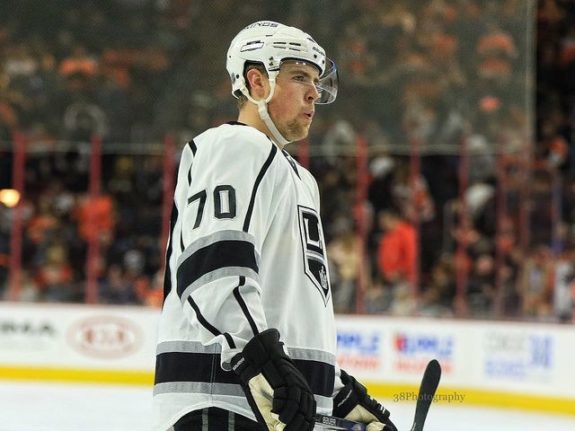 What to Do with Pearson
The simple answer of what to do with Pearson is to ship him elsewhere and hope for a favorable return. The issue is that his lack of production and unfavorable contract have his value at an all-time low. With youngsters Austin Wagner, Jaret Anderson-Dolan, Sheldon Rempal and Gabriel Vilardi all knocking on the door of full-time NHL employment, the heat is on Pearson more than ever to recapture his old form and once again become a staple in this Kings lineup. Quite the daunting task if you ask me.
Admitted sportaholic. Passionate writer. Good dude.