The New York Rangers have to be thrilled with what they've seen from David Quinn so far.
The first-year NHL coach has preached accountability and practiced it. He's demanded a gritty, north-south game from his team and gotten it. He's been communicative and up front with players and media alike, and combined it all into what appears to be a deft touch as a head coach at the highest level of hockey.
Maybe the more important question going forward is whether Quinn is thrilled with the Rangers' long-term prospects as the club is currently constructed.
Surely the coach has seen enough during a 2-4-1 start to form a vague assessment of where the Rangers are at present, and perhaps, where they will be in several years. What is probably apparent to the astute Quinn is that most of the players he's coaching now may not be around if and when the Blueshirts return to contention.
Quinn's ease with benching young and older alike, from Kevin Hayes to Pavel Buchnevich to Kevin Shattenkirk, etc., has been a clear signal that he's in charge and everyone has to earn their ice time. It could also be looked at as an obvious indicator that the roster Quinn has inherited might not contain too many of this team's long-term answers.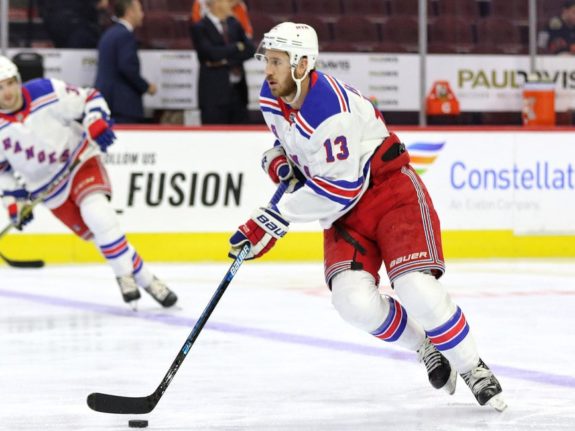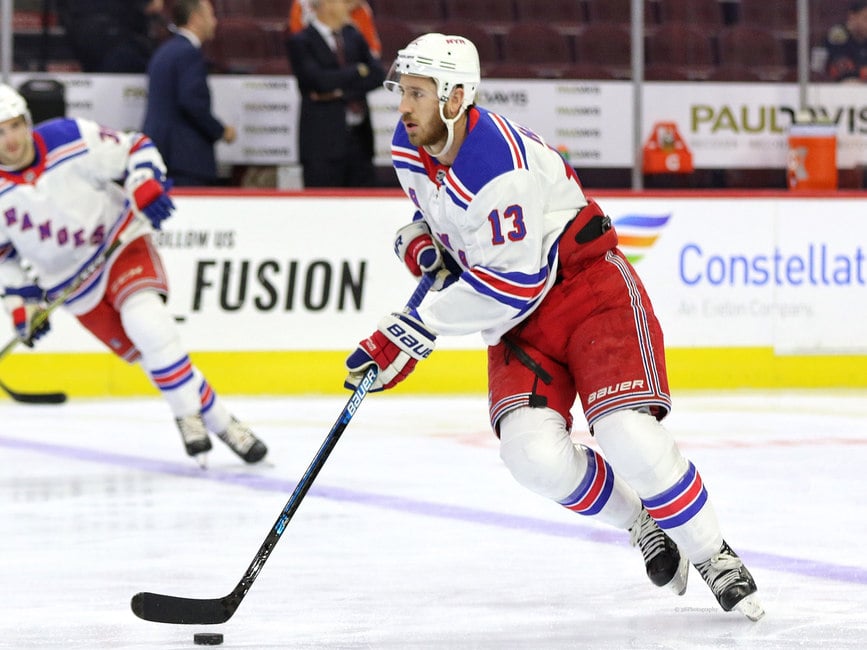 There's been plenty of speculation that this skill-heavy group lacks the grit Quinn desires in his teams. What's likely more significant, however, is that the roster just doesn't contain much in the way of high-ceiling personnel.
Quinn has run through numerous combinations of forward lines and defensive pairs in just seven games. That's normal for a new coach. At some point, though, he might conclude that perfect combinations simply don't exist with these Blueshirts.
Impressive Pionk & Howden the Exceptions so Far
Watching right-side defenseman Neal Pionk's assertive, confident performance in Wednesday's 4-3 overtime loss to the Washington Capitals, and 20-year-old center Brett Howden's effectiveness playing in any situation and with any linemates through the first seven matches, suggests they're potential parts of a future core. Beyond those two? Not so much, at least at this point.
Buchnevich's poor effort level and unwillingness to embrace Quinn's attempt to switch him to left wing from the right have succeeded in exonerating former coach Alain Vigneault as the reason for the third-year player's struggles. He'll need to show considerably more this season to justify the Rangers' selection of him in the third round in 2013. Filip Chytil, the talented forward who made the club out of training camp for the second straight season, might be in for a full repeat of 2017-18, when it became obvious he wasn't ready for the NHL and was quickly sent to the minors.
Ditto for Tony DeAngelo, Vlad Namestnikov, Ryan Spooner, Vinni Lettieri and others who haven't impressed Quinn enough to avoid benchings/demotions in the early going. Jimmy Vesey has three goals in the first seven games, but Quinn is still trying to impress upon him the importance of keeping things simple.
Perhaps the biggest issue, though, was again brought into focus during the three-game run of last Saturday's 2-1 loss to the Edmonton Oilers, a 3-2 shootout win over the Colorado Avalanche and the defeat to the Capitals. That being — will the Rangers somehow gain Quinn access to the kind of elite talent that has eluded them for so long?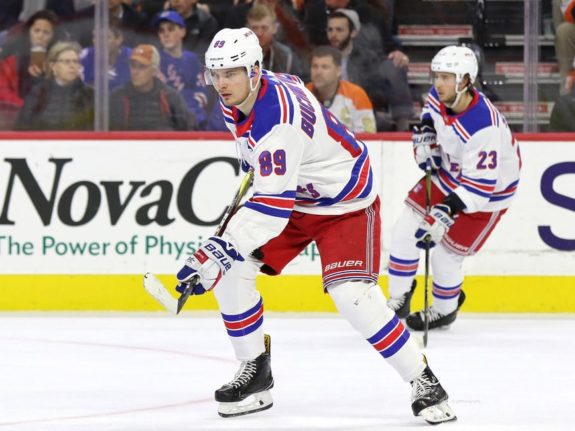 Edmonton's Connor McDavid (goal and assist against the Rangers), Colorado's Nathan MacKinnon (goal) and Washington's Alex Ovechkin (two goals) were selected first overall in their respective drafts, and provided the Blueshirts with a stark reminder of the importance of superstars in the NHL — not to mention how difficult they are to obtain.
This Rangers team, though hardly a Stanley Cup contender, doesn't look like worst-overall record material, and thus a top-three overall selection in the 2019 draft seems improbable. With Quinn demanding (and mostly getting) full effort on a nightly basis, would his team even have the potential to sink that deep in the standings?
The Rangers have added young assets through their February teardown, picking up players such as Howden, along with a draft-pick haul that gave them 10 total in 2018. The restocking of the system was handled well, but although the talent infusion is impressive, it's by and large not considered elite. An exception might be the ninth overall selection in the past draft, winger Vitali Kravtsov, a pick for which the Rangers were criticized by some but who represents the kind of high-risk, high-reward selection that the club needed to make at that spot in an ambitious shot at a potential elite offensive player.
Another might be Libor Hajek, who came in the Ryan McDonagh trade with the Tampa Bay Lightning in February and is seen as a possible top-pair defenseman.
Patience the Priority, but Free Agency May Beckon
The Blueshirts will surely sell off more veterans to contenders at this season's deadline in Hayes, Mats Zuccarello, Adam McQuaid and perhaps others, but more low first- or second-round picks will be the best the Rangers can hope for in those transactions.
Because, while Quinn's top priority is patiently developing youngsters, most of whom are still playing in the minors, college or the KHL, the organization unquestionably has at least a vague timeline for a return to contention in mind. Perhaps that involves the acquisition of a top scoring talent in the Columbus Blue Jackets' Artemi Panarin, who's been linked to the Rangers and can become an unrestricted free agent next summer, and the time then being right to spend big on more top free agents in the summer of 2022. That's when the contracts of Henrik Lundqvist, Marc Staal, Kevin Shattenkirk and Brendan Smith will expire (if none of them are bought out first), netting the Rangers more than $25 million in salary cap space.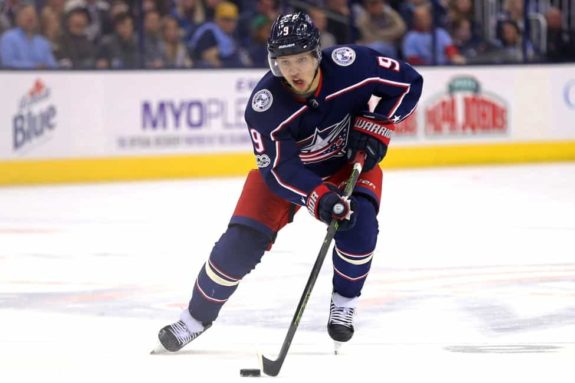 A young core of talent would certainly increase the Blueshirts' appeal as a destination for free agents four summers from now. Delivering that is Quinn's job, but he'll need the right raw material to forge one. It's too early to tell whether that already exists within the organization through its rebuilding work so far, or if significantly more needs to be done.
Finding out will unquestionably lead to churn on the NHL roster. Quinn's apparent comfort level with building his team the right way guarantees that happens sooner rather than later.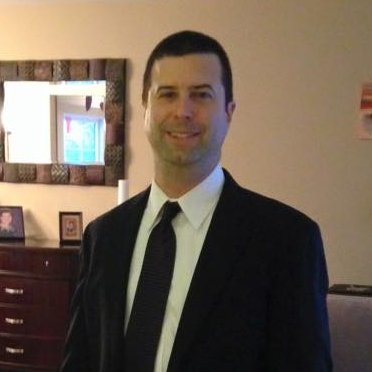 I'm a resident of the Chicago area by way of White Plains, NY. I worked for the Associated Press sports department in New York City for 10 years before moving to the Midwest in 2005, when the AP's then-internet division entered into a joint venture with STATS LLC. I worked for STATS for 11 years, until 2016. I'm very excited to be a part of The Hockey Writers.