The Chicago Blackhawks have played in five games so far in this young season, and all five contests have gone to overtime. Yes, you are correct if you're thinking that's an NHL record. But I'm pretty sure the Hawks don't care about that. What they do care about is winning. The team came charging out of the gate in their first week of action, securing five of a possible six points. This past week they picked up right where they left off, acquiring three more of a possible four points. And it was an added bonus that they did it against division foes. Let's get to our weekly analysis.
Blackhawks' Week 2 Matchups
@ Minnesota Wild, Thurs. 10/11, Loss 4-3 (OT)
Vs. St. Louis Blues, Sat. 10/13, Win 4-3 (OT)
First Line Rolling
The Blackhawks top line is certainly getting it done so far. Of the 22 goals scored by the team in the first five games, 12 of them have come from this trio. They're developing quite the chemistry with each other.
Jonathan Toews has notched five goals and four assists for nine points. His highlight of the week comes from one of his helpers rather than a goal. Remember when the captain used to get overpowered and knocked off the puck a bunch last season? Well that didn't happen on this play.
After a strong outing and two lovely primary assists in the first week, Dominik Kahun was finally rewarded with his first NHL goal on Thursday in Minnesota. He now boasts one goal and three assists on the season.
But the star of the week, and the season so far, is the young man Chicago affectionately calls "The Cat". Alex DeBrincat scored the first goal of the game and the first power play goal of the season in a three-point outing in Minnesota. In Chicago on Saturday, he came up clutch with the game-tying goal to send it to overtime, and then the overtime winner.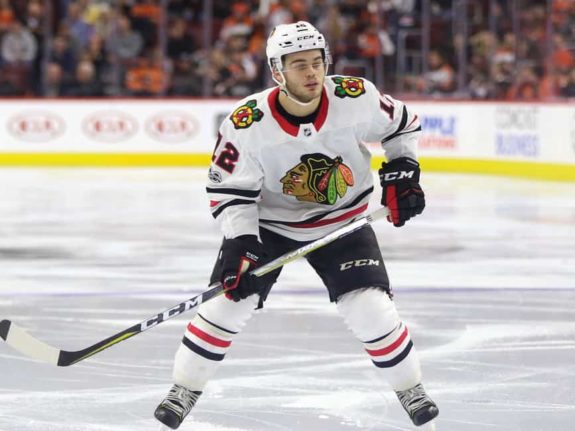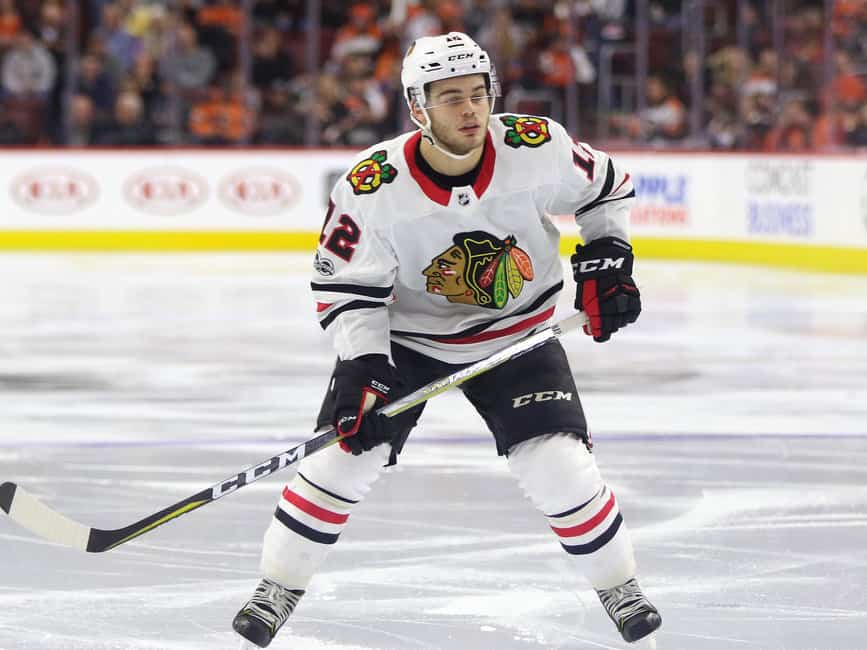 By the way, DeBrincat also tallied the first Blackhawks' goal of the season. Is there anything this kid can't do?! He's a playmaker for sure. Over the span of the first five games, he's recorded six goals (the team high) and three assists, tying Toews for the team lead of nine points.
What's Up with Saad?
Brandon Saad was part of the infamous 2017 trade where Artemi Panarin went to the Columbus Blue Jackets and Saad was brought back to the Blackhawks' fold. The idea was to reunite Toews with the partner he had so much success with in the glory years of 2013 to 2015.  But last season didn't exactly work out as planned. Both Saad and Toews had sub-par seasons at best.
This year Saad was placed on the second line with Nick Schmaltz and Patrick Kane in hopes that a change of scenery would jump-start him and his linemates. That hasn't exactly worked out either. Saad spent the first four games with these skilled players, yet only managed one assist.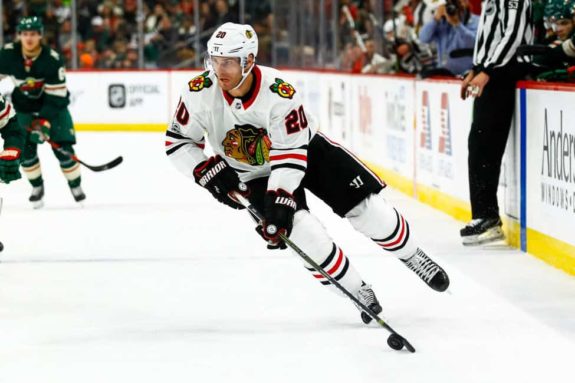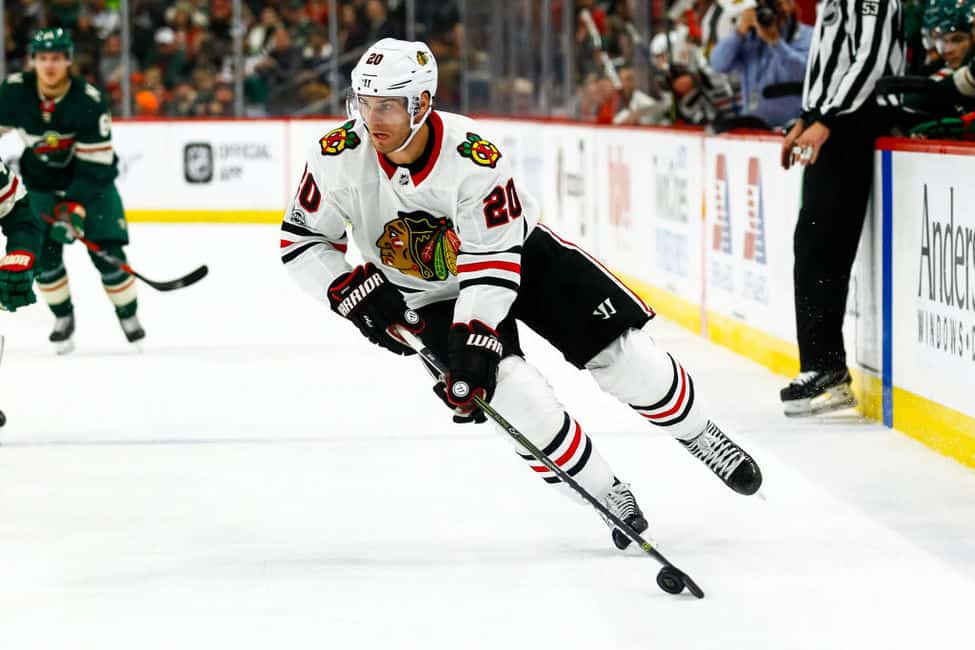 The 25-year-old winger was demoted to the fourth line during practice this past Friday, and surprisingly didn't participate in the optional skate Saturday morning before their game. Saturday's contest didn't do much to help Saad's cause. He recorded an assist on Artem Anisimov's goal, but also played the second lowest ice time on the team (John Hayden had the least) and wasn't deployed at all in overtime as he usually is.
When asked about it after the game, this was Coach Q's response. "Decisions are made based on performance over the course of the game, and that's what we elected to do." (from 'Lighting a fire under Brandon Saad proving to be difficult for Joel Quenneville', The Athletic – 10/13/18)
Saad appears to be in the doghouse big time.
Fortunate Fortin
We here at The Hockey Writers love to make predictions, and in our most recent roundtable article we took a gander at who would be the first player to get called up from the Rockford IceHogs. Well, we were all wrong.
When Andreas Martinsen encountered some back trouble, Alexandre Fortin became the first to be summoned from Rockford. The Hawks started the season under the salary cap and with only 13 forwards on their roster, so Fortin was called up without any other accompanying moves.
Many thought Fortin was just a safety net as an extra forward for the trip to Minnesota, and would therefore be a healthy scratch. But instead Coach Q sat Luke Johnson and gave Fortin his place on the third line. In his first NHL shift, Fortin had two shot attempts and one takeaway. He played less than nine minutes, and finished the night a minus -2, but he impressed Quenneville enough to move up in the lineup.
That's right. Saad's misfortune became Fortin's fortune, as he took Saad's place on the second line on Saturday. Fortin took full advantage of his opportunity. He finished the night with 14:53 minutes of ice time, four shots on goal, one takeaway, and even won two out of three faceoffs. According to John Dietz of the Daily Herald, two of his four shots came awfully close to being goals. It appears that Fortin has earned himself a longer look in the lineup.
Keith Hits 1,000
You're not a hockey fan if you don't know the name Duncan Keith. This Blackhawks' defenseman has been in the league for 14 years. He's the recipient of the Conn Smythe Trophy, two Norris Trophy's, and three Stanley Cups. He's respected as one of the best and most resilient defensemen in the league. Keep and eye out for my colleague Greg's piece about Keith coming soon!
This past Saturday, the Blackhawks honored Keith for playing in his 1,000th career game. The organization did it up right with this beautiful video tribute. Longtime teammates Brent Seabrook, Toews, Kane, and even ex-teammate Patrick Sharp were involved in the festivities, all with Keith's family and his five-year-old son, Colton.
Special guest Patrick Sharp is on hand to present Duncs with his silver stick! #DK1K pic.twitter.com/W38asodrkm

— Chicago Blackhawks (@NHLBlackhawks) October 14, 2018
 Wonderful Wardo
All right, all right, all right. Humor me with the catchy heading. I'm not saying Cam Ward is the be-all-end-all answer in net for the Blackhawks, because he isn't. His lack of consistency frustrated us all in the first three games. But you have to admit he's looked solid these last two tilts.
Ward made 42 saves and posted a .913 save percentage in Minnesota. Against St. Louis, he recorded 35 saves with a .921 save percentage. Now that's a lot of saves! And let's bear in mind that the defense in front of him isn't exactly stellar. Although they're looking slightly better as we go along, the blue line is still allowing way too many high-quality chances.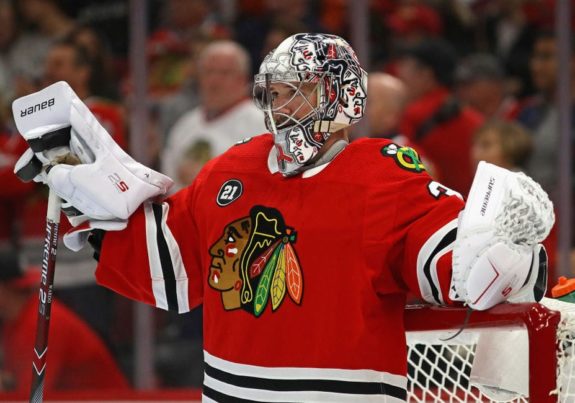 Ward is finding his rhythm and giving the Hawks a chance to win games. I'm liking this guy more and more.
Other Blackhawks Tidbits
We mentioned above that 12 of the Hawks' 22 goals have come from the top line. Well, that slacker Patrick Kane accounts for another five of them. This ties him with Toews in goals. His added three assists makes him third on the team in points, with eight.
The remaining five goals have been scored by Marcus Kruger, John Hayden, Anisimov, and defensemen Seabrook and Brandon Manning.
The same night that Keith celebrated his 1000th game, Seabrook played in his 1009th game, which surpassed Bob Murray in Blackhawks' franchise history.
As they did last season, the Hawks continue to struggle on the power play. They didn't score on the man advantage until their fourteenth try. Of 18 power plays, the Hawks have only capitalized on two of them. This is an aspect of their game that must improve.
---
The Blackhawks currently stand at 3-0-2, good for eight of a possible ten points. For a team that wasn't supposed to be good this season, they're finding ways to win. Can they keep it up? We'll have to wait until Thursday to find out, when the Hawks face the Arizona Coyotes at the United Center. They travel to Columbus to take on the Blue Jackets Saturday, and then host the Tampa Bay Lightning Sunday. I wonder if any of these games will go to overtime?
Gail Kauchak has covered the Chicago Blackhawks as a content writer since 2014. She previously wrote for Fansided's Blackhawk Up, and has been part of The Hockey Writer's team since 2017. It's not always easy to balance life's responsibility's with one's passion, but Gail's doing her best to make it happen. Quote to live by, "Follow your dreams, and good things will happen." Wait, maybe it's "Good things happen when you shoot the puck!" You get the idea.
Follow Gail for her unique commentary about this storied franchise. And be sure to catch her and the rest of the Blackhawks' crew on their weekly Blackhawks Banter show, as well as follow her on Twitter.