Earlier this month, Northwestern University Press published The Breakaway: The Inside Story of the Wirtz Family Business and the Chicago Blackhawks. Bryan Smith, a senior writer at Chicago Magazine, does a great job telling the story of not only Rocky Wirtz taking over the Blackhawks and turning them into a championship franchise, but also giving us an in-depth history of the powerful Chicago family. From the days of Arthur's blue-collar upbringing in Rogers Park to the Blackhawks winning three Stanley Cups in six years, Smith covers it all.
The Breakaway Pulls No Punches
The process of putting together this story began when Smith did a piece on Rocky and the Blackhawks back in 2008. This was before the Blackhawks became the powerhouse a new generation of fans learned to love. Smith had approached Wirtz after each of the team's three championship seasons to write a book about his rise to glory, but the project did not come together until this year.
"So, Bryan was going to write something anyway," Wirtz told me over the phone. "He's from Chicago and I had this relationship with him from before when he wrote the article. I said 'there are two caveats; one, any proceeds have to go to the Blackhawks Foundation, and it can't be a puff piece because no one needs to pat the owner on his back and quite frankly, no one really gives a darn.' I said 'if you are going to tell the story you going to have to tell the whole story. We have to go back to trace the family and talk about my grandfather and how he got into sports and why we got into sports, the real estate side and just kind of the long history because we now have four generations in the business.' It was important to do that."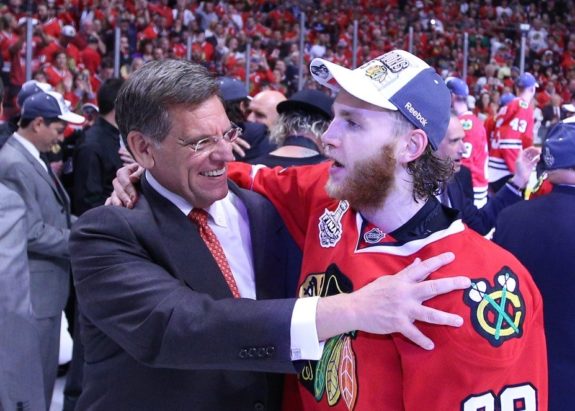 This book is certainly not a "puff piece." It includes some brutal honesty and a good deal of insight; not only into who Rocky is but also his grandfather Arthur and father Bill. One of the most heartbreaking chapters in the book recalled Rocky's first day in the team offices after taking over in 2007. The office was half-full, the phones were going unanswered and they did not even have a supply closet to keep the bare necessities like notepads and pens. Wirtz admitted to himself at that moment that "this is a real mess," and he knew he had a lot of work ahead of him.
It was at this time when Wirtz reached out to Chicago Bulls and White Sox owner Jerry Reinsdorf for some advice. Reinsdorf told him that he needed to hire a full-time president in order to make the day-to-day operations run at an optimal level. Wirtz then got the idea to make a phone call to a successful team president in town.
Rocky Makes the Best Selling Job of his Life
After surveying the situation and taking Reinsdorf's advice, Wirtz reached out to Chicago Cubs President John McDonough and was able to convince him to take the same role with the Blackhawks.
"He was pivotal (to the rebuild); it couldn't have been done without him," Wirtz said. "He's a wonderful businessman who happens to be a sportsman. I think that convincing John to come over, if you think about it, here's the President of the Chicago Cubs, America's darling team, and at that time to come over to the Hawks was a big leap of faith.
"I kid with John today. I tell him I could sell and I did my best selling job ever to have you come over to the Hawks."
Wirtz revealed that McDonough used to have some of his friends bust his chops over his move. They used to joke that he was day drinking when he agreed to leave the Cubs and join the failing Blackhawks. Nobody makes those jokes any more as the results speak for themselves.
"Let's start at the top now," Blackhawks legend Tony Esposito, who wrote The Breakaway's heartfelt forward, told me during a delightful phone interview. "It was Rocky Wirtz who made this transition. I feel it is very important that he gets the credit for it. He brought in John McDonough and all the pieces were put together."
While hiring McDonough seemed like a no-brainer, it was not the easiest decision Wirtz made after taking over for his late father; putting the home games back on television was. I asked Wirtz what the hardest decision he had to make those first few months as the big boss and he told me that it was getting his arms around the business as well as parting ways with those who did not have their hearts into the transition.
"Thinking there were a lot of people in the Blackhawks organization who were working there at the time that weren't going to make the cut because they just didn't have the fire in their belly, for whatever reason, to roll up their sleeves and get to work," Wirtz said." I think we had about a 90% turnover in personnel in the front office, if not more."
Two Sides to Bill Wirtz
"Dollar" Bill Wirtz is far from a beloved figure in Chicago sports history. Under his leadership, the Blackhawks went from one of the flagship teams of the National Hockey League to one of the biggest laughingstocks in the world of sports. The Breakaway opens with Rocky and Peter Wirtz listening to the United Center crowd boo their father during his memorial ceremony just days after his death.
Both Rocky and Esposito were quick to point out that Bill had a side that the general public did not get to see.
"He would talk to someone sweeping up the floor with great adulation, the same way he would talk to the president of a company," Wirtz reminisced of his late father. "He had that great range to him. His public image was much worse, but personally, he was very captivating, he told stories and was friendly. So, people who knew him personally were surprised by what they read and what his public image was versus what he was like one-on-one."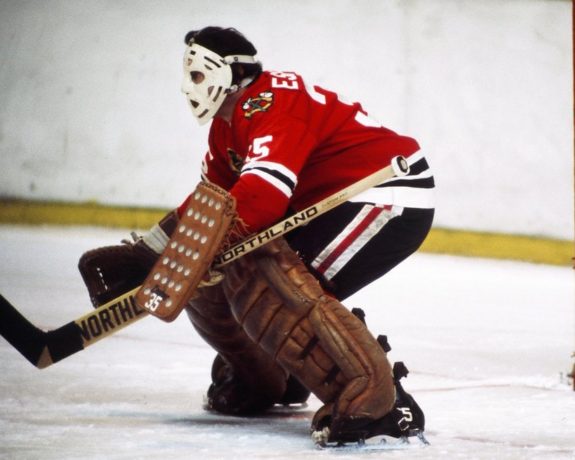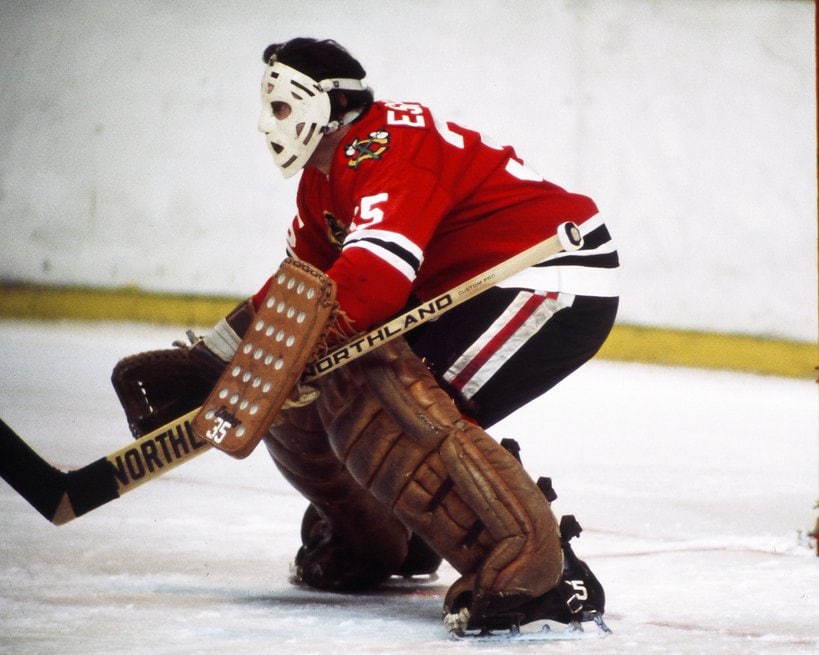 Esposito was quick to share a story about being on Wirtz's yacht up near their summer home in Door County, WI. The fog started rolling in and the captain suggested that they head back to the dock, but Wirtz insisted that everything would be just fine.
"We were coming into the bay and I was on the front of the boat with a big spotlight, trying to find the buoy to get us in," he recalled. "We were having a fun time with it and I still remember that as a fond memory because we were with our wives having a great time. He was a lot of fun."
A Simple Goal Will Lead to Success
Many expected Rocky's brother Peter to take over the team after Bill's death, but that was not how it played out. This caused many Blackhawks fans to fret because Peter had been part of the day-to-day operations of the hockey team while Rocky had been a part of other aspects in the family business. Much to his dismay, there were those working for the team that felt the Blackhawks were more of a hobby for the family.
"This is a business and we are going to run it like a business," he recalled thinking in his first few days as CEO. "It is not a hobby, because hobbies are something you lose money on and we are going to figure out a way to turn this thing around."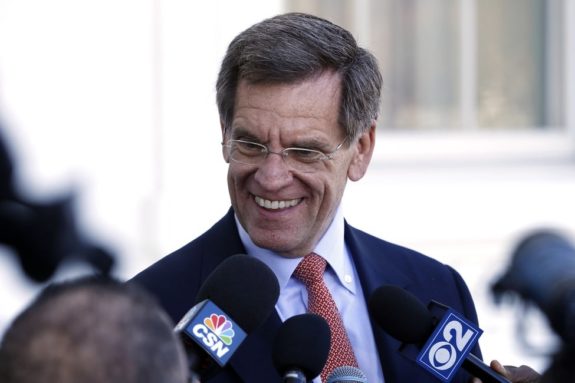 A simple philosophy would go on to pay huge dividends and restore the Blackhawks to glory.
"Something as simple as stating what your goal is, that was to win the Stanley Cup," he said. "I grew up, like anyone else, as a fan, but I never heard anyone say that our goal was to win the Cup. From day one, if you put that out there, you have to make sure that everyone signs on to that too. If they don't want to sign on to that, then there is something else they can do business-wise, they don't have to work for the Hawks."
Esposito has the distinction of working for three generations of Wirtz men; Arthur, Bill and now Rocky. He says Rocky is the perfect combination of his grandfather and father. The Hall of Fame goaltender says the current Blackhawks boss has the intelligence of Arthur as well as the personality and stamina of Bill; both of which has led to his success.
Blackhawks' Off-Ice Success Means as Much as Success on It
Since Rocky took over the helm, the Blackhawks have gone the extra mile to give back to the community. The fact that all the proceeds of The Breakaway are going to the Chicago Blackhawks Foundation shows his commitment to charity.
The MB Ice Arena is another integral part of the Blackhawks' "360 approach" to being members of the community. Not only does it serve as the team's practice facility, but it is also being used as a community center that is teaching important life lessons such as fitness and nutrition through the game of hockey. I could hear the smile on Rocky's face through the phone as he boasted about the programs the team runs at their state-of-the-art facility.
"We've worked with the public schools in Chicago, but how can we introduce people not only to the great game of hockey but how do you introduce them to nutrition? And what is fitness? Nutrition is not just having a bowl of cereal in the morning," Wirtz explained. "I know it is difficult for many families because they do not have the economic means, but also many of them don't have the understanding of what it is and certainly the children don't."
Since the MB Ice Arena opened late last year, over 7,000 students have taken part in their programs. The kids are bussed down to the rink where they spend 40 minutes on the ice then head to the classroom for a fun-filled afternoon of games aimed at educating them on the benefits of fitness, nutrition, math and science.
This past Saturday, @MBIceArena celebrated the IIHF World Girls' Hockey Weekend! Girls from all over Chicagoland were able to try hockey for free, tour the #Blackhawks locker room and training facilities, and stay for a Blackhawks vs. Blues watch party! #WGIHW pic.twitter.com/uya6dpIqp0

— Fifth Third Arena (@fifththirdarena) October 10, 2018
When I first opened my copy of The Breakaway, I really expected to read a sugarcoated account of the Wirtz family. However, I was pleasantly surprised by the honest assessment and the in-depth look into the Wirtz family history it provided. I was barely able to scratch the surface of all the topics the book covered in my conversations with Wirtz and Esposito. I do recommend that all Blackhawks fans get around to reading the book; no matter what your opinion is on the Wirtz family, you will enjoy the perspective Smith gives. All proceeds from the book sales will benefit The Blackhawks Foundation, including autographed copies of the book, which can be purchased here.