The Chicago Blackhawks currently find themselves in a unique situation. After needing six games to knock off the Nashville Predators in round one, the 'Hawks have taken the first three games of their second round matchup with the Minnesota Wild. Barring a miracle, the Blackhawks will finish off the Wild at some point and advance to the Western Conference Final, but in my opinion it is paramount that they do it tonight.
There is historical precedence for teams that keep one of their first two series short going on to do big things in the rest of the playoffs. In 2010, the Blackhawks beat a Flyers team in the Stanley Cup Final that they had played fewer games than. By sweeping San Jose in the Western Conference Final, they got a couple extra days of rest that certainly didn't hurt them against the Flyers.
In 2012, Los Angeles needed just 14 games to earn their way to the Stanley Cup Final, where they topped a New Jersey team that needed 18 games to earn their slot. The biggest exception to this was last season, when the Los Angeles Kings miraculously advanced to the Final after each of their first three series went seven games. They faced a New York Rangers team that was coming off a five game conference final against Montreal, and promptly dispatched them in five games anyway.
Even then, many wondered whether that fatigue would catch up to them, even as the run was happening.
Take a Break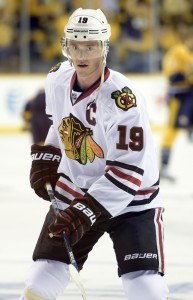 The NHL season is a grind. It's not easy to play 82 games, then go on to play a long and grueling postseason every year. Over time, it begins to add up. The Blackhawks won the Cup in June of 2013. While they did that, the Anaheim Ducks rested up after a first round loss. The Calgary Flames had a long offseason after missing the playoffs. Then last season, the Ducks again had a couple extra weeks of offseason recuperation than Chicago did. Again, the Flames had been on the golf course since April.
Why does this matter? Because fatigue matters. Maybe it seems like it shouldn't matter, but it really isn't easy to play as much competitive hockey as teams who have been consistent contenders such as the Blackhawks, Bruins, and Kings have been over the past few years. Think it's a coincidence that after years and years of consistent deep postseasons, the Kings and Bruins both missed the playoffs this year despite minimal downgrades in terms of roster quality? In many ways, sure, those two simply weren't good enough to contend this year, but you're kidding yourself if you don't think fatigue played at least somewhat of a role in their demises.
All this to say, that rest and time off are important things for NHL teams in the midst of a playoff run. If the Blackhawks win tonight, they'll be done with the second round. They'll play the winner of the series between Calgary and Anaheim. The earliest that series could possibly be resolved is on Sunday night, when game 5 is scheduled to be played. It seems reasonably likely that Calgary will force a game 6, which would mean the series would end Tuesday night. If the series goes the distance, it won't end until Thursday May 14th.
That's a lot of possibilities, but a Blackhawks win tonight guarantees that they will have at least three days of extra rest on their next opponent with possibilities remaining for up to five or even seven days of extra time off in the bank. Because of this, it is crucial that Chicago emerges victorious tonight. It will not be easy though. It's long been a cliche that the fourth win of a series is the toughest to get, and it's true. Just ask Capitals head coach Barry Trotz:
Barry Trotz says fourth is hardest to win. 'Who knows?' he said. 'It could go seven.' #CapitalsTalk

— Chuck Gormley (@CharlesAGormley) May 7, 2015
All the pressure is on Chicago tonight; Minnesota has nothing to lose at this point. A Wild win extends the series and plants the seed of doubt in the back of Chicago's heads. The Blackhawks are playing a dangerous game if they fall short tonight. With every advantage a team can get in the NHL playoffs being paramount, this is one that they can't let slip away. It's very much a "hurry up and wait" mentality, but the Blackhawks would gain a huge big picture benefit by emptying the tank tonight and going all out for a win while Calgary and Anaheim fight tooth and nail for the right to face them.