With more than a quarter of the season in the books, it's a good time to take a look at the performance of Chicago players at an individual level. Some evidence that I look at will be statistical and some will be pure opinion. You might disagree, but that doesn't justify fighting or rustled jimmies.
Grading Scales
Toews, Kane, Hossa, Sharp, Keith, Seabrook, and Crawford will be graded on the "star scale." All other players will be judged on the "non-star scale." The necessity for two different scales manifests itself in the simple difference in what is expected from a star versus a supporting piece. A general template:
Star scale/non-star scale
A: Has met (high) expectations/Has exceeded expectations.
B: Has come close to meeting expectations/Has slightly exceeded expectations.
C: Has not played to the ideal level but has still contributed well/Has met expectations.
D: Has played at a level clearly below where he should/Has fallen definitively short of what was expected.
F: Has been terrible/Has been terrible.
The following analysis will focus on the "non-stars," and thus will only use the scale on the right half of the above backslashes.
*Note*: Player must have played in at least 5 games to be graded.
Forwards
Bryan Bickell
Stat line (GP/G/A/P): 22/5/1/6
Signing him to a big contract shortly after parading the Stanley Cup in the TD Garden, the Blackhawks were evidently expecting Bickell to at least somewhat transfer his playoff emergence to the following regular season. This hasn't happened. Bickell has returned to being the streaky player he always was prior to the 2013 postseason. He was effectively gifted a spot on the first line with Toews and Kane to begin the season, but played his way off of it rather quickly; indeed, Bickell's first goal didn't come until after he was moved away from those two. At 14.3%, he's shooting well above his career average, so the "bad luck" explanation falls flat as well. Bickell is what he is – a solid third line player who turns his game up come playoff time. There's nothing wrong with that, but a $4 million yearly cap hit comes with a presumption of more significant contributions than he has made thus far.
Final Verdict: D
Brandon Bollig
Stat line (GP/G/A/P): 24/2/3/5
I've given up trying to get a read on Bollig. For the vast majority of his NHL career, I couldn't stand him – the guy could hardly skate and added absolutely nothing tangibly positive to the Blackhawks roster. But there seemed to be a change for the better in his game in the early part of the year. He was cycling the puck well, being a consistent but (more importantly) responsible physical presence, and even chipping in a bit of offense. However, as soon as I started lauding him and saying "hey, he's competent," well… um, he stopped being competent. Bollig has played dreadful hockey for the past few weeks. He tends to take his shifts against weak competition, so his low on-ice Corsi (see footnotes for definition) is damning, especially in light of the fact that he does not kill penalties or do anything particularly important whatsoever. Nevertheless, Bollig's grade is saved by virtue of nobody really expecting much from him to begin with.
Final Verdict: C
Note: I'll be referring to him as "Ole' Useful" from now on. I'm so witty.
Michal Handzus
Stat line (GP/G/A/P): 9/1/2/3
He's been out with a upper-body injury since October 24th but had been playing awful prior to getting hurt. Perhaps Handzus' good playoff performance in 2013 was simply lightning in a bottle, or – more likely – his true level of ability is somewhere between what he showed in last year's postseason and in the 9 games this season. Nonetheless, we do not do business in hypotheticals in my evil grading world. Mr. Handzus' parents will be receiving a letter in the mail requesting they meet with Professor Quenneville to discuss their son's troubling school performance.
Note: He'll be back in the lineup this week. We'll see if the time away from the rink served him well.
#Blackhawks officially activate forward Michal Handzus from Injured Reserve.

— Chris Kuc (@ChrisKuc) November 23, 2013

And so you don't think I hate Handzus (I don't!!!), it's time for a blast from the past.
ALL THESE FEELS. THEY ARE SO GOOD.
Final Verdict: F
Marcus Kruger
Stat line (GP/G/A/P): 24/3/7/10
Kruger will never be an offensive center, but he still plays an important role on the Hawks. He's the team's best penalty killer (although the Blackhawks' PK is horrendous) and one of its smarter defensive players. Kruger also helps cover up for Ole' Useful's defensive deficiencies on the fourth line, which is an important role in and of itself since Quenneville refuses to remove Ole' Useful from the lineup. Ever. Is it a "I have embarrassing photos of you from that crazy summer rave in Cuzco" type of scenario? Probably. Man, I could write entire books about Ole' Useful and Quenneville's bubbly relationship. Sorry, this is supposed to be about Kruger. His advanced stats aren't great, but that's not such a big deal when you have production like he's put forth this season (10 points in 24 games from the fourth line, no PP time).
Final Verdict: B+
Note: Does anyone else imagine Kruger just yelling his name repeatedly whenever he scores? Like a Pokemon or something.
Sorry. Have a highlight, on me.

Jeremy Morin
Stat line (GP/G/A/P): 8/0/2/2
So, uh, Morin's my guy, and as you might guess, I'm not too fond of Quenneville's icetime distribution lately.
Let's be real here: Morin's playing only 8 minutes a game. He's a scorer playing with fourth line talent. So it's no surprise to see that his goal and assist numbers don't jump out at you like P. Kane at the slightest hint of nearby beer. His Corsi numbers are the best on the team by a mile, which I admit doesn't really make any sense so we'll chalk it up to a tiny sample size. But the eye test is enough here. He has played well and looked quite good in the time that he does get.
Final Verdict: B-
Joakim Nordstrom
Stat line (GP/G/A/P): 8/1/0/1
Remember this guy? I don't either.
Kidding. Although to be honest, he was pretty unnoticeable in his 8 games (all of which came early in the year). He made the team as a PK specialist, with Hawks fans hoping that he would at least somewhat replace Frolik's presence there from last season. Didn't happen. Back to the AHL for you, Joakim Noah – er, Nordstrom.
Final Verdict: Does anyone particularly care?
In a random digression, did anyone else have the bizarre reaction "Yes!!! It's just a meniscus tear!" once Derrick Rose's MRI results came out on Saturday? The things we Chicago basketball fans are reduced to. Back to hockey.
Brandon Pirri
Stat line (GP/G/A/P): 19/6/5/11
I just want to take a moment and say that BRANDON. PIRRI. IS. MY. GUY. Really, though. I've been championing him as the solution to Chicago's second-line center woes for the last 300,000 years (read: the last 10 months). 11 points in 19 games is legitimate production, especially when you consider that a chunk of those 19 games were spent playing with the likes of Ole' Useful. Now he's on a line with Saad and Kane and even Quenneville has admitted he's playing well – the same man who's developed a strange obsession with calling out rookies for having defensive deficiencies despite 1. Some of them actually don't (Morin), and 2. the fact that Quenneville's dressed a player who takes stupid penalties and is a much bigger defensive liability than every other rostered player for every game this season. Make me proud and tell me you know who I'm talking about.
Final Verdict: A-
Note: Check out this article on Pirri's rise.
Brandon Saad
Stat line (GP/G/A/P): 24/7/8/15
Probably my favorite player on the Hawks, and he's just given me more reason to love him this year. Saad has been great so far (even when the production wasn't there early on). A lot of fans think he's developing into a Hossa-lite.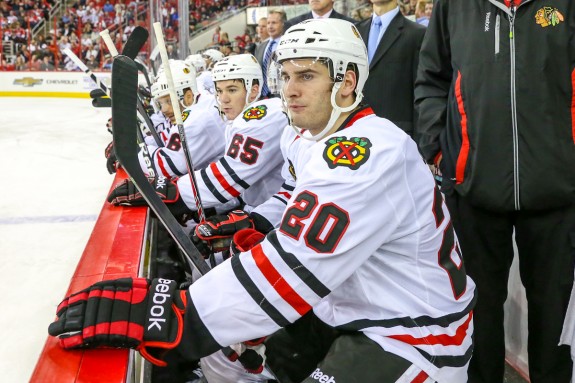 Time to share something from my life with you all.
So I'm hanging out around finals time last year (bored and irritated in Champaign as usual) and my (far-too-generous) parents email me asking which Blackhawks jersey I want to have so I can dress in style come playoff time. I thought about it for a while, not wanting to get a jersey of a guy who would soon be off the team (Frolik, Bolland, Stalberg) and concurrently embracing my inner hippie by not wanting to be too mainstream (avoid Toews, Kane, Hossa, Keith et al.). So I landed on Saad.
My two older brothers – sporting Kane and Hossa jerseys – made fun of me for it.
So naturally, since then, I celebrate every single one of Saad's successes as if it was my own.
Forget you, older brothers. I am better than you and I had a Saad jersey before it was cool.
I have no idea where I'm going with this topic anymore.
This was pretty.
SAAD IS TOTALLY MY GUY.
Final Verdict: B+
Andrew Shaw
Stat line (GP/G/A/P): 24/5/7/12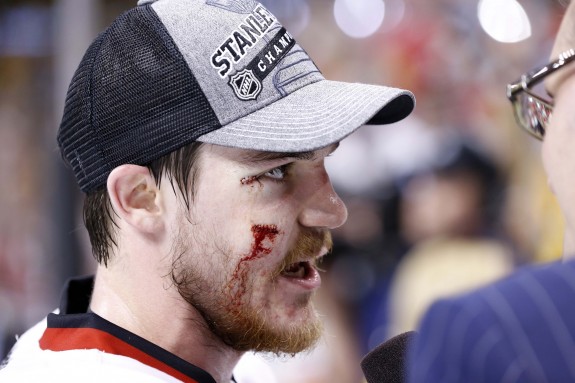 Impressive offensive numbers from Shaw when you consider he plays on the third line – although he does get powerplay time with the first unit, so that helps. Shaw has gotten better every season he's been in the league, with the trend continuing so far this year. He's essentially just a ball of energy on the third line and has really cut down on the bad penalties (although not completely). Here's an interesting stat that quantifies some of Shaw's importance to the Hawks as an agitator: He has drawn the most penalties of any Blackhawk this season by a mile, and averages about 2 more penalties drawn than penalties taken per 60 minutes of 5-on-5.
Shaw loves Bolland, loves shinpads, and the Hawks sound funny when they win overtime games.
Final Verdict: A
Ben Smith
Stat line (GP/G/A/P): 17/3/4/7
Ben Smith's a funny player – he'll actually put up some decent numbers (considering his minutes and linemates), but you won't really notice him doing it. A quietly effective player has a place on any roster. Smith doesn't make many mistakes defensively, and has been a nice fit at wing on the fourth line. Credit to Quenneville for not senselessly messing with him like he has Morin and Pirri.
And who can forget this?
I would say that Smith's my guy, but he's not, so I won't.
Final Verdict: B
Kris Versteeg
Stat line (GP/G/A/P): 5/1/3/4
There's not much to say here with so few games to draw from. Versteeg's been putting up nice numbers so far and has been adequate in spot duty in the top-6 when Hossa has been out of the lineup. Generally, you should be concerned about Versteeg if he's turning the puck over a lot (a nasty habit he had in his last stint with Chicago and – according to many Panthers fans – certainly still had down in Florida). Lots of turnovers indicate a player who isn't mentally engaged in the game or is trying to do too much (or both). Versteeg has only 1 giveaway in his 5 games, so it's been clear skies so far.
I'm in a highlight mood again. I expect reciprocation. Send me gifts.
Final Verdict: B-
Defensemen
Sheldon Brookbank
Stat line (GP/G/A/P): 15/1/1/2
Quenneville recently lost his mind and started playing Sheldon Brookbank at forward, and it'd obviously be silly and irrelevant to grade Brookbank for any games played at that position. Brookbank's advanced stats are essentially useless because of the position mixing, so we can't look at those either. It's the eye test or nothing. And the eye test reveals that Brookbank has been exactly what everyone thought he'd be: A boring, vanilla, passable #6 defenseman. Whole lot of "meh" here.
Final Verdict: C
Niklas Hjalmarsson
Stat line (GP/G/A/P): 24/2/8/10
Hjalmarsson is on pace to shatter his previous career high for points in a season (17) and has been tremendous this year. It has become an increasingly popular opinion among Blackhawks fans that Hjalmarsson is a better player than Brent Seabrook. I disagree, but he's not far from it. For all the talk about Keith and Seabrook being Chicago's shutdown pairing, it's Hjalmarsson and his defensive partner Johnny Oduya who face the toughest competition. Hjalmarsson's first pass has improved this season, and he's not impulsively icing the puck anywhere near as often as he used to.
I don't have highlights for you this time (I mean, it's Hjalmarsson), but I do have something.
Toftbo. Jokkmokk. Aspelund.
Final Verdict: A
Nick Leddy
Stat line (GP/G/A/P): 24/2/9/11
For two seasons in a row, I've maintained that Nick Leddy is the best offensive defenseman on Chicago's roster (point totals be damned). His ability to rush the puck up the ice is second to none. He skates like Scott Niedermayer in his prime, and I'm not exaggerating. His stride is stupidly beautiful to watch. Leddy's still a work in progress in his own zone and Quenneville still has to shelter his shifts a little bit by starting him in the offensive zone most of the time. Still, he's been gradually improving defensively. At any rate, his role is to create offense from the back end – it's Keith, Seabrook, Hjalmarsson, and Oduya who are relied on as shutdown guys. I'll take a near-0.5 point-per-game pace any day.
Final Verdict: B
Johnny Oduya
Stat line (GP/G/A/P): 24/1/6/7
As you might have noticed if you followed the link in Hjalmarsson's section, Oduya actually faces the highest competition of any defenseman on the team (defensemen who actually play, that is – I have no idea what happened in Mike Kostka's two games and why he was facing such high-quality opposition… was the coaching staff dead? Sleeping? Did Quenneville bring his special colored fun cards and everyone got distracted?). I'm getting tired here so I'm just going to be lazy and say that the advanced stats tell the story. Oduya's been solid.
Final Verdict: A-
Michal Roszival
Stat line (GP/G/A/P): 14/0/3/3
Roszival has been very disappointing and was actually benched against Vancouver on Saturday – a basically unprecedented move for Quenneville, who's usually just mean and grumpy towards rookies. Frankly, Roszival deserved the benching. He was putting up another stinker in a season full of them so far. With a 72.1 offensive zone start percentage, he is the most sheltered player on the Chicago roster aside from Jeremy "Quenneville Spits Fire At Me" Morin and Bryan "Why Exactly Am I Getting Sheltered Minutes" Bickell. Okay really, why is Bickell getting such a high percentage of O-zone starts? You mystify me, Joel.
Chicago goalies' save percentage when Roszival is on the ice is brutally low. It's hard to definitively prove that that's not just due to some bad luck of the draw… but he does face the weakest competition among defensemen on the team by a rather embarrassing margin, so I'm not inclined to give much benefit of the doubt here. I don't know. I like Roszival, but there's no denying he's been playing atrocious hockey.
Final Verdict: F
And that's everyone.
Finally.
Hope you enjoyed this one.
Keep an eye out for Part 2. I'll be grading the stars next time with more depth for each player.
Footnotes
On-ice Corsi: For an individual player, on-ice Corsi is an advanced metric that measures all shots directed towards the opponent's net while the player is on the ice versus all shots directed towards the player's team's net while he is on the ice. It is a proxy for puck possession and scoring chances. Yes, having a good Corsi is undeniably a good thing.
Some people scoff at advanced stats, sometimes because they're old-timers and sometimes because they're Leafs fans . But hey, Toronto's not doing badly this year, so who knows? Certainly helps to play in an almost-legendarily weak East. But that's a topic for another time.
Sean covers the Chicago Blackhawks for The Hockey Writers and Rant Sports. Follow him on Twitter: @seansarcu.