As the season started, the Chicago Blackhawks needed a 4th line centerman to fill out their lineup. The Captain, Jonathan Toews certainly held the top spot, Michal Handzus was expected to take another spot, and Andrew Shaw was working with GM Stan Bowman on a contract extension, which he now has, and is playing well. But who would take the 4th line center slot was the million dollar question through training camp and even through the first few weeks of the season. I'm not sure that anyone thought that Brandon Pirri would be the million dollar answer.
Coming into training camp, Brandon Saad was asked to move from his wing position to center. But that didn't pan out, and Saad remains on the wing, bouncing around the top 2-3 lines for now. Joakim Nordstrom started the season at center with the Hawks, but couldn't get much offense going (1G, 0A through 8 games) and has returned to Rockford for some more development.
Just this week, Michal Handzus has and has already missed 11 games due to an upper body injury. Handzus was put on Injured Reserve retroactive to October 25th, and the center position suddenly had some real cause for concern for Hawks fans.
Enter Brandon Pirri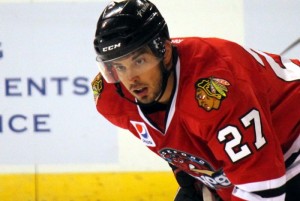 Pirri was selected by the Blackhawks 59th overall in the 2009 NHL Entry Draft, and had played just 7 NHL games before this season. Last season in Rockford, Pirri netted 22 goals and added 53 more assists. His 75 total points was best on the IceHogs team by 16 points. With the Presidents' Trophy wrapped up last year, Pirri got a chance to play in the Hawks' last regular season game, but didn't truly make an impact until 2013-14 was underway.
In the Hawks win over the San Jose Sharks 5-1 last night, Pirri scored once and assisted on Kris Versteeg's first goal in his return to Chicago. He now finds himself on a 4 game point streak, and has goals in 4 of his last 6 and at least 1 point in 5 of his last 6, dating back to the November 6th matchup with Winnipeg. Case closed. Pirri has certainly been a welcome addition to the Blackhawks roster. Right?
There's Always a "But…"
Despite his offensive boost, both Jonathan Toews and Coach Joel Quennville have been working with Pirri to develop his defensive skills. "It's big, but it's not one of my better games," Pirri said after his game-tying goal got the Hawks to overtime (and a shootout) against Phoenix on November 14th. "I think I have a lot of room to improve. It's back to work and try to put together a full 60. I think I've got room to improve defensively. Today was a step back for me. You know, we got the win, and that's what's important right now."
In that game against Phoenix, Coach Q also gave Pirri a tremendous vote of confidence. After Toews netted his shootout attempt, Patrick Sharp and Patrick Kane would miss on their attempts, and Pirri was the first Hawks shooter in the extra rounds. He drilled it and gave the Hawks the extra point on the night. "They know what I can do offensively. If I put together a solid game, 60 minutes in all three zones, that's what they want to see. Playing with talented guys, I've got to play good in all three zones and get them the puck."
Under the supervision of Coach Q and Captain Serious, Pirri should continue to develop and become a top 6 forward for the Hawks for years to come. "That's a work in progress," Quenneville said of Pirri's defense. "Offensively, he's got some ability. Obviously, he scored two big goals for us tonight. I just think it's a tough league. We're learning to play without the puck, particularly down low in our end. You get better and stronger and more aware."
To the Hawks' Top 6?
The Blackhawks are learning more and more that they selected a great player back in 2009. It's hard to say that Pirri will be a top 6 forward for a team that has Toews, Kane, Sharp, Saad and Shaw. AND Marian Hossa. AND Bryan Bickell. AND who just traded for Kris Versteeg. But to say that Pirri isn't a top 6 caliber forward would be a falsity.
Looking around the league, Pirri would most certainly be a top 6 guy on a number of teams. Columbus, Florida, Ottawa, New Jersey and Philadelphia come to mind as teams that need another center, and one that can score, at that. His 6 goals – 5 assists – 11 points line places him in the top 60 (59th, actually) in points amongst Centermen in the NHL.
On a deeper dive, I wanted to see where each team's highest scoring center fell in total points. Here's the results:
While I didn't break it down to show the top-line center for each team, the highest scoring centers for the Devils (7 points), Hurricanes (11) and Panthers (11) have as many or less points than Pirri – currently a 3rd or 4th line center for the Hawks. 3 other teams – the Flyers (12), Jets (12) and Oilers (13) are dangerously close to falling below this imaginary "Pirri line."
Don't get me wrong: I'm certainly not suggesting that Stan Bowman use Pirri as trade bait here. My point is to prove that already, through just 15 games, Brandon Pirri has been invaluable to the team on the offensive side of the puck.
On defense, there is still work to be done. In Pirri's big night against Phoenix, he had a Corsi rating of just a plus 1. By comparison, Hossa was a plus 18 Corsi for the night. For those who are unfamiliar, Corsi measures how many shots directed at net (whether on net, blocked or missed wide) while a player was on the ice at even strength, excluding empty net situations. A plus 1 is registered when your team attempts a shot, and a minus 1 when your opponent shoots. This isn't the only indicator of Pirri's work to be done in his own zone, but it does paint an interesting picture.
While his returns have been unexpected, Brandon Pirri knows his role on the Blackhawks. Muck it up, score a few goals, and play strong 2-way hockey. Soon enough, Pirri may find himself on the second line in Chicago, playing more with guys like Kane, Hossa and Sharp. None the less, on a roster that is arguably the deepest in the NHL, Brandon Pirri is making quite an impression.
Check out our partners at TiqIQ for the best deals on Chicago Blackhawks tickets for all 2013-14 games.
Doulas Cutler is a Lead Writer for The Hockey Writers covering the Chicago Blackhawks. Follow him on Twitter at @DougCutlerTHW. In addition, he also writes on The Blog of Brotherhood, dedicated to Miami RedHawks Hockey (www.blogofbrotherhood.com and @MiamiHockeyBlog). LET'S GO HAWKS!