A bad loss in Winnipeg, a sweep of Western Canada, and a dud in Chicago.
That's the San Jose Sharks week-long, five-game road trip in a nutshell; a road trip that started in the frigid cold of Canada and ended in the inclement storms in the Midwest.
One can say that the Sharks were in the midst of a mini-storm within their own team at the start of the road trip. Losers of four straight, this team was searching for answers and wondering why the puck wasn't bouncing their way.
But after a long week, the storm has passed thanks to a 3-1-1 road trip that keeps them very much in the battle for the top spot in the Pacific Division.
A Bad Loss in Winnipeg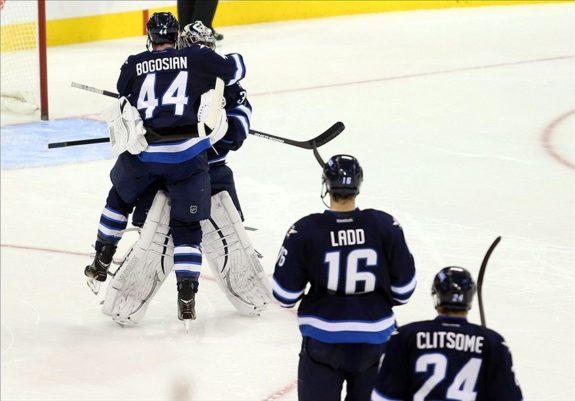 The Sharks probably hope that their 5-4 shootout loss to the Jets a week ago from Sunday was their low point of the season. San Jose led 2-0, 3-1, and 4-3 against an inferior opponent, yet squandered two third period goals and allowed the Jets to tie the game.
It somehow got worse. The Sharks appeared to have won the game in overtime on a Patrick Marleau goal off a rebound, but Tommy Wingels was whistled for goaltender interference on Onrej Pavelec, a questionable call at best.
The Sharks wound up falling the shootout and dropping their fifth straight game, as Pavelec, who generally does poorly in shootouts, did not allow a single goal.
Not the best way to begin a road trip.
The Western Canada Sweep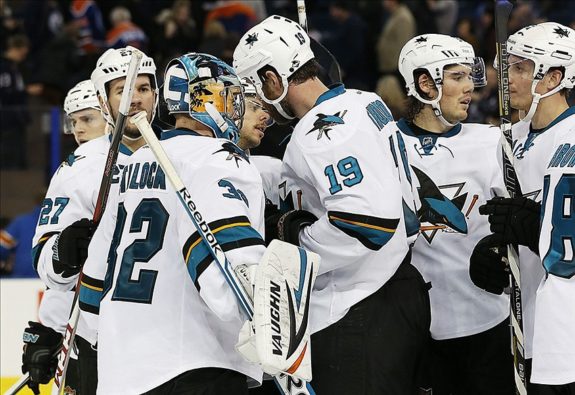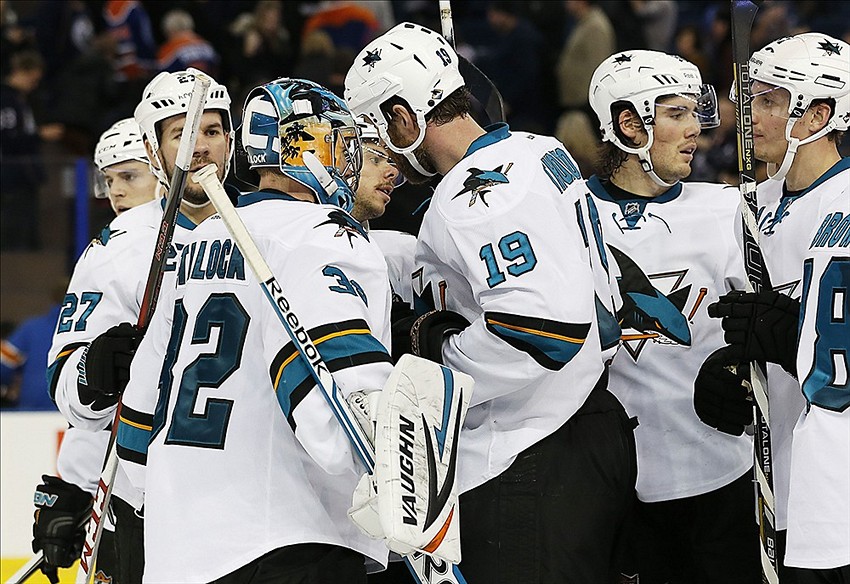 Rather surprisingly, the Sharks tallied off three consecutive victories, sweeping all three Western Canadian NHL teams in Calgary, Vancouver, and Edmonton. Even more surprisingly, they beat the Flames and Canucks in overtime, where they have struggled mightily this season.
Perhaps the hockey gods were on their side.
In Calgary, the game was won when Joe Thornton — who almost never shoots the puck — shot the puck, and Brad Stuart — a defenseman who almost never drives to the net — drove to the net. Stuart wound up tipping Thornton's slap shot past Reto Berra for the game-winner and a 3-2 victory.
Their good fortunes continued in Vancouver. The Sharks were outplayed the entire game except for the final minute, when a lucky bounce off Dan Boyle's stick gave Tomas Hertl a wide-open net to shoot at, tying the game and sending it to overtime. In the extra session, the Sharks were the beneficiaries of a questionable hooking penalty on Henrik Sedin, and Boyle cashed in with a game-winning goal.
Considering their recent stretch of games and their lengthy losing streak in which they received virtually no breaks, perhaps the Sharks did deserve to win a game that they had no business winning, as the Canucks were better than the Sharks in every major category.
"We weren't the better team tonight. We've been on the other end of that where we were the better team and found a way not to win it," head coach Todd McLellan told Kevin Kurz of CSN Bay Area after the game. "Tonight, we found a way to come back. … I don't know if there is a hockey god, but it evened out a little bit."
The Sharks finished off the sweep with a dominating 3-1 win over the Oilers, a team that has a lot more questions than answers as it goes through yet another year of rebuilding.
A Dud in Chicago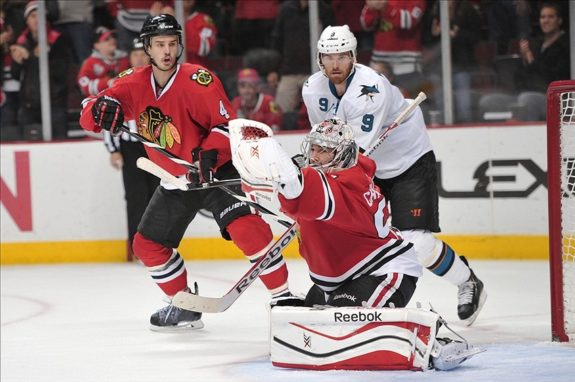 Players don't like to say it, and coaches don't want to use it as an excuse, but at the end of a long road trip, the Sharks were simply too tired and fatigued to match up against a fellow contender in the Blackhawks on Sunday night.
Add in the fact that the Sharks were winless in their last five games at the United Center and there certainly was no surprise that they fell flat in a 5-1 defeat to the Blackhawks. Other than a lucky goal off the stick of Joe Pavelski that was botched by Corey Crawford, there was little to cheer about for Sharks fans, as sloppy play and defense miscues resulting in the puck winding up behind Antti Niemi were aplenty.
"We lacked a lot of energy that was needed to play in this type of game," McLellan said, via Kurz. "When you don't have energy, you better be sharp mentally, and we may have been really poor in that area."
Fortunately, the Sharks have a good three days off before their next game, and they can go home feeling relatively positive about their road trip.
Boyle summed it up perfectly: "It was a pretty tough road trip for us physically and mentally. We had some good, and we had some bad, and we'll go home and get some rest and start over again."
Check out our partners at TiqIQ for the best deals on San Jose Sharks tickets for all 2013-14 games.
Eric is a journalism student at the University of Southern California and a sports editor at the Daily Trojan. He grew up in the Bay Area and has followed the Sharks since a young age. He served as a beat writer on the team for SFBay.ca during the 2014-2015 season. Previously, Eric has worked at FanSided and Bleacher Report.