Blake Coleman is one of the New Jersey Devils' oldest prospects, at the ripe old age of 24, but he will be entering just his second pro season in 2016-17. Drafted in the third round of the 2011 NHL Draft, last season was cut short by a shoulder injury that sidelined him for the majority of the season with the Albany Devils in the AHL. Disappointing to say the least after four years with the Miami University RedHawks. But he was the team and his teammates' biggest fan as they had a great season and a two-round stint in the Calder Cup playoffs.
The new-era of Devils hockey has a group of youngsters growing up together and supporting one another, unlike any group that has been around this franchise in quite some time. Coleman, Joe Blandisi, Reid Boucher, Seth Helgeson, Blake Pietila, Ben Thomson, Reece Scarlett, Scott Wedgewood and a few others have all become a solid nucleus of prospects (along with younger players like John Quenneville, Pavel Zacha, Blake Speers, Joshua Jacobs, Michael McLeod and Nathan Bastian) as the new regime retools and replenishes the pipeline between Albany and New Jersey.
He had already been to a number of Development Camps in New Jersey, but was invited to the one this past July because of the amount of time he spent away from the ice during the season according to what Albany GM Tom Fitzgerald told THW. "Numbers-wise really. We probably would have left Coleman home, but because of his shoulder he hadn't played for a long time, and I felt it was important for him to come in and start grinding again in the corners."
[RECAP] #ADevils feast on Sound Tigers; Blake Coleman had two goals in a 3-1 win → https://t.co/7mv9FsGAKM pic.twitter.com/YZE8o5MLrD

— Albany Devils (@AlbanyDevils) November 26, 2015
The Hockey Writers caught up with Blake Coleman following the first of two scrimmages at the Devils Development Camp in July to find out how close he was to returning for Albany in the playoffs, supporting his teammates and a tragedy hitting close to home as well.
The Hockey Writers: You've been to a few of these camps now, what are you at, 4?
Blake Coleman: (grinning) Ah. Six.
THW: How's this one different from some of the other ones?
BC: It's pretty similar to last year's; obviously with the shift in management, coaches and all that in the last year – it's kind of developed into a different camp. There's a good emphasis on competition, having fun and I think they have a good understanding that it's the middle of summer and you don't need to kill guys on the ice which would just be a waste of energy. They handle the structure of the camp really well and it's been a blast the last two years.
The #NJDevCamp16 3-on-3 Champions, Team Stevens! 🏆 pic.twitter.com/MwmL8fDyhH

— New Jersey Devils (@NJDevils) July 13, 2016
THW: You were injured in the AHL last season, how are you doing now?
BC: It was a long season. Obviously, you never want to be injured but, it's part of the game. Guys go through bumps and bruises; in my case it was a really long recovery process. I'm glad it's behind me, turn the page and I had a lot of good help from Scott Stanhibel and the staff there (in Albany) to get me back; also John Sardos with the training there. I feel strong and ready to go. I just have to make sure my on-ice game is ready and I'll be working on a lot of things this summer to kick the rust off, so to speak.
THW: It had to be frustrating only playing in 14 games in your first year as a pro. How close were you to coming back in the postseason?
BC: Yeah the 14-games part of it is kind of tough, I was starting to get comfortable and starting to get some good minutes there in Albany. I was helping the team win some games and then that happened. As far as the playoffs go, I was close. I was probably two weeks out, maybe three (from coming back), depending on how deep we could have gone, maybe it would've worked. At the same time if the team is running through the playoffs, you don't want to shift the dynamic too much and force it. Management was great. They didn't push me to jump back in before I was ready; which obviously as a player you appreciate.
Dallas ✈️ Jersey

— Blake Coleman (@BColes25) July 11, 2016
THW: You're from near Dallas and I know you were in that area last week before coming to New Jersey for camp; how close were you to the shootings that took place a short time ago?
BC: I was in Plano, which is a suburb; maybe about 20 minutes from the city there. My sister, she lives right outside the city; she was even closer than I was. It's just one of those things that, you never expect to happen near you or around you sort of thing. Obviously it's devastating and the whole situation is terrible and you feel for the people who were involved. You're thankful that your family, my family, wasn't around it and everybody is okay that I know in the area. My roommate from college actually texted me, asking if everyone was all good. I was in bed, I wasn't paying any attention to it. Then you just start texting everybody, making sure everyone is okay that lives downtown.
THW: What kind of chance do you think you have at making this team in September?
BC: Nobody's talked about roster spots or anything like that, but my focus is always going to be to come here and give it my all. Hopefully at some point I'll be given a chance, no matter when the opportunity is; and once you get that chance obviously you have to be ready to make a statement. The goal is to stick here (in New Jersey) and not be up-and-down. I'm just working hard and once I'm given a chance I'll be ready to go and excited to make an impression and hopefully stick around.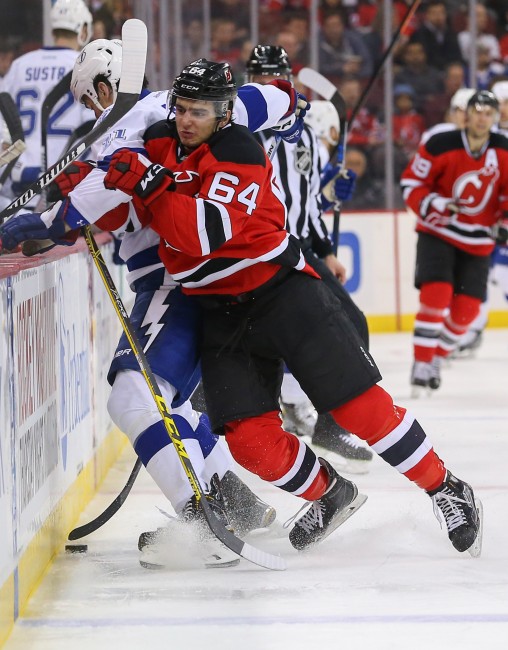 THW: Can you tell us about the closeness of the young players in the organization?
BC: Oh yeah;I was there actually when Blandisi got the call (to the NHL). We were walking around the mall there in Albany and we were all hugging inside of the mall there. I was excited for him — it probably looked pretty weird (laughs), but we're all a tight-knit group down there and that made Albany such a good time. Even with the injury. I am really close with my teammates, and when you're winning it makes life a lot of fun no matter what the situation is. I was really excited for him; and Pietila, Helgeson, Sizz (Mike Sislo), Thom (Paul Thompson) and all the guys who got shots (in the NHL). They're all good buddies, there's no point in being selfish in this game. It's all out of your control, you go to work and some guys get rewarded – and you're happy for them.
Dan Rice is in his 9th year of reporting for THW & has covered NJ Devils home games for 15+ years at various websites. He began his journey working for legendary broadcaster/writer Stan Fischler from 2002-04 & completed an internship at the ECHL; he also has been writing features for the NWHL (nwhl.zone) website since 2016.