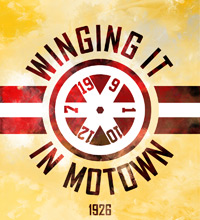 Blog: Winging It in Motown
Writers: Casey Richey, JJ from Kansas, and Amerinadian (The Gentlemen); JeffHancock41 (Editor); and ApocalypticOn3 and Robocop (the Authors)
Team: Detroit Red Wings
Strength: Strong writing and in-depth analysis.
Weakness: The blog seems to be lacking "something."  I do not know what that something is, but it feels like there is a missing piece.
Warning: Red Wings fans can be very arrogant.  If you are a Wings fan, you will be happy to jump right in.  If you are just visiting, their arrogance can get a little old.  There seems to be an extraordinary amount of blame placed on bad officiating.
Hidden Gem: There's some good stuff but no single thing that really jumps out.  Maybe Robocop's "X Ways to…" or the CSSI (Common Sense Scoring Index).
One of the main reasons I started these reviews with the Western Conference's Central Division was to get one of the reviews out of the way quickly – the Red Wings.  As a Hawks fan and a Preds fan, I am predisposed to despise detest dislike hate the Red Wings.  However, I do have a few really good friends who happen to be die-hard Wing Nuts.  In fact, after the Wings beat the Hawks this past weekend, I had to reassure one of them that, yes, she's still my friend (but I still hate the Red Wings).  She believes she can live with that.  So, I did my best to remain neutral as I reviewed Winging It in Motown.
What can I say?  Winging It in Motown is well written, nicely put together, and has a good combination of news, updates, and opinion.  (Why do I suddenly feel like a blasphemer?)  The game day threads stay lively, and I have seen infrequent posters welcomed back.  I did not see much in the way of welcoming newcomers, but as I saw mostly the same names, I do not believe I saw many newcomers anyway.
The Big Chill at the Big House – the pregame post for the Michigan-Michigan State outdoor game at the UM football stadium included a great chirping interview with Chris Hollis of The Production Line (for Michigan) and Tyler from The Triple Deke (for Michigan State).  It was fun to catch a glimpse of this state rivalry.
Above I wrote on complaining about refereeing, and I meant it about the commenters here.  However, to be honest, I believe I have seen more complaints about officiating overall this season.  It truly is not limited to Wings fans, or any other team's fans for that matter.  It makes you wonder if officiating has really gotten as bad as it seems.
Some posts of note:  Casey's pregame posts, "Morning Skate," are a good read, and so are the game wrap ups.  I was expecting more of talk about bad officiating in the wrap of that 10-3 loss to the Blues, and received a pleasant surprise that they placed blame where it was due: on the team.  JJ's "This Week in Head Shots" column analyzing the rule-breaking hits, penalties assessed (if any), and suspensions given (if any) is a nice piece of work on what has become one of, if not THE, main issue in the NHL this season.  WIIM is keeping an open form for anyone who wants to add examples to the analysis.
Final Thought: It's a good blog, informative, easy to read.  However, there is not much that is overly compelling or unique.  They jumped on the "bracket bandwagon."  It really is straight-up Wings news and views.
So, that's the Winging It in Motown blog in my words.  I also wanted to let the writers give you a few thoughts in theirs.
Four Questions for Winging It in Motown:
Rebecca: How long have you been writing for WIIM?
JJ from Kansas: I joined in July of 2010.
Amerinadian: I came on board in September of 2010.
Casey Richey: I started writing there in early April of 2009. I had originally started blogging about the Wings on blogspot but was getting very few page views. I kept doing it because I enjoyed it, but my friend had actually joined the PensBurgh (Pittsburgh Penguins) site and suggested that I check out the Red Wings site on the SB Nation network. I checked it out and started reading and commenting consistently. Eventually, Christy (the founder of the site) was gracious enough to extend an offer to me to join the writing staff and then it took off from there. I officially took over duties as the managing editor in January of 2010.
Rebecca: Why did you decide to start WIIM? / How did you start writing for WIIM?
JJ: I've been a frequent and pesky commenter in several places among the Red Wings blogosphere for the last few years.  As time went on any my overarching desire to bludgeon people to death with my opinions grew and people started pressuring me to start a blog (which, come to think of it, was probably just a clever ploy to get me to leave them the hell alone).  In the summer, Casey asked me if I wanted to join him writing at Winging It In Motown, as he was looking to take the blog in a few different directions.  I immediately jumped at the benefits package he offered (a platform that makes it so I have to use HTML very rarely and all the gifs of Carlo Colaiacovo slamming face-first into the glass I could stand).
Amerinadian: I'm fairly new to the entire Red Wings blogosphere, but I loved the community. After commenting on a few of the different blogs for a while, I decided I wanted to have a place to voice my own opinions, and started a blog called The Hole in the Door in May of 2010. I wrote there over the summer and Casey approached me in September of 2010 asking if I wanted to join WIIM. I immediately jumped at the chance to be part of a site that allows me to be snarky and be accessible to the objects of my scorn.
Casey: Like I mentioned, Christy founded the site. I started writing after she offered me a position as author.
Rebecca: What do you think WIIM offers readers that differs from other blogs?
JJ: Separating ourselves from other blogs is a bit more of a challenge for us, since there are probably more Red Wings blogs than there are St. Louis Blues season ticket holders.  Still, we've worked hard on developing our voice and our community; each of the writers we have on board brings something a little bit different to the perspective and working together with them is always fun.  Also, despite the work that it's taken, I'm very proud of the Common Sense Scoring Index that we've done this season.  We wanted to have a metric like nobody else which really took an in-depth look at each of the games this season and tried to make a set of numbers that really made sense in telling the narrative throughout the season of who is really contributing to the Red Wings' successes and failures.  Darren Helm generates a lot of buzz around the league for his speed, but only Red Wings fans can tell you about the defensive contributions he's made.  With the CSSI's adjusted plus/minus, you can clearly see that he's been the team's most important defensive forward this season.  Alternately, some poor fool might be tricked into seeing Jonathan Ericsson's +9 official rating on the season and concluding that he's not the worst thing to happen to NHL defense since the introduction of the trapezoid, while the more contextual scoring system corrects for the luck he's seen with the pairings he's been given and emphatically shows that the Lebda-esque raise he wants in the offseason is completely unwarranted.
Amerinadian: In terms of Red Wing blogs, the commenting system on SB Nation allows real-time commenting that does not require the constant refreshing of the page. It feels like a true conversation instead of a traditional message board or forum. As J.J. said, each of us brings a different dynamic and perspective to the blog and allows each writer to be unique, yet we are all connected in our support of the Red Wings. One of the things we have to counter is the perception that every Red Wing fan is a "bandwagon" fan because the Wings have enjoyed a lot of success over the last 20 years; as you can imagine, that type of success has resulted in the fanbase having a confidence level that is not seen in most of the NHL (I believe the nice term for Wing fans is "arrogant"). We try to provide intelligent insight and give the readers something to think and talk about, but we also like to have fun and write "sillier" posts that get people laughing or just entertain them. However, one thing we have tried to instill in our particular readership is pride in the Wings even when they are getting completely screwed by the referees in an obvious attempt to keep them down (now if you'll excuse me, I need to put my tinfoil hat away).
Casey: We pride ourselves on the community aspect of the blog. The game threads are our biggest draw and we think it's also the best way to bring people back. We want the site to be a place where people can discuss any and everything to do with the Red Wings – whether it's the most recent game, prospects in the system, or which Red Wing would play which character in Monty Python's Holy Grail.
Rebecca: Once the off-season starts, why should readers continue visiting WIIM?
JJ: For true hockey fans, there's no such thing as a real "off-season", there's just a couple of months where they're not actually playing.  Still, between season reviews, the post-season awards, the draft, and the free agency period, training camp starts up again before you know it and then you're right back into the swing of things.  There's going to be no dearth of topics to discuss once the Cup is awarded.
Amerinadian: We are trying to increase our visibility within the Red Wings online community by giving the readers the most up-to-date information as well as the analysis that helps them understand what is going on. Once the games are over, we can turn our attention to the things that ultimate shape a team: the draft, free agency, and the rest of the off-season, including trades, retirements and other transactions. Fortunately for us as fans, the Wings have relatively stable off-seasons that don't involve a lot of player or management turnover; as bloggers, this means we often have to find ways to keep our readers involved. We hope to accomplish this by looking back at things that have happened so readers can reminisce, and looking forward to what might happen so they can speculate. Our goal is simply to keep the readers entertained, regardless of whether the calendar says "January" or "July".
Casey: We still pump out a good number of posts in the off-season and what better way to make the days go by quicker than continuing to talk to Wings fans about hockey?